Rebekah Garris Collection:
Native and Introduced Wildflowers of Sussex County, New Jersey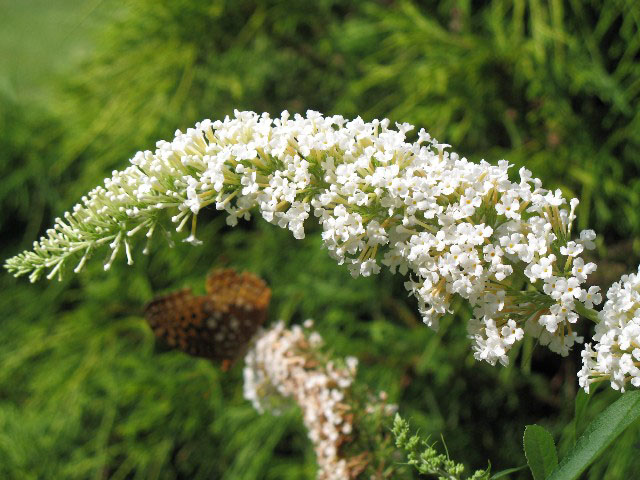 Buddleia davidii, Butterfly Bush

Rebekah writes for Sussex County, New Jersey, "Butterfly bushes attract Fritillaries, admirals, red spotted purples, monarchs, skippers, hummingbird moths, cabbage butterflies, and more.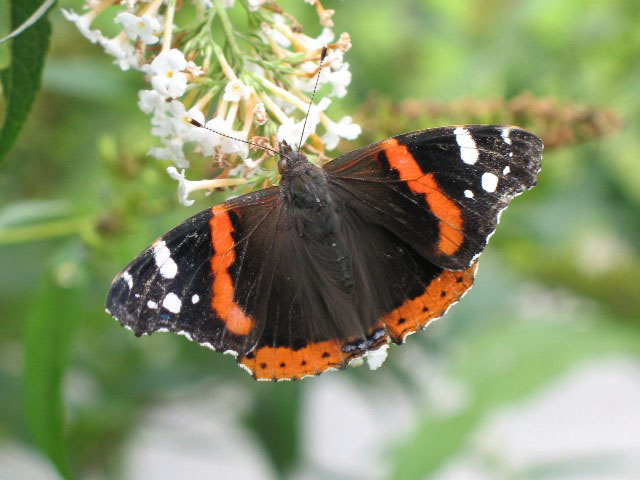 Red Admiral nectaring, Sussex County, New Jersey, courtesy of Rebekah Garris.

These bushes are also planted in rocky soil and are in direct sun except in the early morning where they are shaded. The bushes have a very sweet smell and have very full cone-shaped flowers."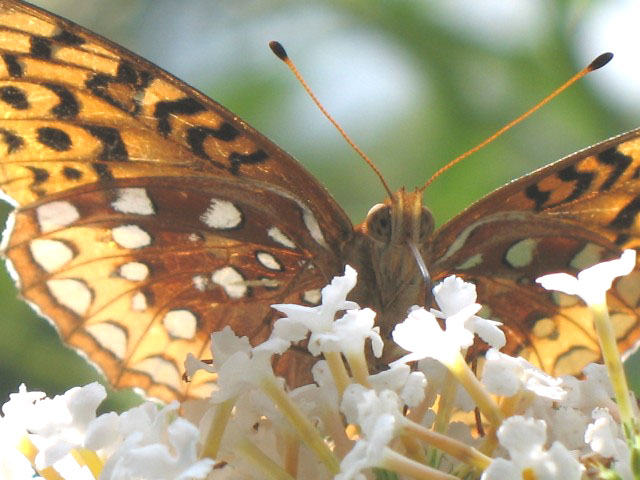 Great Spangled Fritillary nectaring, Sussex County, New Jersey, courtesy of Rebekah Garris.

Bill Oehlke writes, "This plant is native to China and is reportedly hardy to Zone 5, although it performs better in Zone 6 and warmer. In order to get mine to survive on Prince Edward Island in eastern Canada, I have to mulch heavily with leaves over the winter. The bloom is frequently too late here for local butterflies.

On the other hand, the butterfly bush at my parent's home in Pottersville, New Jersey, does very well and has lots of winged visitors."

This large deciduous shrub grows up to ten feet tall and produces arching canes that typically die back to the ground in Zones 5 and 6.

Leaves are opposite, long (4" to 10") and relatively narrow (1" to 3" wide). The flowers are very showy and fragrant on 4" to 10" long upright or nodding racemes. The dark purple cultivar seems to be the most cold resistant. Other cultivars can be pink, red, purple or white. When I have winter mulched/protected with a thick layer of leaves, the stems under the leaves have survived P.E.I.'s cold winters and have produced shoots upwards of two feet from the ground the following spring. More often than not, however, die back is usually to the ground level.

The bush prefers full sun and needs fertile soil. It is easily transplanted and can be propagated from seeds or by cuttings. Too much moisture can kill cuttings.

Use your browser "Back" button to return to the previous page.

This page is presented by Bill Oehlke and the WLSS.

This site is presented as an extension of the
Caterpillars Too!, a private North American butterfly site featuring images of butterfly caterpillars.

The individual butterfly species files are linked to favourite nectar sources.