Catocala palaeogama
kah-TOCK-uh-lahmmpay-lee-oh-GAM-muh
Guenee, 1852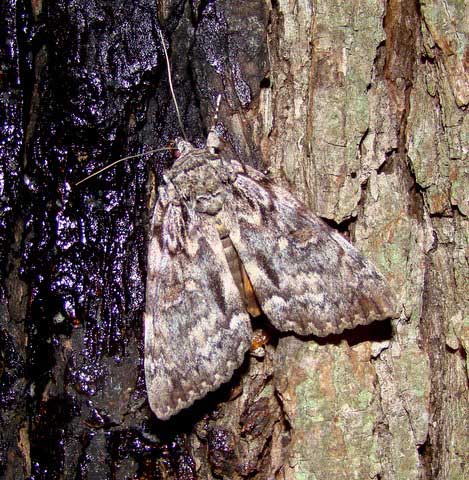 Catocala palaeogama, the Old Wife Underwing, Windsor, Ontario,
July 30, 2008, courtesy of Maurice Bottos.
This site has been created by Bill Oehlke at oehlkew@islandtelecom.com
Comments, suggestions and/or additional information are welcomed by Bill.
TAXONOMY:

Superfamily: Noctuoidea
Family: Noctuidae
Group: Noctuinina
Subfamily: Catocalinae
Genus: Catocala, Schrank, 1802


MIDI MUSIC
"Moon River"
copyright C. Odenkirk
MIDI CITYON.OFF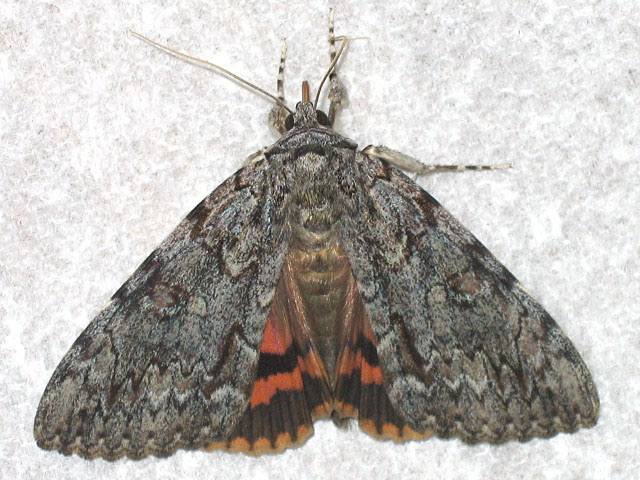 Catocala palaeogama, August 19, 2005,
Stillwater Township, Sussex County, New Jersey, courtesy of Joe Garris.
The basal area is a mixture of dark and light grey and sometimes brown with a short black dash running from the body about 1/3 to 1/2 half the distance to the middle large lobe of the antemdian line.
The am line is usually distinct, dark black and relatively thick. It begins with a small dark patch along the outer edge of the costa, followed by a short sharp tooth along the bottom edge of the costa. The line then consists of a small rounded lobe, a large center lobe and a slightly narrower but elongated third lobe along the inner margin, reaching the inner margin at almost midwing. The am line is inwardly lined with light grey scaling.
The reniform spot in the median area is light brown at its center, faintly outlined in grey with some thin light scaling toward the outer margin before it ends in a darker black line. The subreniform spot is relatively small and closed, with a dark grey diffuse outline of the lighter greyish-brown center. The rest of the median area is mostly grey.
The postmedian line has two elongated sharp upper teeth, followed by a much shorter dark-tipped tooth, a slightly longer dark-tipped tooth and a third tooth that is always strongly underlined with black. The inner edge of the bottom tooth extends back toward the body before turning down to the inner margin.
The subterminal (submarginal) area is usually brownish-grey with thin lighter scaling separating this area from both the inner postmedian line and the outer, faint but distinct, evenly toothed subterminal line.
The terminal area is usually grey, sometimes darker along the wing veins.
The hindwing basal area is orange, heavily mixed with dark scaling. The median black band is relatively thin and quite irregular, and continues to the dark scaling along the inner margin.
The orange median band is also relatively thin, variable in shape but quite irregular. The outer black band has dark notches along the wing veins dividing the orange fringe.
The thorax is grey and the body is brown.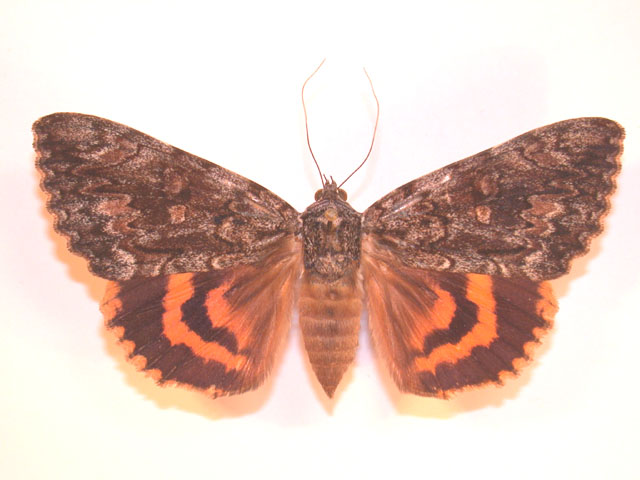 Catocala palaeogama, Quebec, courtesy of Pierre Legault.

Use your browser "Back" button to return to the previous page.