Catocala parta
kah-TOCK-uh-lahMPAR-tuh
Guenee, 1852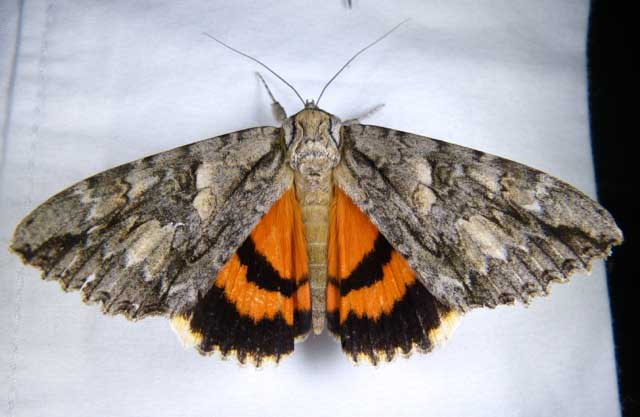 Catocala parta, Buffalo County, Wisconsin,
September 12, 2013, courtesy of Marcie O'Connor.
The very dark outline of the "Christ" bust on the pale grey and brown thorax helps to distinguish this species. The abdomen is a golden brown.
There are typically three dark bars on the forewing, one in the basal area, one below the apex and one paralleling the outer reaches of the inner margin. The subreniform spot is large, light-coloured and closed and is inwardly capped by a white patch.
In the hindwing, there is some slight bleeding of orange into the white fringe.
Use your browser "Back" button to return to the previous page.
Return to Catocala parta page.
Return to Main Catocala Index
Enjoy some of nature's wonderments, giant silk moth cocoons. These cocoons are for sale winter and fall. Beautiful Saturniidae moths will emerge the following spring and summer. Read Actias luna rearing article. Additional online help available.
Eggs of many North American Saturniidae species are offered during the spring and summer. Occasionally summer Actias luna and summer Antheraea polyphemus cocoons are available. Shipping to US destinations is done from within the US.
This page is brought to you by Bill Oehlke and the WLSS. Pages are on space rented from Bizland. If you would like to become a "Patron of the Catocala Site", contact Bill.
Please send sightings/images to Bill. I will do my best to respond to requests for identification help.



To show appreciation for this site, click on the flashing
butterfly to the left, a link to many worldwide insect sites.