Catocala of Nova Scotia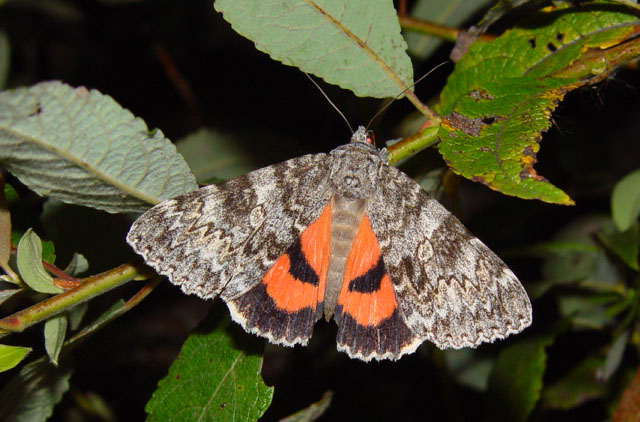 Catocala unijuga, August 25, 2004, courtesy of Tim Dyson, copyright.
There are not too many species indigenous to Nova Scotia so identification is easy, except with blandula and crataegi.
The following table divides all North American Catocala species into twenty one different groups. Moths are grouped according to hindwing colour bands (yellow, orange, salmon, red, pink, black or white) and wingspan measurements (small = 35-55mm, medium = 55-75 mm and large = 75mm plus).
Wingspan refers to the distance from wing tip to wing tip when the moths are spread with the inner margin of the forewing perpendicular to the body.
Those found in Nova Scotia are located in their respective groupings.
Return to Main Index
Use your browser "Back" button to return to the previous page.
This page is brought to you by Bill Oehlke and the WLSS. Pages are on space rented from Bizland. If you would like to become a "Patron of the Sphingidae and/or Catocala Sites", contact Bill.
Please send sightings/images to Bill. I will do my best to respond to requests for identification help.
Enjoy one of nature's wonderments: Live Saturniidae (Giant Silkmoth) cocoons.