| | |
| --- | --- |
| | Updated as per personal communication from Rick Gillmore, May 7, 2007 |
Catocala andromedae
kah-TOCK-uh-lahmm an-DRAHM-eh-day
(Guenee, 1852) Hypogramma andromedae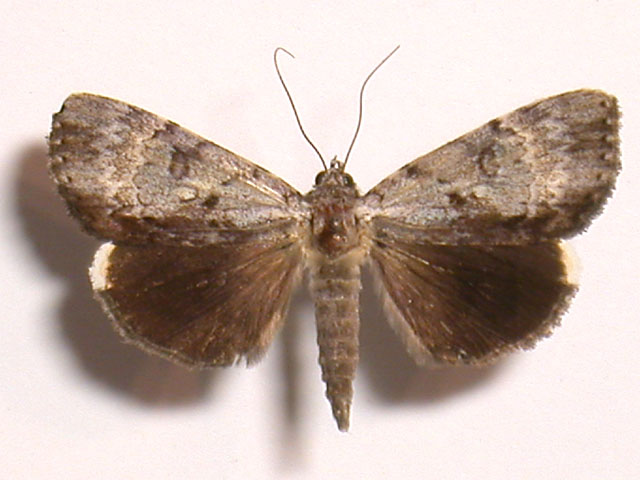 Catocala andromedae courtesy of Pierre Legault.
This site has been created by Bill Oehlke.
Comments, suggestions and/or additional information are welcomed by Bill.
TAXONOMY:

Superfamily: Noctuoidea
Family: Erebidae, Leach, [1815]
Subfamily: Erebinae, Leach, [1815]
Tribe: Catocalini, Boisduval, [1828]
Genus: Catocala, Schrank, 1802

DISTRIBUTION:
Catocala andromedae, the Andromeda or Gloomy Underwing, (wingspan: 40-50mm, Hodges # 8849) flies from Maine south through New Jersey to Florida and Alabama and west to Texas and Oklahoma.

Arkansas, Connecticut, Georgia, Illinois, Indiana, Kentucky, Louisiana, Maryland, Massachusetts, Michigan, Mississippi, Missouri, New Hampshire, New York, North Carolina, Ohio, Pennsylvania, Rhode Island, South Carolina, Tennessee, Virginia and West Virginia.

This specimen showed up in Connecticut, July 24, 2003, courtesy of John Himmelman. Dirk Bayer confirms them in Alabama.

The black underwings and dark grey fringe of the hindwings, coupled with the dark inner margin of the forewings help to identify this species. Moths rest with their heads pointing downwards.

There is also a very dark "flying saucer" shape, adjoining the subreniform spot to the midpoint of the antemedial line.

The "teeth" of the postmedian line are short and blunt, outwardly edged with white. The subterminal line is also outwardly edged with white.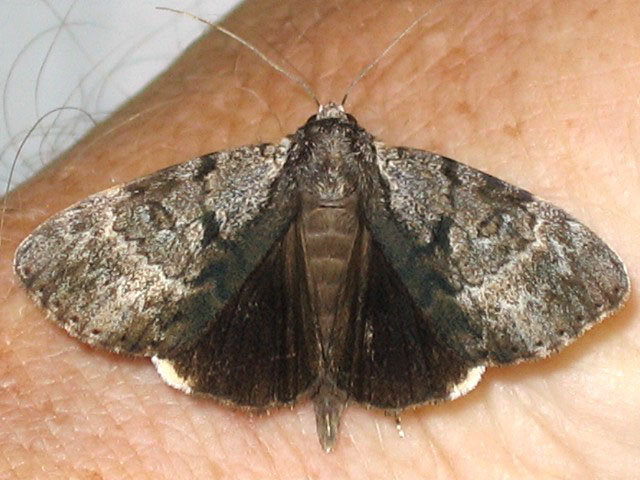 Catocala andromedae, Stillwater Township, Sussex County, New Jersey,
August 3, 2005, courtesy of Joe Garris.
The underside of the hindwing is almost completely black. The forewing underside is also black with a broad and relatively even white band.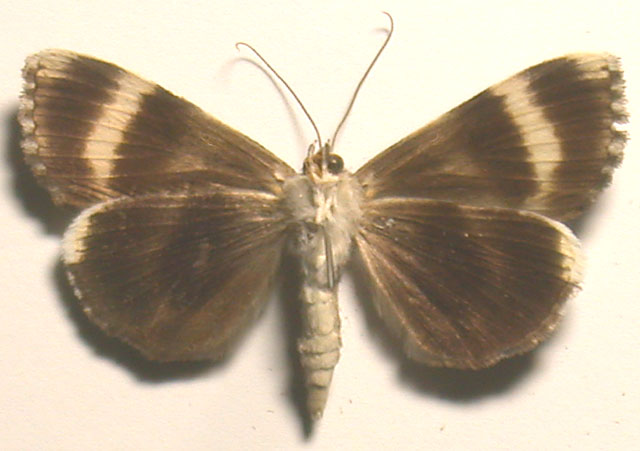 Catocala andromedae male, verso, courtesy of Pierre Legault.

Visit Catocala andromedae, Pickens County, Georgia, June 27, 2009, courtesy of Aubrey Scott.
FLIGHT TIMES AND PREFERRED FOOD PLANTS:
Catocala andromedae are usually on the wing from early July to late August in Maine. Specimens have been taken in May in Texas.
Adults come to lights and to bait. Dave Small reports a July 26, 2011, flight in Athol, Worcester County, Massachusetts.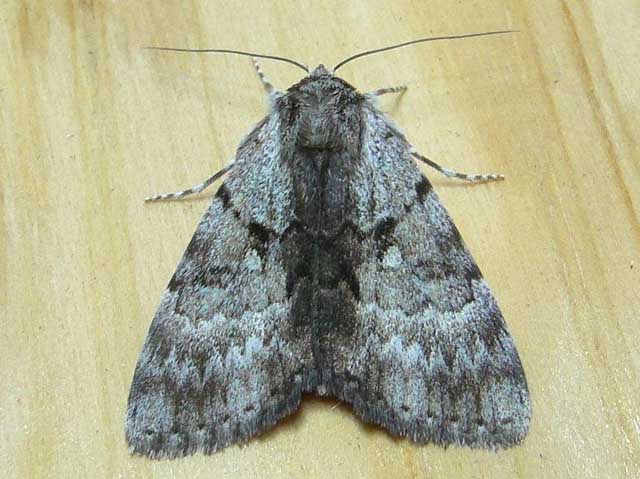 Catocala andromedae, Athol, Worcester County, Massachusetts,
July 26, 2011, Dave Small.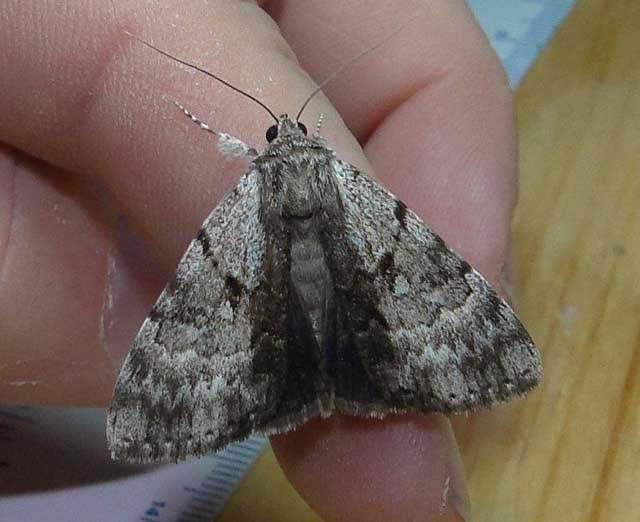 Catocala andromedae, Athol, Worcester County, Massachusetts,
July 26, 2011, Dave Small.

The Catocala andromedae caterpillar shows a preference for Andromeda, Carya, Lyonia, Quercus and Vaccinium.

Rick Gillmore writes, May 7, 2007, "The following Catocala species are only blueberry feeders: C. andromedae, C. gracilis, C. sordida and C. louiseae."
ECLOSION:
Adults eclose from pupae at soil surface.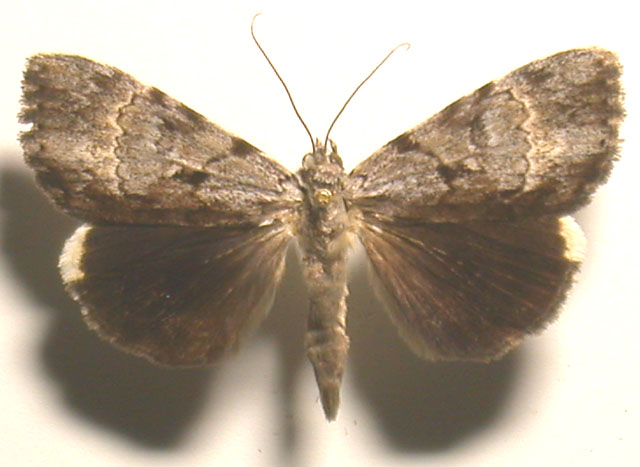 Catocala andromedae male, courtesy of Pierre Legault.
SCENTING AND MATING:
Catocala andromedae females emit an airbourne pheromone and males use their antennae to track the scent plume. EGGS, CATERPILLARS, COCOONS AND PUPAE:Eggs are deposited on tree bark in the fall and hatch the following spring.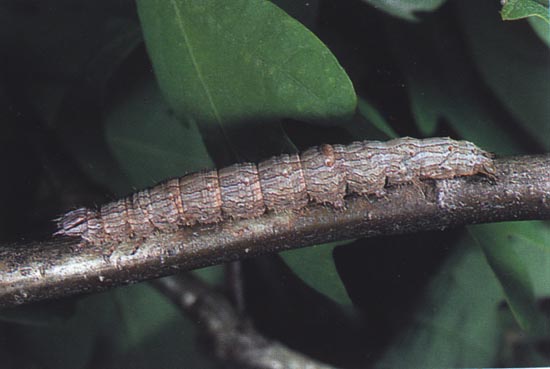 Catocala andromedae courtesy of David L. Wagner and Valerie Giles.
The mature larva can be tan, brown or grey with longitudinal stripes. The head is noticeably streaked.
Larval Food Plants
Listed below are primary food plant(s) and alternate food plants. It is hoped that this alphabetical listing followed by the common name of the foodplant will prove useful. The list is not exhaustive, although some species seem very host specific. Experimenting with closely related foodplants is worthwhile.
Andromeda
Carya
Lyonia
Quercus
Vaccinium angustifolium.....
Vaccinium corymbosum


Tree Andromeda/Sorrel-tree questionable
Hickory questionable
Fetterbush questionable
Oak questionable
Late Low Blueberry
Highbush Blueberry

Return to Main Index
Enjoy one of nature's wonderments: Live Saturniidae (Giant Silkmoth) cocoons.



To show appreciation for this site, click on the flashing
butterfly to the left, a link to many worldwide insect sites.