Bibliography
Foodplants:
I have made extensive use of
The Natural History Museum's HOSTS - The Hostplants and Caterpillars Database
at http://flood.nhm.ac.uk/cgi-bin/perth/hosts/index.dsml
to list foodplants. I have listed those given for North America as well as for the Neararctic.
Books and internet resources sited below have also been utilized.
Distribution and Flight Times:
I have made extensive use of
The Lepidopterists' Society Season Summary
at http://ag.arizona.edu/lepsoc/
to update distributions and flight times listed in
Legion of Night by Theodore D. Sargent, and
Eastern Moths by Carles V. Covell, Jr., and
The Moths of Canada Part 1: Noctuoidea of Western Canada by
J.T. Troubridge and J.D. Lafontaine at
http://bcin.agr.ca/moths/noctuoidea/bcindex.htm
Identification:
I have made extensive use of
Legion of Night by T. D. Sargent,
Eastern Moths by Carles V. Covell, Jr.
Le Guide des Papillons du Quebec by Louis Handfield
Historical vs Recent Moth Illustrations by Joe Kunkel at
http://bcrc.bio.umass.edu/kunkel/Moths/
The Harold J. Vermes slides are especially beautiful and useful.
Dr. Ken Neil of Nova Scotia and Vernon A. Brou of Louisiana have also been especially helpful as have the images provided by James K. Adams, Dale Clark, Bruce Walsh, Gerald Fauske, Lynn Scott, Cindy Mead, Troy Bartlett.
Electronic Images:
I have done direct scans of spread and then-posed specimens collected by myself, either in New Jersey or on Prince Edward Island, Canada.
I am also most thankful to the following people who have all given me permission to use images from their respective sites and/or collections:
Adams, James K., Georgia
Noctuidae
http://www.daltonstate.edu/galeps/List%20page%20folder/Noctuidae.htm
Bartlett, Troy, Georgia
Troy's Photo gallery
http://troyb.com/photo/gallery/section27.htm
Brou, Vernon A., Louisiana: Vernon is undoubtedly one of the most knowledgeable collectors and describers of Catocala in the United States.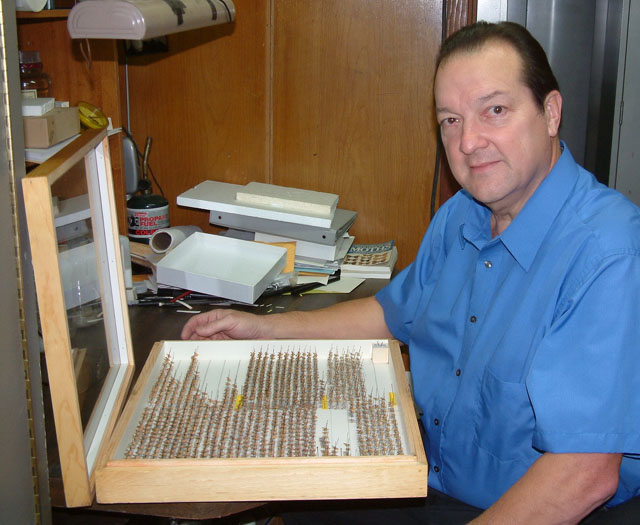 Vernon Antoine Brou, Jr., January 14, 2007
Many of Vernon's more recent publications are available in pdf format at http://www.southernlepsoc.org/newsletter.html. These include articles about Louisiana Catocala as well as moths from other families.
NEW! Visit http://entomology.lsu.edu/lsam/Brou.htm for links to many of Vernon's published articles.
Campbell, John H., Georgia
Southeastern Butterflies and Moths Image Gallery
http://entomology.ent.uga.edu/collection/gallery.htm
Clark, Dale, Texas
Moths of Dallas County, Texas
http://www.dallasbutterflies.com/Moths/dallasmoths.html
Fauske, Gerald, North Dakota
http://www.ndsu.nodak.edu/ndsu/ndmoths/photo_gallerylist.htm#Noctuidae
Mead, Cindy, Michigan
Moth Galleries
http://www.pbase.com/lilwings/catocalinae
Miller, Jeff
Macromoths of Northwest Forests and Woodlands
http://www.npwrc.usgs.gov/resource/2001/macronw/113.htm
Scott, Lynn, Ontario
Lynn Scott's Lepidoptera Images
http://www.acleris.com/dls/mothindex.html#Catocalinae
Thomas, Anthony W., New Brunswick
Natural Resources Canada: Species Check List, New Brunswick
http://www.atl.cfs.nrcan.gc.ca/CFS_AFC_FBN/biodiv-e/moth_d-e/noctuidae-e.html#catocalinae
Wagner, David L., Connecticut
Caterpillars of Eastern Forests
http://www.npwrc.usgs.gov/resource/2000/cateast/cateast.htm
Walsh, Bruce, Arizona
Moths of Southeastern Arizona: Noctuidae (Cutworm moths)
http://nitro.biosci.arizona.edu/zeeb/butterflies/nocut.html#Catocalinae
Walter, Steve

Classification:
I have made extensive use of
Check List of the Lepidoptera of America North of Mexico
(abstracted from Hodges et al., 1983, with annotations.)
NOCTUIDAE by
J. G. Franclemont & E. L. Todd at
http://bcrc.bio.umass.edu/kunkel/Moths/hodges.html
Foodplants:
Rick Gillmore of Florida has provided corrections and additions for many foodplants.

Return to Main Catocala Index

This page is brought to you by Bill Oehlke and the WLSS. Pages are on space rented from Bizland. If you would like to become a "Patron of the Sphingidae/Catocala Sites", contact Bill.

Please send sightings/images to Bill. I will do my best to respond to requests for identification help.