Catocala caesia
kah-TOCK-uh-lahmmKAY-see-uh
David Hawks, 2010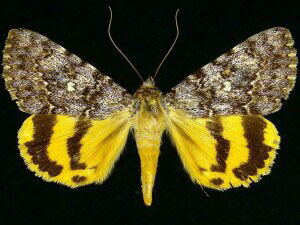 Catocala caesia, 55mm, courtesy of Jim Vargo.
This site has been created by Bill Oehlke.
Comments, suggestions and/or additional information are welcomed by Bill.
TAXONOMY:

Superfamily: Noctuoidea
Family: Erebidae, Leach, [1815]
Subfamily: Erebinae, Leach, [1815]
Tribe: Catocalini, Boisduval, [1828]
Genus: Catocala, Schrank, 1802

DISTRIBUTION:
Catocala caesia (8837.1), Caesia Underwing or Bluish-gray Underwing, (wingspan: 47-55mm) flies in the mountains of southeastern Arizona: Cochise and Pima counties, and in southwestern New Mexico, and southward through the Sierra Madre Occidental in Chihuahua, Mexico.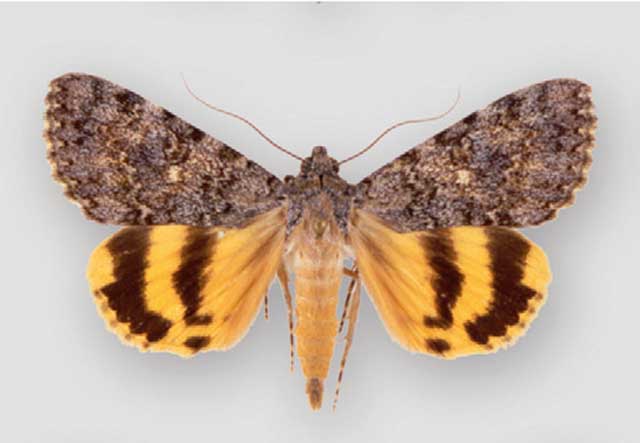 Catocala caesia, South Fork of Cave Creek, Chiricahua Mountains, Cochise County, Arizona,
holotype male, 28 May 1985, courtesy of David Hawks, from ZooKeys online publication.

The forewing is a blotchy blue-grey-brown with some lighter areas. The double am line with its lighter "filler" is dark and thick/diffuse. The distinct pm line is black, thinner than the am line, and traced outwardly with a thin white line. There are no greatly elongated teeth.

The reniform spot has a pale brown center and is faintly outlined in black. The small subrectangular subreniform spot is almost pure white, is indented on its inward side and is narrowly outlined in black.

The hindwing is bright yellow, with unchecked/lightly checked yellow fringes. There is some light brown scaling in the basal median area. The inner black band is relatively thin, turns at an acute angle toward the im, but is bluntly truncated well bfore reaching the inner margin. It seems to be followed by a small dark dot. The outer margin is bluntly truncated well before reaching the inner margin. It is followed by a larger black dot near the base of the inner margin.

Visit link at bottom of page for more detailed information.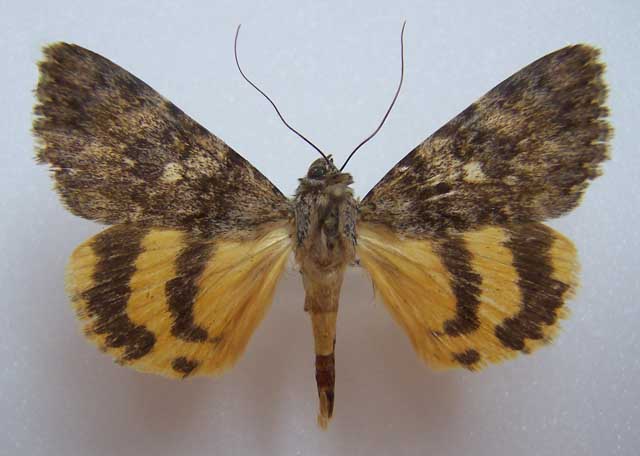 Catocala caesia, Sunny Flat Camp Ground, Coronado National Forest, Cochise County, Arizona,
47mm, June 14-15, 1998, courtesy of Harry King, slight digital repair by Bill Oehlke.
FLIGHT TIMES AND PREFERRED FOOD PLANTS:
Catocala caesia are on the wing from May to October. The Catocala caesia caterpillar probably eats oak species.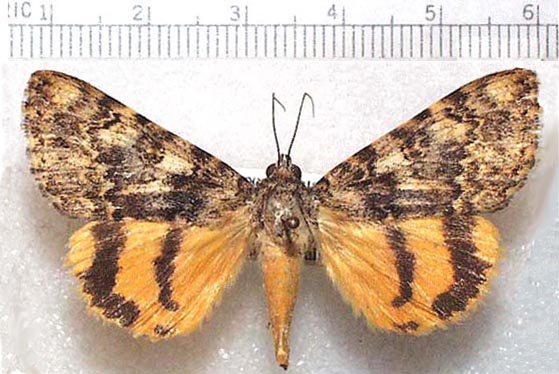 Catocala caesia courtesy of Bruce Walsh, Arizona.
ECLOSION:
Adults eclose from pupae at soil surface.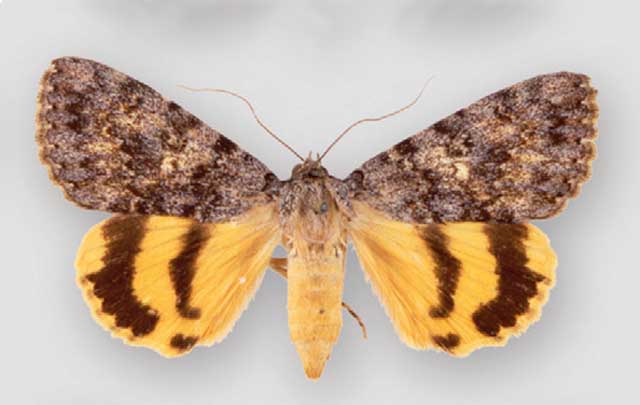 Catocala caesia allotype female, courtesy of David Hawks.
SCENTING AND MATING:
Catocala caesia females emit an airbourne pheromone and males use their antennae to track the scent plume. EGGS, CATERPILLARS, COCOONS AND PUPAE:Eggs are deposited on tree bark in the fall and hatch the following spring.
Larval Food Plants
Listed below are anticipated ?? primary food plant(s) and alternate food plants. It is hoped that this alphabetical listing followed by the common name of the foodplant will prove useful. The list is not exhaustive, although some species seem very host specific. Experimenting with closely related foodplants is worthwhile.


Return to Main Index
This page is brought to you by Bill Oehlke and the WLSS. Pages are on space rented from Bizland. If you would like to become a "Patron of the Sphingidae/Catocala Sites", contact Bill.
Please send sightings/images to Bill. I will do my best to respond to requests for identification help.
Enjoy one of nature's wonderments: Live Saturniidae (Giant Silkmoth) cocoons.



To show appreciation for this site, click on the flashing
butterfly to the left, a link to many worldwide insect sites.