Catocala cara
kah-TOCK-uh-lahMKAH-ruh
Guenee, 1852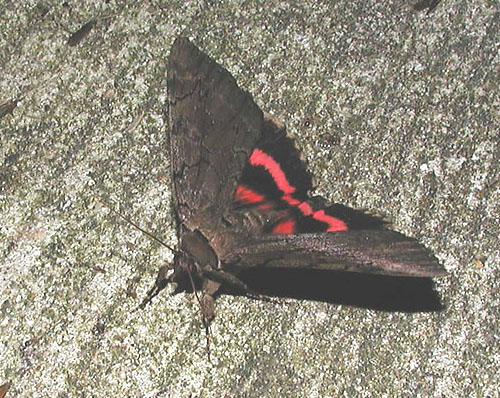 Catocala cara, Michigan, courtesy of Cindy Meade.
This site has been created by Bill Oehlke.
Comments, suggestions and/or additional information are welcomed by Bill.
TAXONOMY:

Superfamily: Noctuoidea
Family: Erebidae, Leach, [1815]
Subfamily: Erebinae, Leach, [1815]
Tribe: Catocalini, Boisduval, [1828]
Genus: Catocala, Schrank, 1802

DISTRIBUTION:

It has also been reported in Arkansas, Delaware, Georgia, Illinois, Indiana, Iowa, Kansas, Kentucky, Maryland, Massachusetts, Missouri, Nebraska, New Hampshire, New Jersey, New York, North Carolina, North Dakota, Ohio, Pennsylvania, Rhode Island, South Carolina, South Dakota, Tennessee, Vermont, Virginia and West Virginia.

I suspect it also flies in District of Columbia.

Catocala cara courtesy of James K. Adams.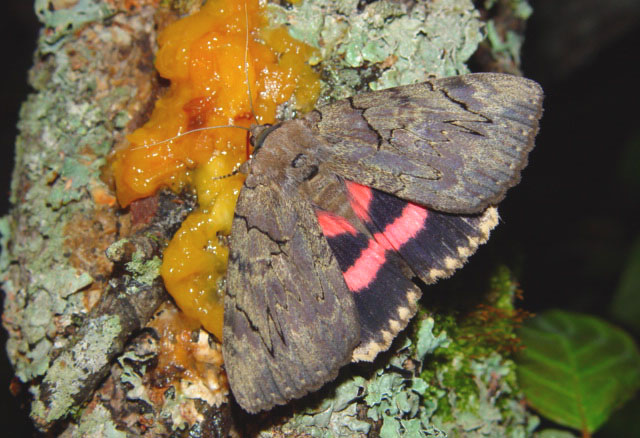 Catocala cara, Peterborough, Ontario, August 18, 2004,
courtesy of Tim Dyson copyright.
Visit Catocala cara, near Indiana, Indiana Co., PA., Aug. 6, 2011; Margaret Higbee
Visit Catocala cara recto and verso, Mason, Ingham County, Michigan, August 7, 1994, Harry King, Michigan Catocala Collection.
Visit Catocala cara, Apalachin, Tioga County, New York, August 17, 2014, Colleen Wolpert
Visit Catocala cara female, taken at bait, 10:30pm Eau Claire Co., WI., Aug. 18, 2011; Ian Miller
Visit Catocala cara Ozaukee County, Wisconsin, August 28, 2011, Kate Redmund
Visit Catocala cara, Dryden, Tompkins County, New York, August 30, 2013, Tom Nix.
Visit Catocala cara, Hinckley, Somerset County, Maine, September 1, 2011, Steve Lemieux. Visit Catocala cara, Saxtons River, Windham County, Vermont, September 8, 2011, JoAnne Russo. Visit Catocala cara, Athol, Worcester County, Massachusetts, September 12, 2011, Dave Small. Visit Catocala cara (recto and verso), Cummington, Hampshire County, Massachusetts, October 3, 2011, Barbara Spencer.
FLIGHT TIMES AND PREFERRED FOOD PLANTS:

Catocala cara are usually on the wing from June to late October. Ian Miller confirms an August 18, 2011, flight in Eau Claire County, Wisconsin.

Catocala cara, wings closed, courtesy of Steve Walter.

Note the deep maroon almost purple cast to the forewings, mixed with a very pale green. These moths often hide in caves during the day.
The greenish cast is quite evident on the violet ground colour in the photo to the left, courtesy of Maurice Bottos of Windsor, Ontario.

Note the postmedian line is distinct only to the base of the elongate upper teeth. The am line is thin and scarcely visible as it approaches the inner margin.

The reniform spot is pale grey-green outlined with a suffuse grey-violet band, then often surrounded by scales with a pale green cast.

The subreniform spot is concolourous, open, and only faintly outlined.

The prothoracic collar is grey-violet. The thorax is a mousy grey-brown with dark markings near its juncture with the abdomen. See wing descriptions.

The hindwing bands are relatively evenly curved. The creamy-white hindwing fringe is heavily checked with black and grey along the veins.
The Catocala cara caterpillar shows a preference for Populus and Salix.
ECLOSION:
Adults eclose from pupae at soil surface.
SCENTING AND MATING:
Catocala cara females emit an airbourne pheromone and males use their antennae to track the scent plume.
Visit Pink Underwings of Ontario: Comparison Plate for Catocala concumbens/amatrix/cara, recto and verso, with commentary, courtesy of Tim Dyson.
EGGS, CATERPILLARS, COCOONS AND PUPAE:
Eggs are deposited on tree bark in the fall and hatch the following spring.
Larvae are a pale beige-grey. There are pronounced orange warts on the fifth and eighth abdominal segments, with a darker grey-brown "saddle" hosting the first set of warts.

The prolegs are noticeably larger on the fifth and sixth abdominal segments.

Fifth instar larva courtesy of the University of Maryland, Entomology Department.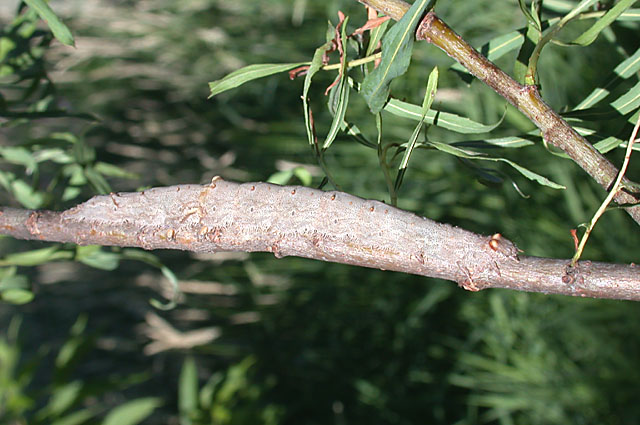 Catocala cara courtesy of David Rodrigue, Sainte-Anne-de-Bellevue, Quebec

Bumps on the head are well defined in David's image. He sent me an interesting account:

"In July, Frederic Paquet, one of our staff members, found two very interesting caterpillars that were obviously masters of camouflage, and completely new to me. I took one inside to my office after taking pictures to raise it and see what would come out of it. Unfortunately, it escaped from my last minute temporary set up the first night and was not seen again. I later found out through your web site that it was indeed a Catocala caterpillar. To my surprise, during the second week of August, a gorgeous Catocala cara suddenly appeared on my desk chair, in my office, one morning. Thus the fate of the caterpillar was solved."

Sometimes taking a caterpillar home and rearing it to adulthood is the only way to determine species. David is not the only one to have a caterpillar escape indoors! Catocala can slip through the narrowest of openings.

Ron Nelson, teamed with Gabriel Larrabee, sent me the images below of Catocala cara eggs, larvae on Quaking Aspen and pupa, from Milwaukee.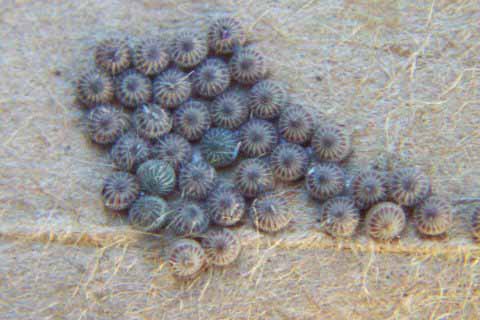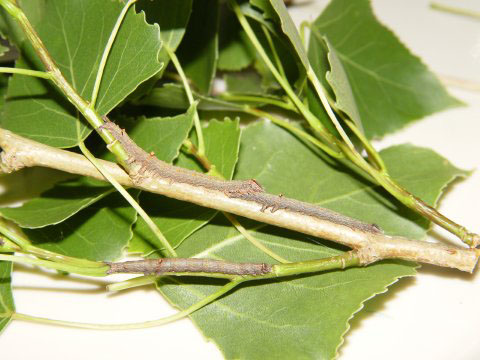 Second and third instars above.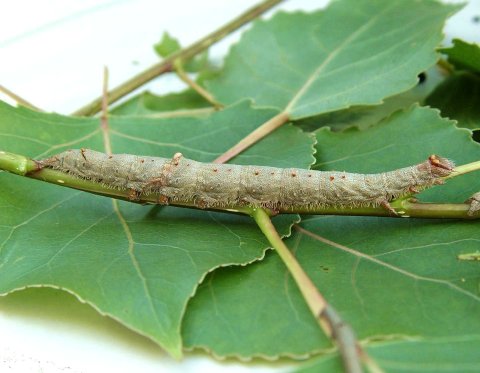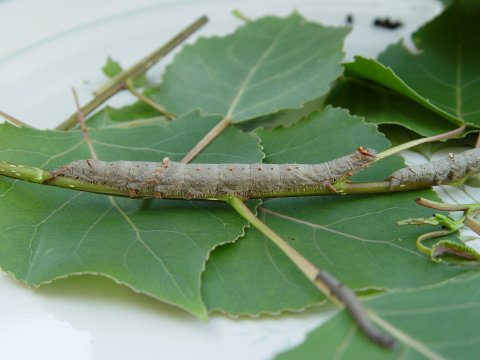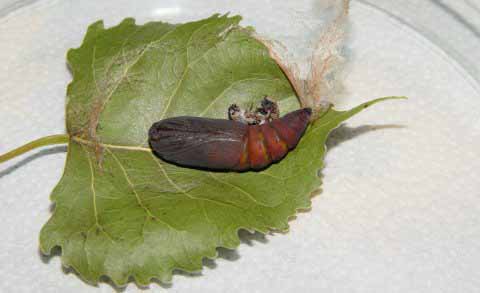 Only a small amount of silk is utilized to "stitch" together leaf litter. The discarded larval skin is visible in the image above.
Larval Food Plants
Listed below are primary food plant(s) and alternate food plants. It is hoped that this alphabetical listing followed by the common name of the foodplant will prove useful. The list is not exhaustive, although some species seem very host specific. Experimenting with closely related foodplants is worthwhile.
Populus
Salix nigra.....


Poplar
Black willow

This page is brought to you by Bill Oehlke and the WLSS. Pages are on space rented from Bizland. If you would like to become a "Patron of the Sphingidae/Catocala Sites", contact Bill.
Please send sightings/images to Bill. I will do my best to respond to requests for identification help.
Enjoy one of nature's wonderments: Live Saturniidae (Giant Silkmoth) cocoons.



To show appreciation for this site, click on the flashing
butterfly to the left, a link to many worldwide insect sites.