Updated as per personal communication from Rick Gillmore, May 7, 2007
Updated as per "Systematics of moths in the genus Catocala (Lepidoptera, Erebidae) IV.
Nomenclatorial stabilization of the Nearctic fauna, with a revised synonymic check list";
ZooKeys 39: 37–83 (2010) by Lawrence F. Gall, David C. Hawks; March 21, 2010

Catocala carissima
kah-TOCK-uh-lahmkah-ris-SEE-muh
Hulst, 1880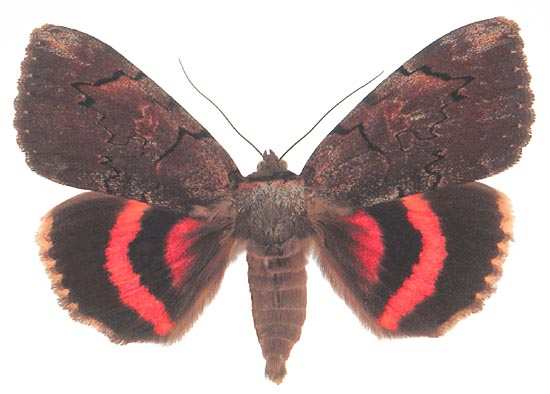 Catocala carissima Louisiana, courtesy of Vernon A. Brou.
This site has been created by Bill Oehlke.
Comments, suggestions and/or additional information are welcomed by Bill.
TAXONOMY:

Superfamily: Noctuoidea
Family: Erebidae, Leach, [1815]
Subfamily: Erebinae, Leach, [1815]
Tribe: Catocalini, Boisduval, [1828]
Genus: Catocala, Schrank, 1802

DISTRIBUTION:

Catocala carissima (wingspan: 70-85mm) flies from Tennessee (WAM), south to Georgia and Florida (RG), west to Louisiana (TT/VAB) and Texas.

This species was formerly treated as a subspecies of Catocala cara, but it has been elevated to full species status.

Catocala carissima has also been reported in Alabama, Arkansas, Connecticut, Delaware, District of Columbia, Illinois, Indiana, Kansas, Kentucky, Maryland, Mississippi, Missouri, New Jersey, New York, North Carolina, Oklahoma and South Carolina: Horry County (GP).

I suspect it is also present in states surrounded by the states listed above.

There is a distinct light grey brown area at the forewing apex, preceded just inside the postmedial line by a similar but slightly darker patch. The antemedial and post medial lines are sharp and dark.

The inner black band of the hindwing is wide and complete and merges with extensive grey-black scaling along the inner margin. The hindwing fringe is cream coloured.

Images to the right courtesy of James K. Adams.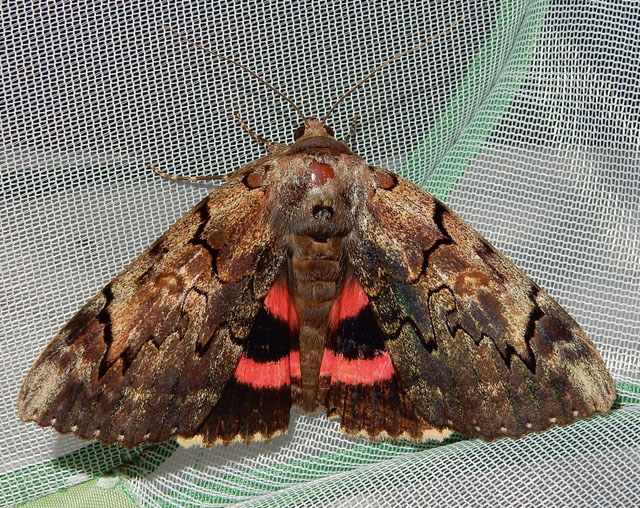 Catocala carissima, Cambridge, Dorchester County, Maryland,
September 18, 2015, courtesy of Jonathan Willey.
FLIGHT TIMES AND PREFERRED FOOD PLANTS:
Catocala carissima flies as a single generation with moths on the wing from May into June and early July.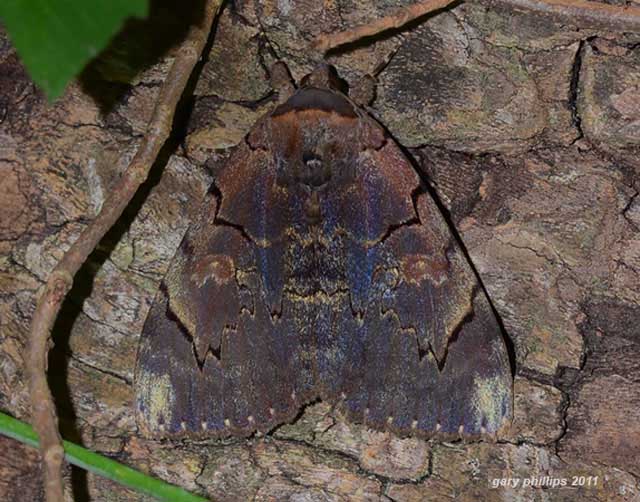 Catocala carissima, Conway, Horry County, South Carolina,
July 5, 2011, courtesy of Gary Phillips.

The foodplant of the Catocala carissima caterpillar is unknown, but I suspect poplars and willows.

Rick Gillmore writes, May 7, 2007, "I have a foto of a fifth instar larva found on willow in Florida by Steve Roman. The info was published in the Southern Lepidopterists' News by in the seventies. The foto of the larva in your site appears to be resting on a willow twig."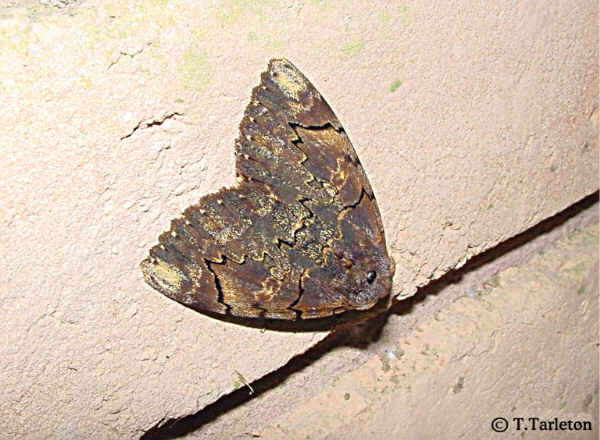 Catocala carissima, typical resting pose, Louisiana, Tee Tarleton.
ECLOSION:
Adults eclose from pupae formed under leaf litter.
SCENTING AND MATING:
Catocala carissima females emit an airbourne pheromone and males use their antennae to track the scent plume.
EGGS, CATERPILLARS, COCOONS, AND PUPAE:
Eggs are deposited on tree bark in the fall and hatch the following spring.
Image courtesy of Gerald J. Lenhard, Louisiana State University
Larval Food Plants
Listed below are primary food plant(s) and alternate food plants. It is hoped that this alphabetical listing followed by the common name of the foodplant will prove useful. The list is not exhaustive, although some species seem very host specific. Experimenting with closely related foodplants is worthwhile.
Return to Main Index
Visit "Systematics of moths in the genus Catocala (Lepidoptera, Erebidae) IV.
Nomenclatorial stabilization of the Nearctic fauna, with a revised synonymic check list";
ZooKeys 39: 37–83 (2010) by Lawrence F. Gall, David C. Hawks
This page is brought to you by Bill Oehlke and the WLSS. Pages are on space rented from Bizland. If you would like to become a "Patron of the Sphingidae/Catocala Sites", contact Bill.
Please send sightings/images to Bill. I will do my best to respond to requests for identification help.
Enjoy one of nature's wonderments: Live Saturniidae (Giant Silkmoth) cocoons.



To show appreciation for this site, click on the flashing
butterfly to the left, a link to many worldwide insect sites.