Created/dedicated as per personal communication with Vernon A. Brou
Updated as per personal communication with Carroll Ruddy, 2007
Updated as per research compiled Larry Gall, April 2010
Updated as per personal communication with Marcie O'Connor, August 12, 2013
Updated as per personal communication with Tim Dyson, Peterborough, Ontario, July 2016

Catocala clintoni
kah-TOCK-uh-lahMKLIN-tun-eye
Grote, 1864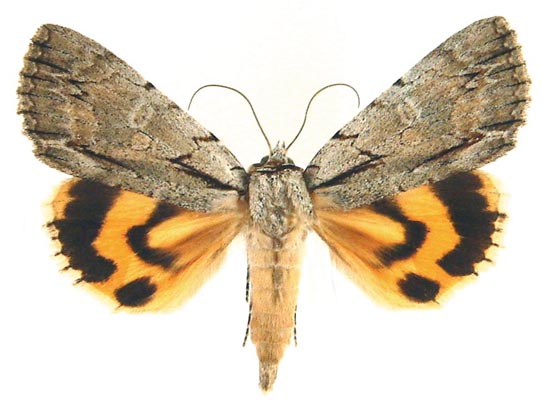 Catocala clintoni (Louisiana-male) courtesy of Vernon A. Brou.
This site has been created by Bill Oehlke.
Comments, suggestions and/or additional information are welcomed by Bill.
TAXONOMY:

Superfamily: Noctuoidea
Family: Erebidae, Leach, [1815]
Subfamily: Erebinae, Leach, [1815]
Tribe: Catocalini, Boisduval, [1828]
Genus: Catocala, Schrank, 1802

DISTRIBUTION:
Catocala clintoni, Clinton's Underwing (wingspan: 45-55mm), flies in Ontario and Quebec (rare) and southward to Florida, west to Texas and north to Wisconsin. It is generally absent or very rare in the New England states.
The black basal dash distinguishes clintoni from illecta and abbreviata, both of which lack the dash.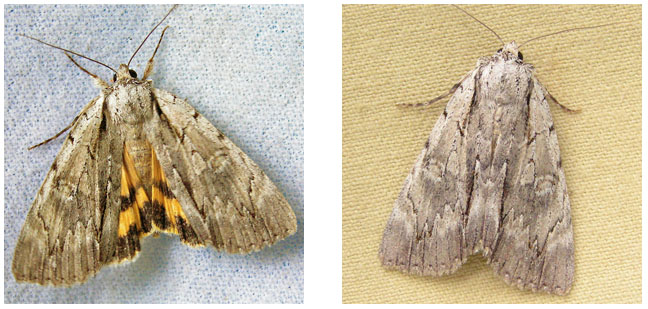 Catocala clintoni, July 9, 2007, Calumet County, Wisconsin, courtesy of Carroll Rudy.

Alabama, Arkansas, Georgia, Illinois, Indiana, Iowa, Kansas, Kentucky, Louisiana, Michigan, Minnesota, Mississippi, Missouri, New York, North Carolina, North Dakota, Ohio, Oklahoma, South Carolina, South Dakota, Tennessee, Virginia and West Virginia.
FLIGHT TIMES AND PREFERRED FOOD PLANTS:
Catocala clintoni are usually on the wing very early in the season, well before other underwings have emerged. In Florida they are taken from February to May; in Texas from April to July; in northern portions of its range, usually in June and July (Ontario, TD).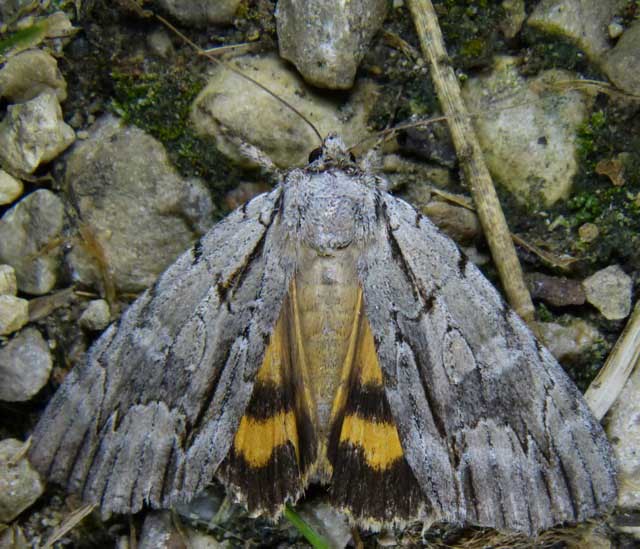 Catocala clintoni, Buffalo County, Wisconsin,
July 22, 2013, courtesy of Marcie O'Connor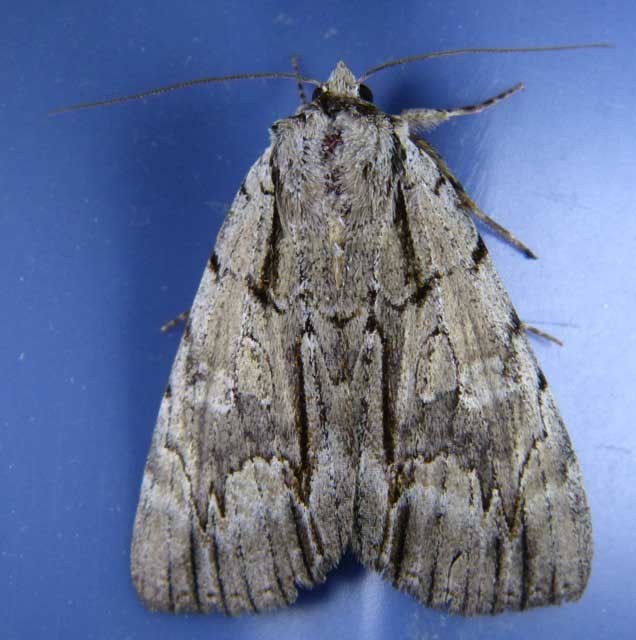 Catocala clintoni, Buffalo County, Wisconsin,
July 22, 2013, courtesy of Marcie O'Connor

The Catocala clintoni caterpillar feeds on hawthorn, plum and apple foliage.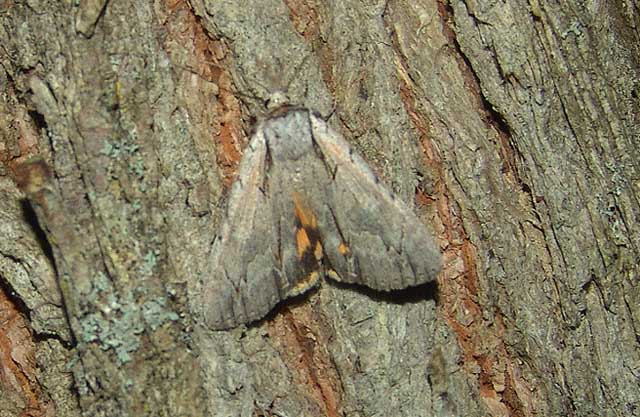 Catocala clintoni closed, Peterborough, Ontario,
July, 2016, courtesy of Tim Dyson.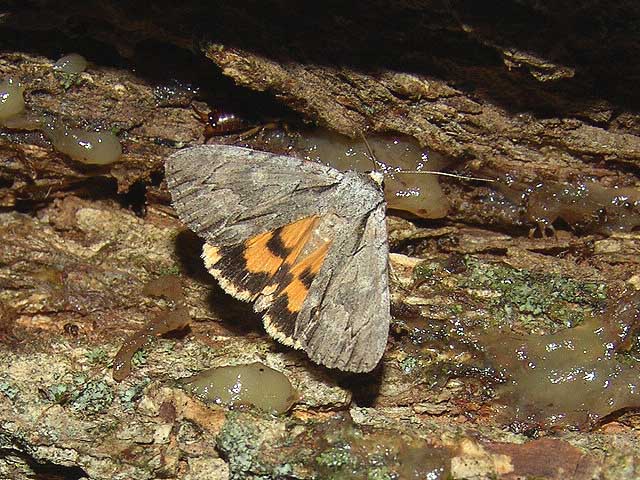 Catocala clintoni open, Peterborough, Ontario,
July, 2016, courtesy of Tim Dyson.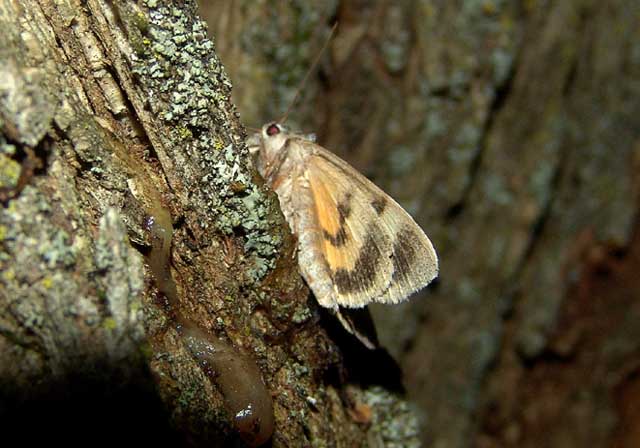 Catocala clintoni verso, Peterborough, Ontario,
July, 2016, courtesy of Tim Dyson.
ECLOSION:
Adults eclose from pupae at soil surface.
SCENTING AND MATING:
Catocala clintoni females emit an airbourne pheromone and males use their antennae to track the scent plume.
EGGS, CATERPILLARS, COCOONS AND PUPAE:
Eggs are deposited on tree bark in the fall and hatch the following spring.
Larval Food Plants
Listed below are primary food plant(s) and alternate food plants. It is hoped that this alphabetical listing followed by the common name of the foodplant will prove useful. The list is not exhaustive, although some species seem very host specific. Experimenting with closely related foodplants is worthwhile.
Crataegus
Gleditsia triacanthos.......
Malus pumila
Prunus americana
Prunus ilicifolia
Ulmus


Hawthorn
Honeylocust
Common apple
American plum
Hollyleaf Cherry
Elm

Use your browser "Back" button to return to the previous page.

Return to Canadian Index

Return to Main Index

Visit "Systematics of moths in the genus Catocala (Lepidoptera, Erebidae) IV.
Nomenclatorial stabilization of the Nearctic fauna, with a revised synonymic check list";
ZooKeys 39: 37–83 (2010) by Lawrence F. Gall, David C. Hawks

Enjoy some of nature's wonderments, giant silk moth cocoons. These cocoons are for sale winter and fall. Beautiful Saturniidae moths will emerge the following spring and summer. Read Actias luna rearing article. Additional online help available.

Eggs of many North American Saturniidae species are offered during the spring and summer. Occasionally summer Actias luna and summer Antheraea polyphemus cocoons are available. Shipping to US destinations is done from within the US.

This page is brought to you by Bill Oehlke and the WLSS. Pages are on space rented from Bizland. If you would like to become a "Patron of the Catocala Site", contact Bill.

This website has been created and is maintained by Bill Oehlke without government or institutional financial assistance. All expenses, ie., text reference support material, webspace rental from Bizland, computer repairs/replacements, backups systems, software for image adjustments (Adobe Photoshop; L-View), ftp software, anti-virus protection, scanner, etc. are my own.

I very much appreciate all the many images that have been sent to me, or of which I have been granted permission to copy and post from other websites. All images on this site remain the property of respective photographers.

If you would like to contribute to the maintenace of this website by sending a contribution to

Bill Oehlke
Box 476
155 Peardon Road
Montague, Prince Edward Island, C0A1R0
Canada

your donation would be much appreciated and would be used for
1) paying for webspace rental;
2) paying for computer maintenance and software upgrades;
3) purchases of additional text reference material (journals and books) in anticipation of expanding the site to a worldwide Catocala site;
4) helping to pay my daughter's tuition (completed spring 2013); with anything left over going to humanitarian aid.

If you are mailing a check from USA, please use $1.10 postage (2013 rate); $1.25 (2015 rate). Donations can also be made through Paypal via the button below.

Please send sightings/images to Bill. I will do my best to respond to requests for identification help.



To show appreciation for this site, click on the flashing
butterfly to the left, a link to many worldwide insect sites.