Catocala concumbens
kah-TOCK-uh-lahMkon-KUM-bens
Walker, [1858]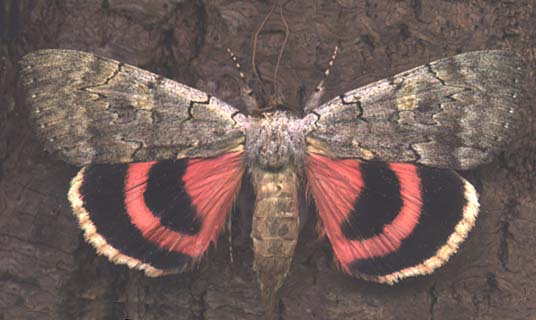 Catocala concumbens, posed scan on poplar bark by Bill Oehlke,
Montague, Prince Edward Island, August 22, 2002
This site has been created by Bill Oehlke.
Comments, suggestions and/or additional information are welcomed by Bill.
TAXONOMY:

Superfamily: Noctuoidea
Family: Erebidae, Leach, [1815]
Subfamily: Erebinae, Leach, [1815]
Tribe: Catocalini, Boisduval, [1828]
Genus: Catocala, Schrank, 1802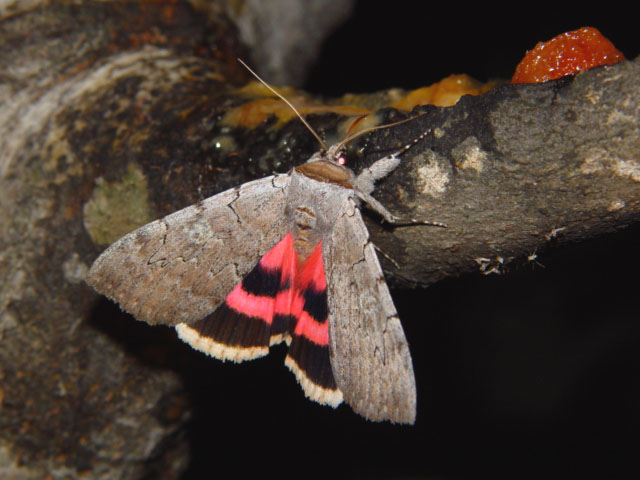 Catocala concumbens, Peterborough, Ontario,
courtesy of Tim Dyson, copyright, August 16, 2004
DISTRIBUTION:

In the United States concumbens is found east of the Rockies. Tom Middagh reports them in Minnesota. Harry King confirms them in Michigan. Deb Lievens confirms them in New Hampshire.

It flies at least as far south as Connecticut and New Jersey.

It has also been reported in District of Columbia, Illinois, Indiana, Maine, Maryland, Massachusetts, Nebraska, New York, North Carolina, North Dakota, Ohio, Pennsylvania, Rhode Island, South Dakota, Vermont, Virginia, West Virginia and Wisconsin.

The forewings are a silvery gray and have no streaks or dashes. The hindwing has an uninterrupted white fringe and there is a prothoracic brown collar clearly visible in this Lynn Scott photo.

At lights or on tree trunks, this species rests with wings folded and head down.
Catocala cara and C. amatrix are similar species, but concumbens lacks the checking of these two in the hindwing fringe and concumbens has a thicker and more even black median band that terminates before the inner margin.

This species comes readily to lights and to baits.

Catocala concumbens August 15, Peterborough, Ontario, courtesy of Tim Dyson copyright. Tim is using some red wine in his bait.
FLIGHT TIMES AND PREFERRED FOOD PLANTS:
Catocala concumbens are usually on the wing from June to early October.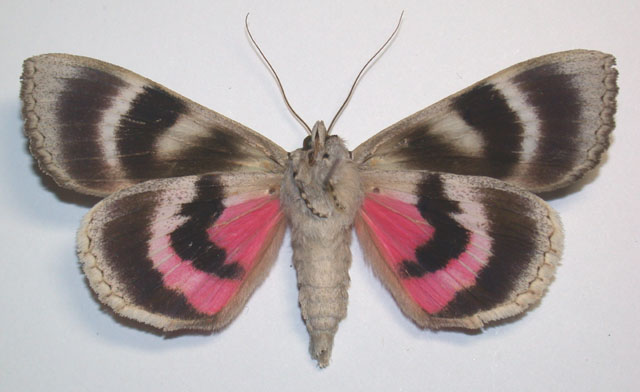 Catocala concumbens verso, Longueuil, Quebec,
August 10, 1997, courtesy of Pierre Legault.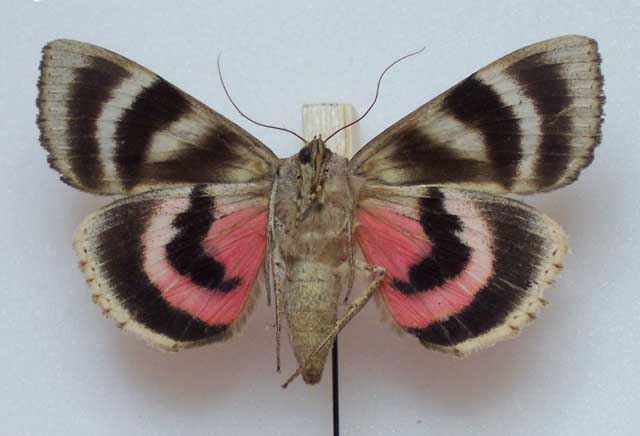 Catocala concumbens verso, Mason, Ingham County, Michigan, courtesy of Harry King.

Visit Pink Underwings of Ontario: Comparison Plate for Catocala concumbens/amatrix/cara, recto and verso, with commentary, courtesy of Tim Dyson.

The Catocala concumbens caterpillar feeds on willows and poplars.
ECLOSION:
Adults eclose from pupae at soil surface.
SCENTING AND MATING:
Catocala concumbens females emit an airbourne pheromone and males use their antennae to track the scent plume.
EGGS, CATERPILLARS, COCOONS AND PUPAE:

Eggs are deposited on tree bark in the fall and hatch the following spring.

Eggs can be overwintered in the fridge crisper and this species oviposits readily on the sides of brown paper bags.

Tiny hatchlings crawl like inchworms and are remarkably fast. They can escape through the smallest openings.

At maturity larvae will utilize a few strands of silk to fashion cocoons amongst leaf litter.

Adults emerge about 18-21 days later.

Catocala concumbens larva, courtesy of Martin Jagelka
I am extremely grateful to Kirby Wolfe for his photographs of Catocala eggs. Concumbens females oviposit readily in inflated paper sanwich or grocery bags.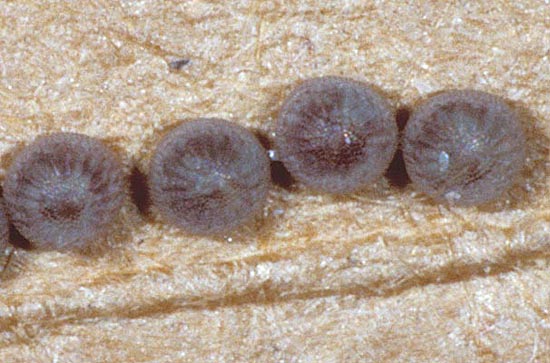 Catocala concumbens courtesy of Kirby Wolfe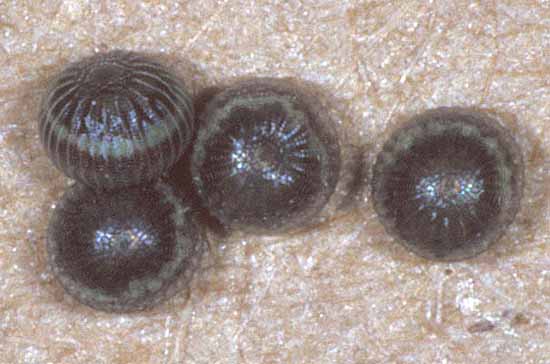 Catocala relicta courtesy of Kirby Wolfe.

The eggs look like miniature pin cushions, well rounded, but slightly flattened with intricate sculpting.

Tim Dyson sent me images of several different instars (below) from eggs I sent to him in the fall of 2004. He also sent an images of pupae and cocoons.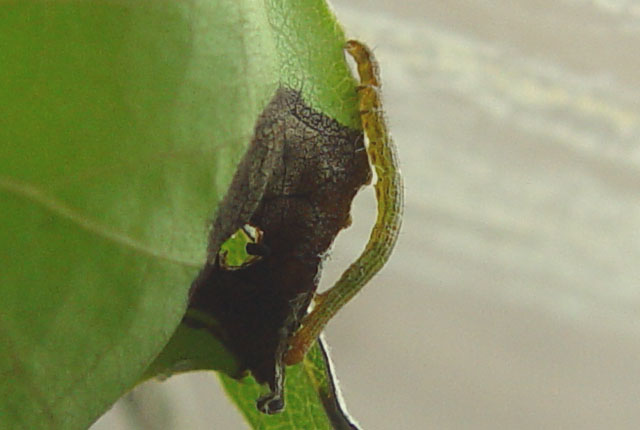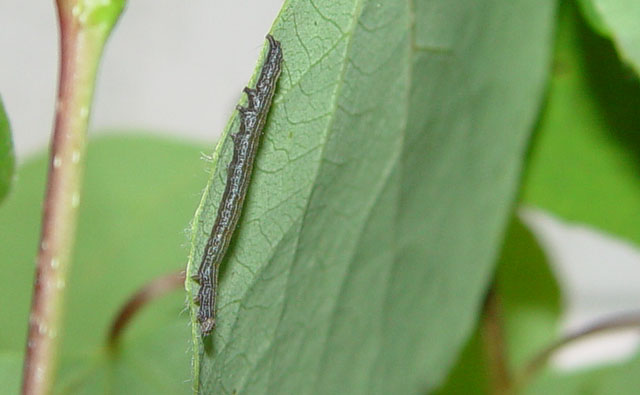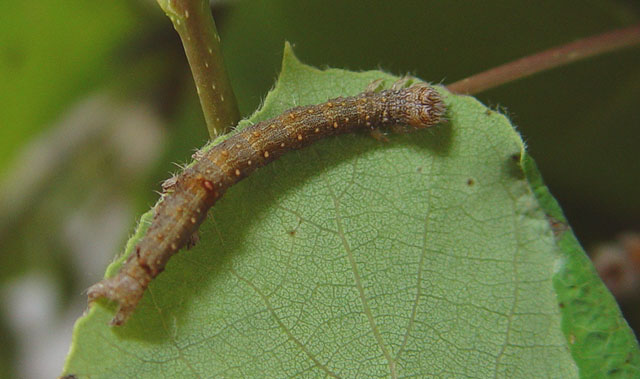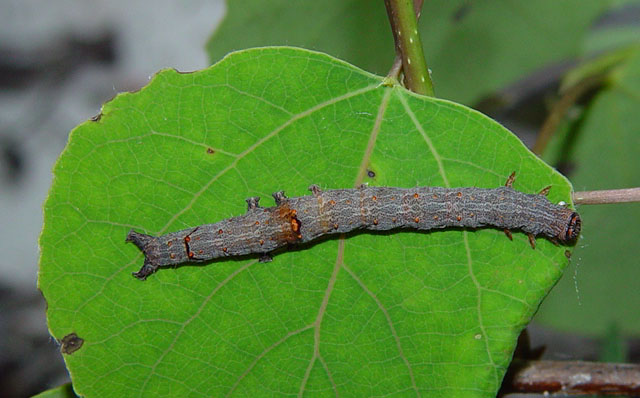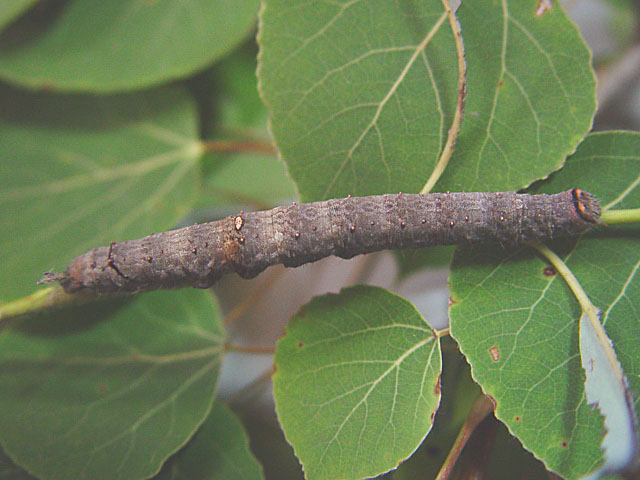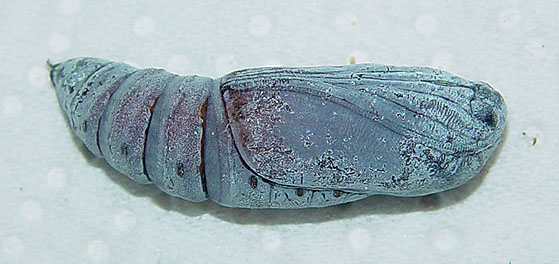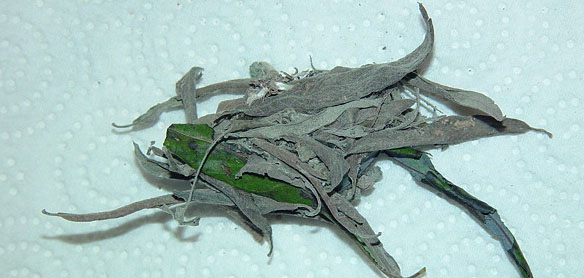 Larval Food Plants
Listed below are primary food plant(s) and alternate food plants. It is hoped that this alphabetical listing followed by the common name of the foodplant will prove useful. The list is not exhaustive, although some species seem very host specific. Experimenting with closely related foodplants is worthwhile.
Populus deltoides
Populus nigra
Populus tremuloides.....
Salix


Eastern cottonwood
Lombardy poplar
Quaking aspen
Willow

Use your browser "Back" button to return to the previous page.
Return to Main Catocala Index
Visit Martin Jagelka's Catocala concumbens image.
Visit Joe Garris's Catocala concumbens images.
Visit Catocala concumbens, Ogemaw County, Michigan, August 15, 2012, Cindy Mead.
Visit Catocala concumbens, Athol, Worcester County, Massachusetts, August 24, 2009, courtesy of Dave Small.
Visit Catocala concumbens, Lancaster, Coos County, New Hampshire, August 2 - 24, 2007-2014, Ron White.
Visit Catocala concumbens, Londonderry, Rockingham County, New Hampshire, August 30 - September 11, Deb Lievens.
Visit Catocala concumbens, Hinckley, Somerset Co., Maine, September 2, 2011, courtesy of Steve Lemieux.
Visit Catocala concumbens, Medford, Taylor County, Wisconsin, September 3, 2013, Joan F. Rickert.
Visit Catocala concumbens, Saxtons River, Windham Co., Vermont, Sept. 18, 2011, JoAnne Russo.
This page is brought to you by Bill Oehlke and the WLSS. Pages are on space rented from Bizland. If you would like to become a "Patron of the Sphingidae or Catocala Sites", contact Bill.
Please send sightings/images to Bill. I will do my best to respond to requests for identification help.
Use your browser "Back" button to return to the previous page.
Enjoy one of nature's wonderments: Live Saturniidae (Giant Silkmoth) cocoons.



To show appreciation for this site, click on the flashing
butterfly to the left, a link to many worldwide insect sites.
Return to Canadian Catocala Index

Return to Main Catocala Index