Updated as per personal communication with Ken Allen (C. connubialis, Hillsborough Co., May 10, 2010): May 11, 2010
Updated as per personal communication with Dave Small (Athol, Worcester County, Connecticut, July 21, 2011); July 25, 2011
Updated as per personal communication with Thomas Payne (Catocala connubialis form cordelia, Tennessee;, June 2, 2012); January 27, 2014
Updated as per personal communication with Rosemary Seidler (Shreveport, Caddo Parish, Louisiana; May 20, 2014); May 26, 2014
Updated as per personal communication with Marcie O'Connor (Buffalo County, Wisconsin; July 16, 2014); July 22, 2014

Catocala connubialis
kah-TOCK-uh-lahMkon-NEW-bee-al-is
Guenee, 1852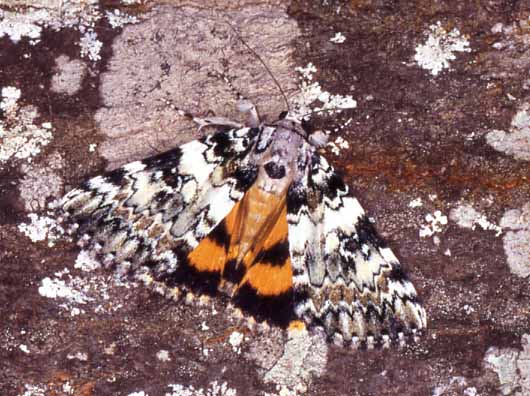 Catocala connubialis form "sancta", courtesy of Leroy Simon, Florida
This site has been created by Bill Oehlke.
Comments, suggestions and/or additional information are welcomed by Bill.
TAXONOMY:

Superfamily: Noctuoidea
Family: Erebidae, Leach, [1815]
Subfamily: Erebinae, Leach, [1815]
Tribe: Catocalini, Boisduval, [1828]
Genus: Catocala, Schrank, 1802

DISTRIBUTION:
Catocala connubialis, the Connubial Underwing, (wingspan: 37-47mm), flies from Ontario to Prince Edward Island, including Quebec, New Brunswick and Nova Scotia in Canada, south to Florida (as early as May 10) and west to Texas (as early as May 25) and Oklahoma and Missouri.
It has also been reported in Arkansas, Connecticut, District of Columbia, Georgia, Illinois, Indiana, Kansas, Kentucky, Louisiana, Maine, Maryland, Massachusetts, Michigan, Mississippi, Nebraska, New Hampshire, New Jersey, New York, North Carolina, Ohio, Pennsylvania, Rhode Island, South Carolina, Tennessee, Virginia, West Virginia and Wisconsin.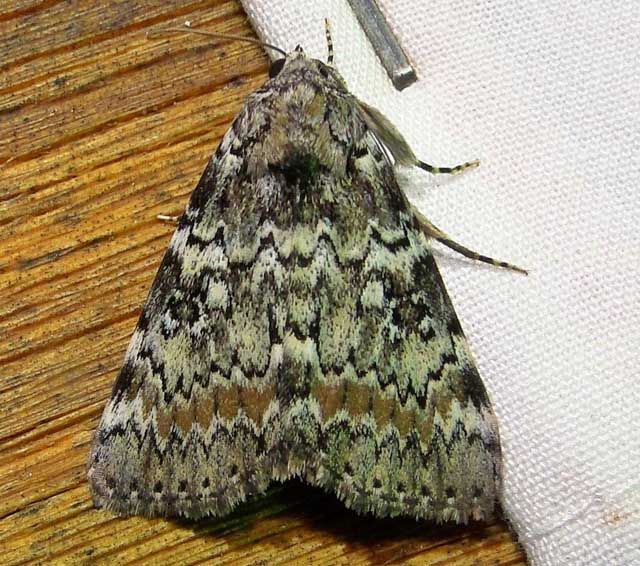 Catocala connubialis, Athol, Worcester County, Massachusetts,
July 21, 2011, courtesy of Dave Small.
The forewing is highly variable and there are several different forms:
"sancta" Hulst (bottom) is the typical form and has forewings with white ground colour and sharply contrasting black lines and markings. There is also brown shading between post medial and subterminal lines;
"cordelia" H. Edwards is coloured as above but markings are faint;
"pulverulenta" (top) Brower has grey-green forewings with faint markings, sometimes none;
"broweri" Muller is the melanic form with forewings that are dark green, almost black.

The hindwing has a separate anal spot and the outer band ends with a straight cut. The white outer fringe at the hindwing apex is distinct and slightly more advanced than the yellow-orange inner fringe.

The remaining fringe is pale yellow-orange and heavily barred.

Trio courtesy of James K. Adams.
In all the images that I have seen, the forewings provide some distinguishing characters.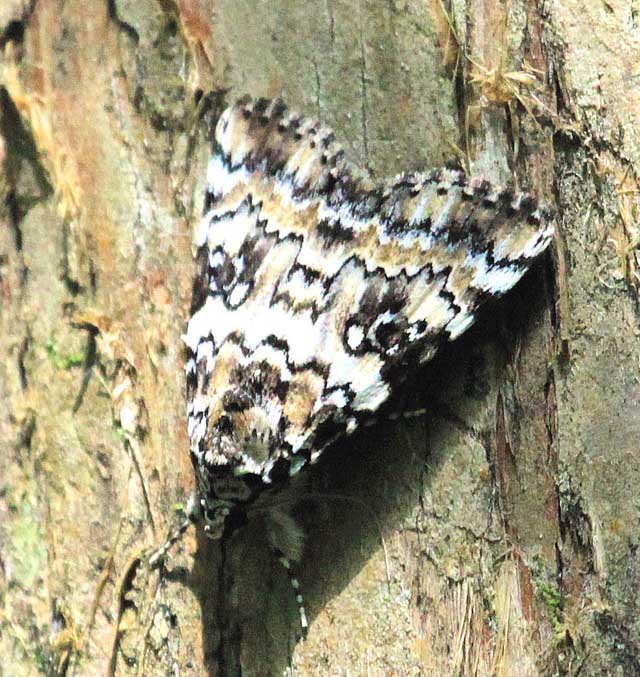 Catocala connubialis, Hillsborough County, Florida,
May 10, 2010, courtesy of Ken Allen.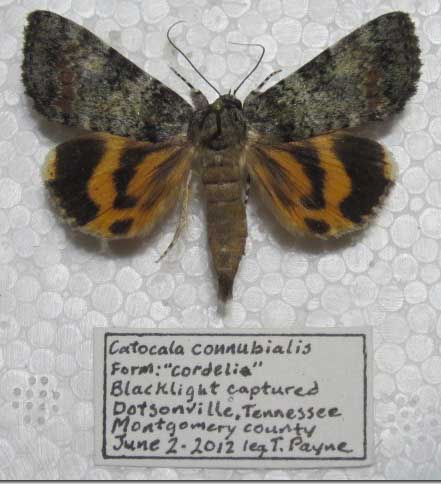 Catocala connubialis form cordelia,
Dotsonville, Montgomery County, Tennessee,
June 2, 2012, courtesy of Thomas Payne.
The dark distinct am line consists of four relatively wide, blunt notches, the smallest first one, bordered by the costa, the last one bordered by the inner margin, the two internal ones much wider.
There is a suffusion of darker scales in the basal area inside the outline of grey-white scales on either side of this line.
The sub-reniform spot is distinct and lighter than surrounding areas, which also tend to be light in colour.
The distinct pm line has one noticeably wider, blunter "tooth" one notch up from the inner margin.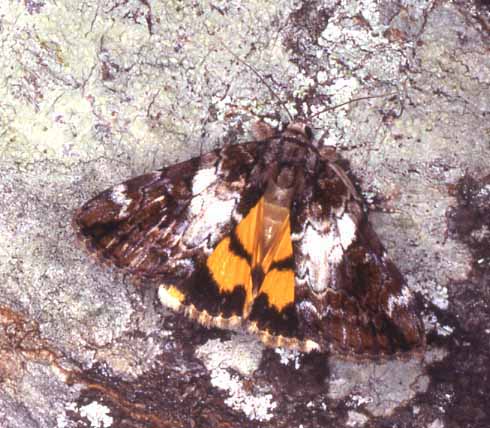 Catocala connubialis, variation, Florida, courtesy of Leroy Simon.
FLIGHT TIMES AND PREFERRED FOOD PLANTS:
Catocala connubialis are usually on the wing from May (Florida-Louisiana-Texas) and June to early September in more northerly locales.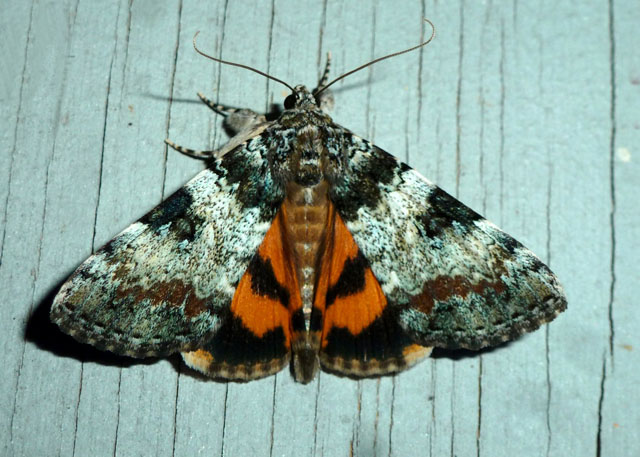 Catocala connubialis, Shreveport, Caddo Parish, Louisiana,
May 20, 2014, courtesy of Rosemary Seidler.
The Catocala connubialis caterpillar shows a preference for oaks, particularly red oak.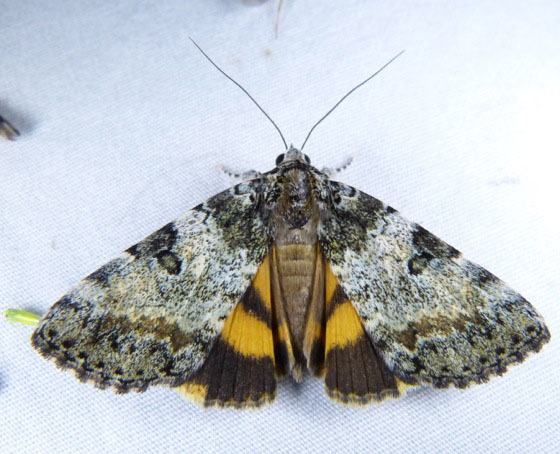 Catocala connubialis form pulverulenta, Buffalo County, Wisconsin,
July 17 2013, courtesy of Marcie O'Connor.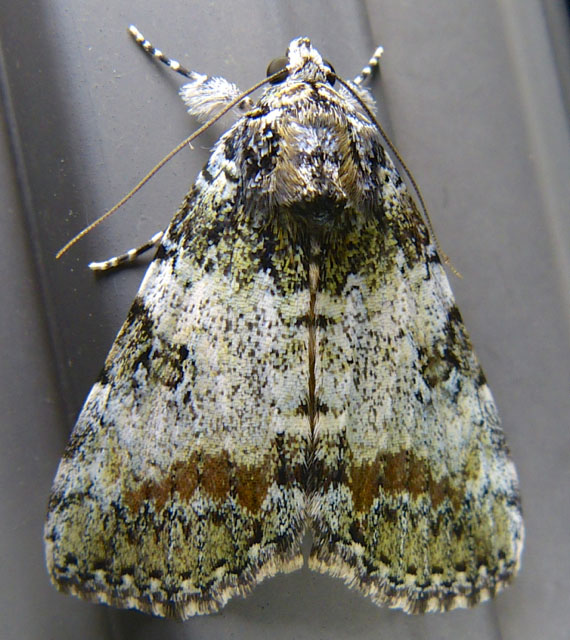 Catocala connubialis form pulverulenta, Buffalo County, Wisconsin,
July 19 2014, courtesy of Marcie O'Connor.
ECLOSION:
Adults eclose from pupae at soil surface.
SCENTING AND MATING:
Catocala connubialis females emit an airbourne pheromone and males use their antennae to track the scent plume.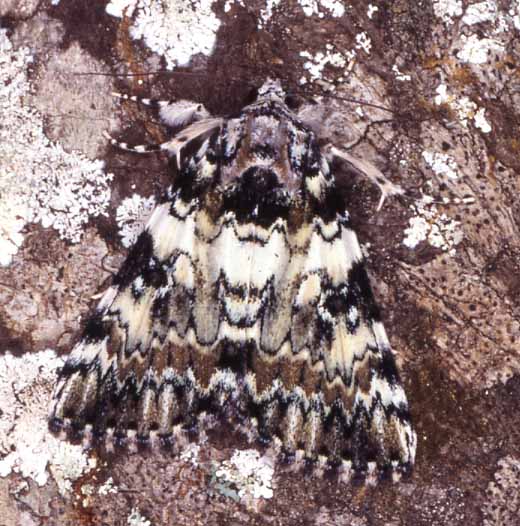 Catocala connubialis form "sancta", courtesy of Leroy Simon, Florida
EGGS, CATERPILLARS, COCOONS AND PUPAE:
Eggs are deposited on tree bark in the fall and hatch the following spring.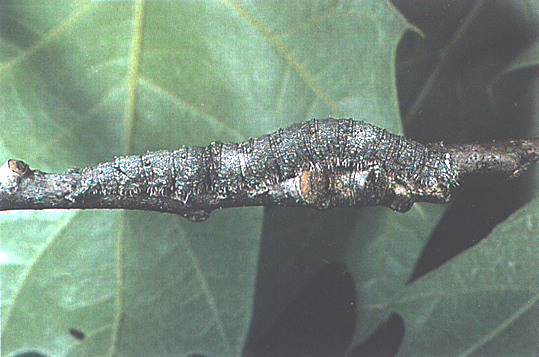 Catocala connubialis courtesy of David Wagner.
Larval Food Plants
Listed below are primary food plant(s) and alternate food plants. It is hoped that this alphabetical listing followed by the common name of the foodplant will prove useful. The list is not exhaustive, although some species seem very host specific. Experimenting with closely related foodplants is worthwhile.
Cephalanthus occidentalis.......
Melia azedarach
Quercus rubra


Buttonbush
Chinaberry
Northern red oak

Return to Main Index
This page is brought to you by Bill Oehlke and the WLSS. Pages are on space rented from Bizland. If you would like to become a "Patron of the Sphingidae/Catocala Sites", contact Bill.
Please send sightings/images to Bill. I will do my best to respond to requests for identification help.
Enjoy one of nature's wonderments: Live Saturniidae (Giant Silkmoth) cocoons.



To show appreciation for this site, click on the flashing
butterfly to the left, a link to many worldwide insect sites.