Catocala crataegi
kah-TOCK-uh-lahmmKRAY-tee-gye
Saunders, 1876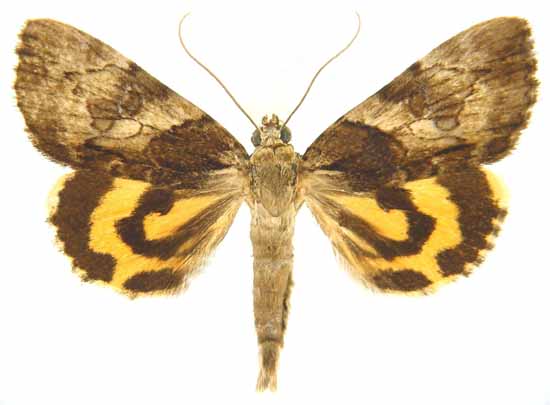 Catocala crataegi male subspecies 1, Louisiana, courtesy of Vernon Antoine Brou.
This site has been created by Bill Oehlke.
Comments, suggestions and/or additional information are welcomed by Bill.
TAXONOMY:

Superfamily: Noctuoidea
Family: Erebidae, Leach, [1815]
Subfamily: Erebinae, Leach, [1815]
Tribe: Catocalini, Boisduval, [1828]
Genus: Catocala, Schrank, 1802

DISTRIBUTION:
Florida, Illinois, Indiana, Iowa, Kansas, Kentucky, Louisiana, Massachusetts, Mississippi, Missouri, New Hampshire , New Jersey, New York, North Carolina, Ohio, Pennsylvania, South Carolina, Texas, Vermont, Virginia, West Virginia and Wisconsin.
Larry Line reports it in western Maryland, and I suspect it also flies in Delaware and possibly in Rhode Island.
In the southern states of Arkansas, Florida, Georgia, Louisiana, Mississippi, Missouri, North Carolina, South Carolina and Texas it exists as subspecies #1.
Catocala crataegi, Monhegan Island, Maine,
August 31, 2007, courtesy of Steve Nanz
Determination is based on dark (black) shading in forewing basal area continuing along inner margin to anal angle and brown shading beyond postmedial line. There is also a definite greenish cast to median area.

Visit Catocala crataegi, Windsor, Ontario, courtesy of Maurice Bottos.

The lower wing has the outer black band, broken near the anal angle, distinguishing crataegi from blandula.

Catocala crataegi, Canadian Biodiversity Information Facility.
Catocala crataegi, July 7, 2005, Peterborough, Ontario, courtesy of Tim Dyson.
Tim Dyson writes (July 7, 2005),
"Hi Bill,
"I got home at 4:00am from lights this morning, took the night`s moths up to the studio, and there on the small window, (I had left the light on), was the first (and very small) Catocala of the season!
"I pulled the screen off enough to get my hand out there. Didn`t want to scare him away, so put a little of Sphingidae drink, (with a touch of red wine) on tip of my finger, and held it near the moth.
"It took about ten minutes, but finally he climbed on, and began to drink enough that I could pull my hand back in. I had already put some of moth drink on tree bark for photos, so I eased him off my finger onto wood.
"I think its either blandula, or crataegi, but maybe you can tell me for sure."
I am going with Catocala crataegi because of the definite greenish cast to the median area. The hindwing outer black band also appears broken near the anal angle.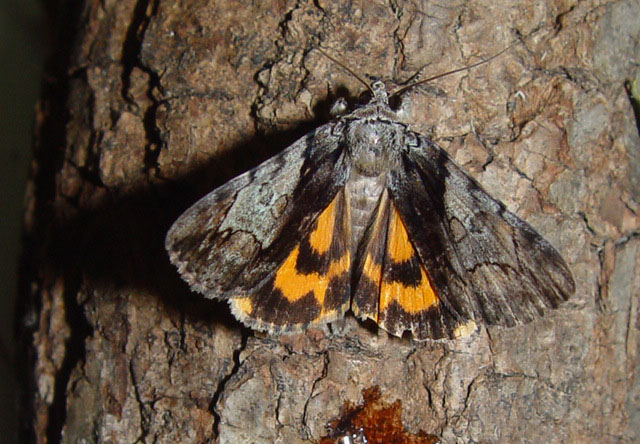 Catocala crataegi, July 7, 2005, Peterborough, Ontario, courtesy of Tim Dyson.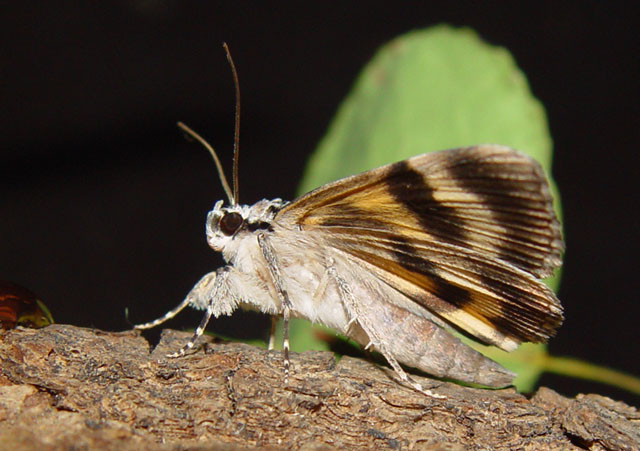 Catocala crataegi, July 7, 2005, Peterborough, Ontario, courtesy of Tim Dyson.
Tim has remarkable patience, great photography skills and a pure love of nature. When he mentions taking the moth back to the studio, it should be noted he is referring to the live moth. Additional images are taken and then the moth is released. It is often very difficult to distinguish Catocala crataegi from Catocala blandula. I have noticed, however, what may be an additional and distinguishing character between the two species.
Catocala crataegi seems to lack the thin diagonal black stripes on the thorax of Catocala blandula, running from the inner "shoulders" to the juncture of the forewing inner margin and the body.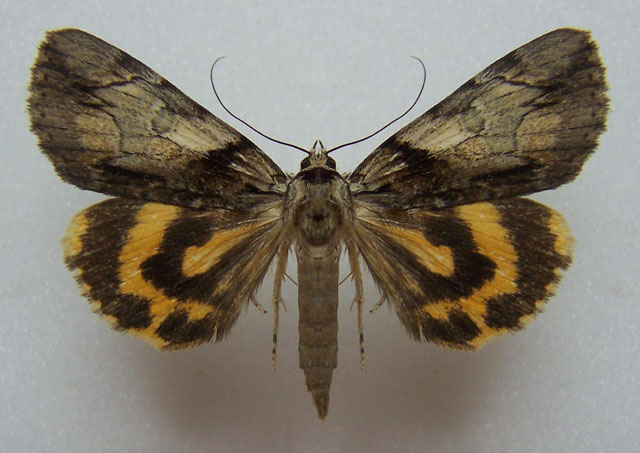 Catocala crataegi, Mason, Ingham County, Michigan,
40mm, bait trail, July 18, 1994, courtesy of Harry King.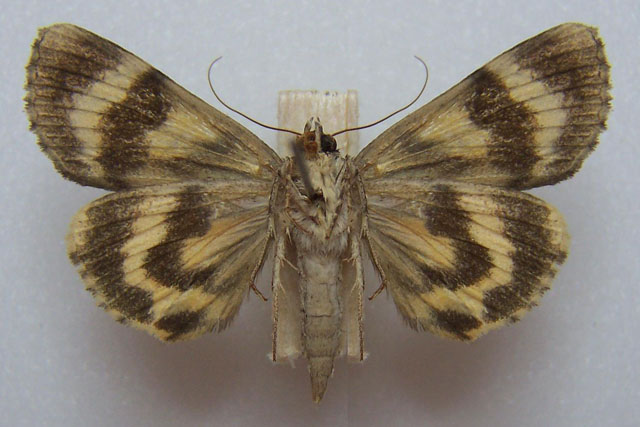 Catocala crataegi (verso), Mason, Ingham County, Michigan,
40mm, bait trail, July 18, 1994, courtesy of Harry King.
FLIGHT TIMES AND PREFERRED FOOD PLANTS:
Catocala crataegi are usually on the wing from late June to August.
Larvae feed on apple and hawthorn trees.
Adults come to lights and to bait.
Visit Catocala crataegi, Athol, Worcester Co., Massachusetts, July 25, 2011, Dave Small.
ECLOSION:
Adults eclose from pupae at soil surface.
SCENTING AND MATING:
Catocala crataegi females emit an airbourne pheromone and males use their antennae to track the scent plume.
EGGS, CATERPILLARS, COCOONS AND PUPAE:

Eggs are deposited on tree bark in the fall and hatch the following spring.

Troy Bartlett encountered this larva on a vine stem wrapped around some Crataegus branches. Larvae hide on stems during the day and feed at night.
Larval Food Plants
Listed below are primary food plant(s) and alternate food plants. It is hoped that this alphabetical listing followed by the common name of the foodplant will prove useful. The list is not exhaustive, although some species seem very host specific. Experimenting with closely related foodplants is worthwhile.
Crataegus
Pyrus malus.......


Hawthorn
Apple

Return to Main Index
This page is brought to you by Bill Oehlke and the WLSS. Pages are on space rented from Bizland. If you would like to become a "Patron of the Sphingidae/Catocala Sites", contact Bill.
Please send sightings/images to Bill. I will do my best to respond to requests for identification help.
Enjoy one of nature's wonderments: Live Saturniidae (Giant Silkmoth) cocoons.



To show appreciation for this site, click on the flashing
butterfly to the left, a link to many worldwide insect sites.