Catocala delilah
kah-TOCK-uh-lahmdee-LYE-luh
Strecker, 1874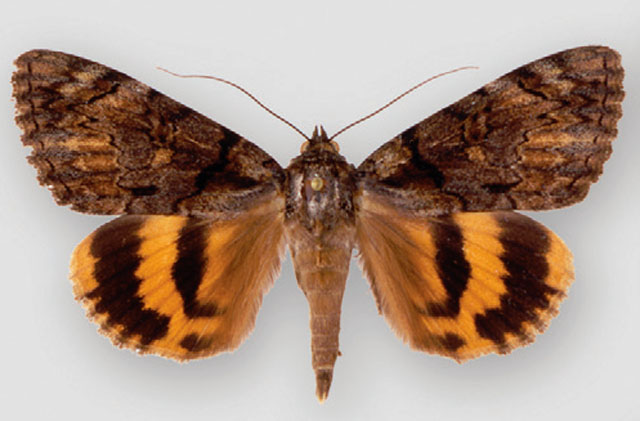 Catocala delilah male, 58mm, courtesy of David Hawks.
This site has been created by Bill Oehlke.
Comments, suggestions and/or additional information are welcomed by Bill.
TAXONOMY:

Superfamily: Noctuoidea
Family: Erebidae, Leach, [1815]
Subfamily: Erebinae, Leach, [1815]
Tribe: Catocalini, Boisduval, [1828]
Genus: Catocala, Schrank, 1802

DISTRIBUTION:
Catocala delilah, The Delilah Underwing (wingspan: 58-65mm), flies from Tennessee south to Florida and west to Texas and Oklahoma.
Arkansas: Washington;
Florida: Citrus, Dixie, Hernando, Hillsborough, Jackson, Lake, Lane, Levy, Orange, Putnam, Seminole;
Georgia: Macintosh;
Illinois: Adams, Jackson, Union;
Kansas: Douglas, Leavenworth;
Kentucky;
Mississippi: Oktibbeha;
Missouri: Greene, Organ;
Nebraska: Gage;
Oklahoma: Comanche, Carter, Creek, Mays, Oklahoma, Pittsburg, Pottawattamie, Payne;
Tennessee: Morgan;
Texas: Anderson, Bastrop, Bee, Bexar, Blanco, Brazos, Burnet, Comal, Dallas, Erath, Harris, Hays, Kerr, Kimble, Medina, Montague, Robertson, San Patricio, Washington.
The forewing is gray-brown with prominent black antemedial and postmedial lines. The hindwing is yellow-orange, with a narrow inner black band which reaches the inner margin. There is a large yellow spot at the apex, and the fringe is faintly barred. The underside of the wings is deep yellow with black bands.
"AM line thick at costa, gradually becoming thin toward inner margin, or appearing "beaded" due to alternating thick and thin areas; dorsal forewing surface usually evenly brown; dorsal hindwing with bands brownish orange; edges of apical spot on ventral hindwing usually not well defined." David Hawks
"One of the two largest species in the complex, with mean forewing costal margin length 27.1 mm males, 30.5 mm females. The only species similar to C. delilah is C. desdemona. Both are similar in size, with a brown thorax, but C. desdemona has a paler and more yellowish abdomen that contrasts with the thorax. The forewing antemedial line is wide (ca. 2 mm) at the costa in both species, but in C. desdemona it abruptly becomes thin just past the radial vein; in delilah the line becomes thinner gradually. The brown line just basal to the antemedial line is usually less conspicuous in C. delilah. In contrast to C. delilah, the forewings of almost all specimens of C. desdemona are speckled with white or yellow scales, which gives the wings a distinctly gray cast." David Hawks
Subspecies C. delilah desdemona has now (2010) been elevated to full species status as Catocala desdemona.
FLIGHT TIMES AND PREFERRED FOOD PLANTS:
Catocala delilah are usually on the wing from May to July.
The Catocala delilah caterpillar feeds on Quercus virginiana Mill. (in Texas and Florida), Q. fusiformis Small (Texas), and Q. laurifolia Michx. (Texas).
ECLOSION:
Adults eclose from pupae at soil surface.
SCENTING AND MATING:
Catocala delilah females emit an airbourne pheromone and males use their antennae to track the scent plume.
EGGS, CATERPILLARS, COCOONS, AND PUPAE:
Eggs are deposited on tree bark in the fall and hatch the following spring.
Larval Food Plants
Listed below are primary food plant(s) and alternate food plants. It is hoped that this alphabetical listing followed by the common name of the foodplant will prove useful. The list is not exhaustive, although some species seem very host specific. Experimenting with closely related foodplants is worthwhile.
Q. fusiformis
Quercus gambeli
Q. laurifolia
Quercus macrocarpus.......
Quercus virginiana
Salix


Texas Live Oak/Escarpment Live Oak/Plateau Live Oak
Gambel Oak
Swamp laurel oak/Diamond-leaf oak/Water oak, Obtusa oak
Bur oak
Southern Live Oak
Willow

Return to Main Index
This page is brought to you by Bill Oehlke and the WLSS. Pages are on space rented from Bizland. If you would like to become a "Patron of the Sphingidae/Catocala Sites", contact Bill.
Please send sightings/images to Bill. I will do my best to respond to requests for identification help.
Enjoy one of nature's wonderments: Live Saturniidae (Giant Silkmoth) cocoons.



To show appreciation for this site, click on the flashing
butterfly to the left, a link to many worldwide insect sites.
Visit Catocala delilah Species Complex; Author: David Hawks.