Updated as per personal communication from Rick Gillmore, May 7, 2007
Updated as per personal communication with Dave Small, Athol, Worcester Co., MA; August 2, 2011

Catocala gracilis
kah-TOCK-uh-lahmmGRAH-si-lis
Edwards, 1864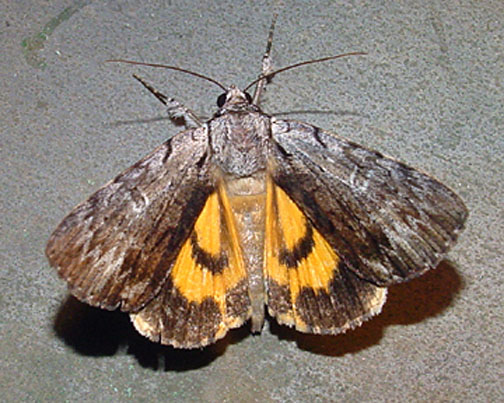 The Graceful Underwing, August 6, 2003, courtesy of Tom Murray copyright
This site has been created by Bill Oehlke at oehlkew@islandtelecom.com
Comments, suggestions and/or additional information are welcomed by Bill.
TAXONOMY:

Superfamily: Noctuoidea
Family: Noctuidae
Group: Noctuinina
Subfamily: Catocalinae
Genus: Catocala, Schrank, 1802


MIDI MUSIC
"Moon River"
copyright C. Odenkirk
MIDI CITYON.OFF

DISTRIBUTION:
Catocala gracilis (wingspan: 40-45mm) flies in Manitoba, Ontario, Quebec, New Brunswick and Nova Scotia, Canada. In the United States it flies in Maine, south through Connecticut, New Jersey, etc. to Florida and west to Mississippi and Missouri with a Texas specimen reported by Charles W. Bordelon Jr., May 25, 1996.
Alabama, Arkansas, Georgia, Indiana, Kentucky, Louisiana, Maryland, Massachusetts, Michigan, New Hampshire, New York, North Carolina, Ohio, Pennsylvania, Rhode Island, South Carolina, Tennessee, Virginia and West Virginia.
Gracilis closely resembles sordida but the hindwing loop is not complete in gracilis as it is in sordida. Gracilis also tends to have a darker inner margin and there is frequently (99% of the time, Dale Schweitzer, via Joe Garris), but not always, a basal dash. Sordida never has the basal dash.

In the form lemmeri, Mayfield, the black border along the inner margin is very sharply defined.

Catocala gracilis, Canadian Biodiversity Information Facility.
Visit Catocala gracilis (tentative id), Londonderry, Rockingham County, New Hampshire, courtesy of Deb Lievens.
FLIGHT TIMES AND PREFERRED FOOD PLANTS:
Catocala gracilis flies as a single generation with moths on the wing from July to September (late May and June in extreme south).
Moths come in to lights readily and also to bait.
The Catocala gracilis caterpillar shows a preference for blueberries and is probably host specific in North America, although oak and fetterbush have also been reported as hosts.
Rick Gillmore writes May 7, 2007, "C. gracilis is a blueberry feeder....oak is wrong."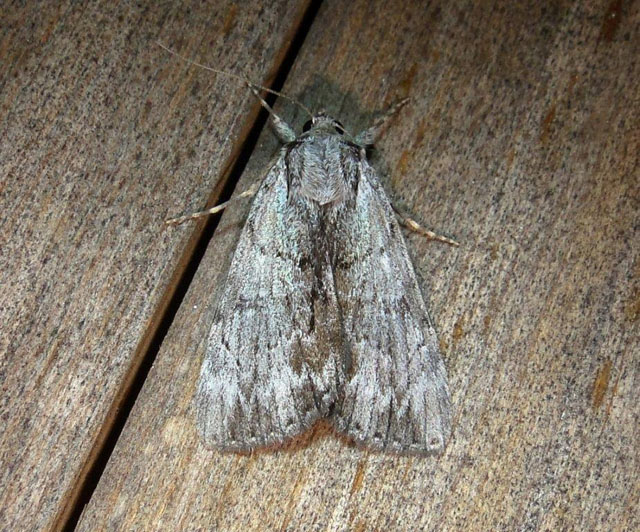 Catocala gracilis, Athol, Worcester County, Massachusetts,
August 2, 2011, courtesy of Dave Small.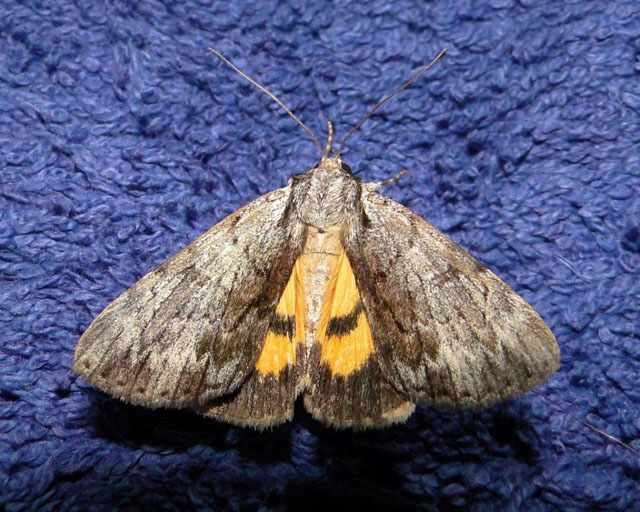 Catocala gracilis, Athol, Worcester County, Massachusetts,
August 2, 2011, courtesy of Dave Small.
ECLOSION:
Adults eclose from pupae formed under leaf litter.
Catocala gracilis, Amherst, Hampshire County, Massachusetts,
August 9, 2011, courtesy of Joshua S. Rose.
SCENTING AND MATING:
Catocala gracilis females emit an airbourne pheromone and males use their antennae to track the scent plume.
EGGS, CATERPILLARS, COCOONS, AND PUPAE:

Eggs are deposited on bush bark in the fall and hatch the following spring.

Mature larvae
Larval Food Plants
Listed below are primary food plant(s) and alternate food plants. It is hoped that this alphabetical listing followed by the common name of the foodplant will prove useful. The list is not exhaustive, although some species seem very host specific. Experimenting with closely related foodplants is worthwhile.
Leucothoe
Quercus
Vaccinium pallidum.....


Fetterbush
Oak questionable
Blueberry

Return to Main Index
The Graceful Underwing, courtesy of James K. Adams
This page is brought to you by Bill Oehlke and the WLSS. Pages are on space rented from Bizland. If you would like to become a "Patron of the Sphingidae/Catocala Sites", contact Bill.
Please send sightings/images to Bill. I will do my best to respond to requests for identification help.
Enjoy one of nature's wonderments: Live Saturniidae (Giant Silkmoth) cocoons.



To show appreciation for this site, click on the flashing
butterfly to the left, a link to many worldwide insect sites.