Catocala hermia
kah-TOCK-uh-lahMHER-mee-uh
Henry Edwards, 1880
Catocala hermia from Alberta.
Many thanks to Bryan Zvolanek who provides the following image of Catocala hermia form vesta.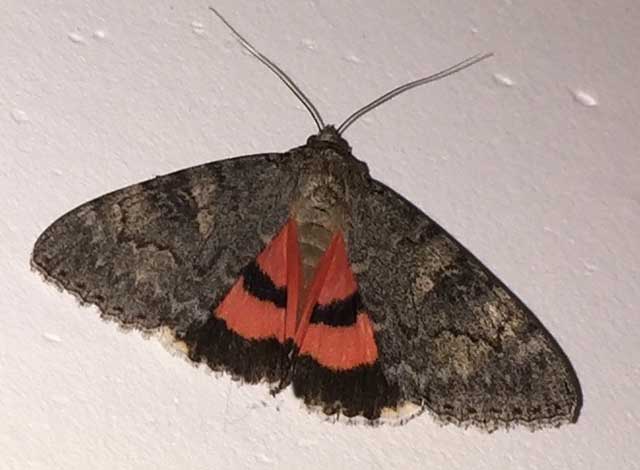 Catocala hermia form vesta, Albuquerque, New Mexico,
July 30, 2016, Bryan Zvolanek, id by Larry Gall.
This site has been created by Bill Oehlke at oehlkew@islandtelecom.com
Comments, suggestions and/or additional information are welcomed by Bill.
TAXONOMY:

Superfamily: Noctuoidea
Family: Noctuidae
Group: Noctuinina
Subfamily: Catocalinae
Genus: Catocala, Schrank, 1802

DISTRIBUTION:
Catocala hermia (wingspan: 58-68 mm) flies in cottonwood stands throughout the Great Plains from British Columbia, Alberta (north to the Red Deer region and west to the lower foothills in the Calgary and High River areas) and southern Saskatchewan to Manitoba and in the US in Montana, Oregon and Colorado to Arizona and possibly Texas. It is also seen in Washington and in central eastern California.
There are also reports from Idaho, Nevada, New Mexico, North Dakota, Oklahoma, Utah and Wyoming.
The moth previous designated as Catocala sheba has been synonymized with Catocala hermia. Scott Shaw reports hermia is taken (not common) "on Pole Mountain, in the Medicine Bow Forest, Wyoming, about 10 miles east of Laramie near I-80 in the mountain willow bogs."
Form or subspecies C. hermia vericunda has been reported in western Oklahoma: Cimarron.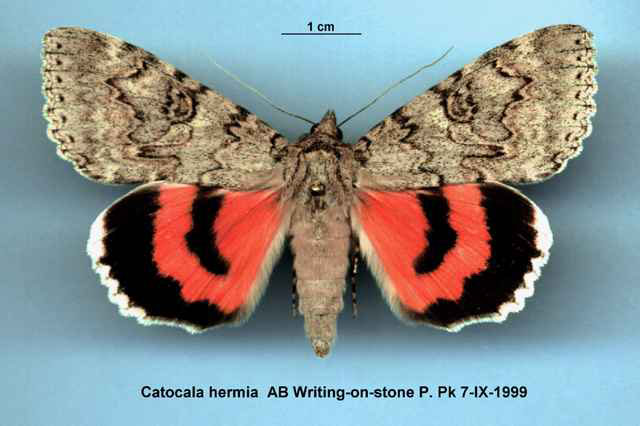 Catocala hermia Writing on Stone, Provincial Park, Alberta,
September 7, 1999, courtesy/copyright of Gary Anweiler.
The forewings are almost uniform/even, not powdery, grey-brown or clay coloured with thin, yet contrasting medial lines.

The large double reniform spot is also distinct. The large concolourous subrenifrom spot is usually open. The hindwings are pinkish red with relatively even and narrow black bands. The inner black band terminates well before the inner margin.

Fringe is white and checked with some pink/red "bleeding" along the outer black band, particularly near the apex.

Image, Redcliff, Alberta, Canada, courtesy of John Acorn.
"Some specimens of C. hermia greatly resemble C. luciana, which has a browner, broader forewings and orange hindwings. It can also be difficult to separate C. hermia from smaller specimens of C. semirelicta, which usually have grey, powdery forewings and a slightly more orange shade of pink on the hindwings."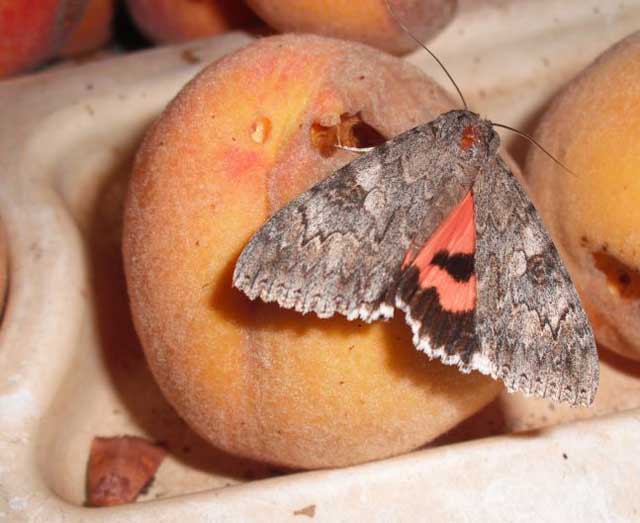 Catocala hermia, Wolf Creek, Josephine County, Oregon,
September 8, 2009, courtesy of Edna Bottorff,
tentative id by Bill Oehlke (could be pale semirelicta).
FLIGHT TIMES AND PREFERRED FOOD PLANTS:
Catocala hermia flies as a single generation with moths on the wing in late July, August and Septmber.
Catocala hermia larvae feed on poplars and willows. There is an almost uniform dark grey form known as vesta.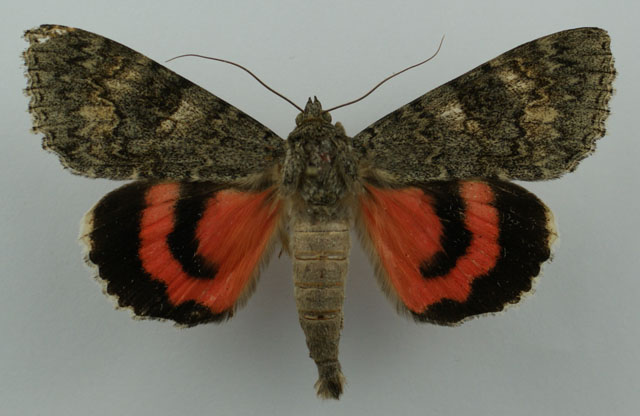 Catocala hermia male, Regina, Saskatchewan,
66mm, August 8, 2010, courtesy of Tim Taylor.
Catocala hermia male (verso), Regina, Saskatchewan,
66mm, August 8, 2010, courtesy of Tim Taylor.
Catocala hermia female, Lumsden, Saskatchewan,
66mm, August 22, 2010, courtesy of Tim Taylor.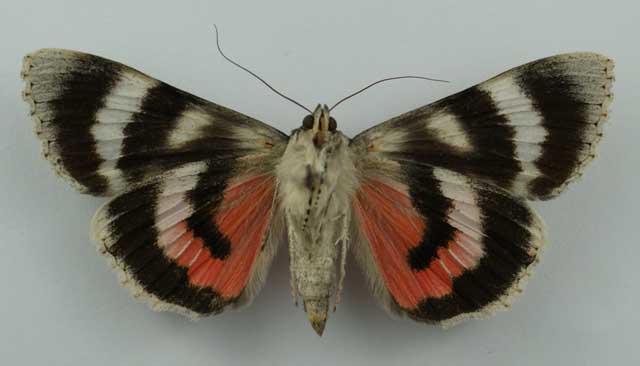 Catocala hermia female (verso), Lumsden, Saskatchewan,
66mm, August 22, 2010, courtesy of Tim Taylor.
ECLOSION:
Adults eclose from pupae formed under leaf litter.
SCENTING AND MATING:
Catocala hermia females emit an airbourne pheromone and males use their antennae to track the scent plume. This is a sexually dimorphic species.
This species comes to lights but is more common at sugar baits.
EGGS, CATERPILLARS, COCOONS AND PUPAE:
Eggs are deposited on tree bark in the fall and hatch the following spring.
Larval Food Plants
Listed below are primary food plant(s) and alternate food plants. It is hoped that this alphabetical listing followed by the common name of the foodplant will prove useful. The list is not exhaustive, although some species seem very host specific. Experimenting with closely related foodplants is worthwhile.
Populus......
Salix


Poplar
Willow

This page is brought to you by Bill Oehlke and the WLSS. Pages are on space rented from Bizland. If you would like to become a "Patron of the Sphingidae/Catocala Sites", contact Bill.
Please send sightings/images to Bill. I will do my best to respond to requests for identification help.
Enjoy one of nature's wonderments: Live Saturniidae (Giant Silkmoth) cocoons.



To show appreciation for this site, click on the flashing
butterfly to the left, a link to many worldwide insect sites.
Return to Canadian Index
Return to Main Index