DISTRIBUTION:
Catocala ilia zoe (wingspan: approximately 65mm) flies in California northwards to at least central western Oregon and east at least to Arizona. There are a few records for southern Oregon. I have also seen an image from Umatilla, northeastern Oregon, that I am pretty sure is ilia zoe.
It has also been reported in Utah. It might be ?? in western New Mexico.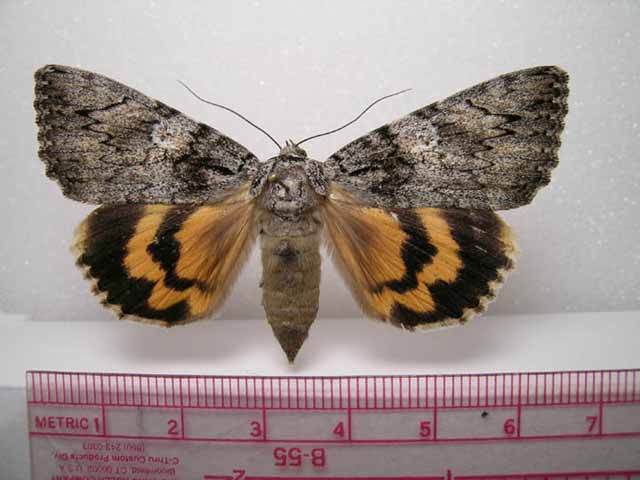 C. ilia zoe, June 4, 2003, Pinnacles National Monument,
San Benito, California, courtesy of Paul Johnson.

The forewing ground colour is light grey with considerable brown scaling. The double reniform spot has a brown center, thinly outlined in black, widely outlined in white, then thinly outlined in black. The subreniform spot tends to be indented on both the inner side and the outer side, just above its tailed extension, which may or may not be open to the pm line.

The am line is black, distinct and has a pointed, triangular shaped indentation just above the inner margin. The pm line is darker along its upper half. The two upper teeth are elongate, followed by a shorter, dark, pointed third tooth and a fourth more elongate, wider blunter tooth. The fifth tooth below the line on the subreniform spot is wide and has two projections, a shorter upper projection and a larger, longer projection.

There is a dark dash in the basal area.

The hindwing ground colour is yellowish-orange with some light brown scaling/hairs particularly in the basal area along the inner margin. The outer black band has a deep indentation near the anal angle. The inner band is almost complete to the inner margin and has a projection toward the indention of the outer band. The inner half of the hw apex is yellow-orange; the outer half is white. The remaining fringe is white, heavily checked, with some slight "bleeding" of yellow-orange.
FLIGHT TIMES AND PREFERRED FOOD PLANTS:
Catocala ilia zoe are usually on the wing from June to September, but Dave Wikle took the one depicted below at a MV light on May 29, 2004, Alameda County, elev 2380' streamside among oaks, pines, chaparral, N37 29.527 W121 32.059, three miles west of the convergence of Alameda, Santa Clara, Stanislaus and San Joaquin Counties on Mines Road.
The peak of the single flight is probably in June.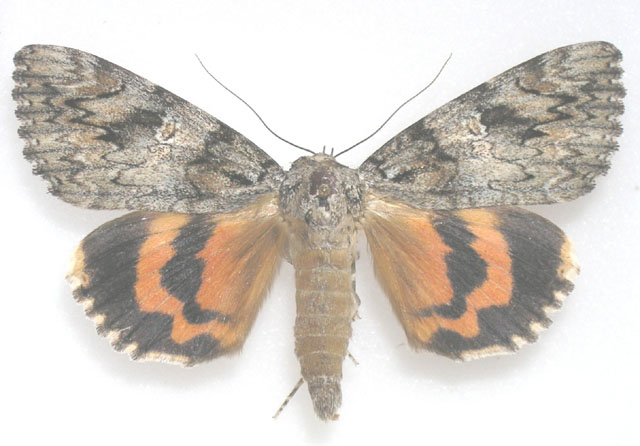 The Catocala ilia zoe caterpillar probably feeds on black, burr, red and white oaks.
Catocala ilia zoe, June 13, 2007, Eugene (Lane County), Oregon,
courtesy of Larry McQueen/Kit Larsen image, confirmed by Larry Gall.
Larry found the following larva and put it in a jar with some oak leaves. It pupated on May 13, 2007 and emerged 31 days later.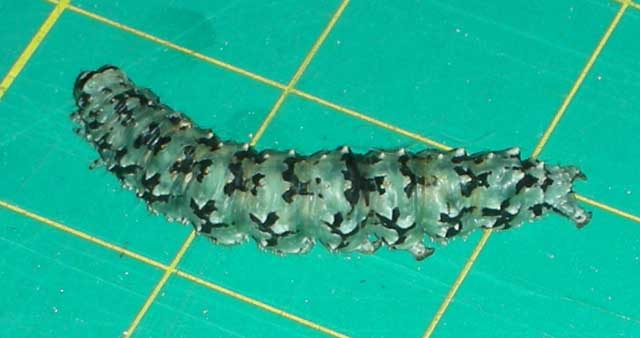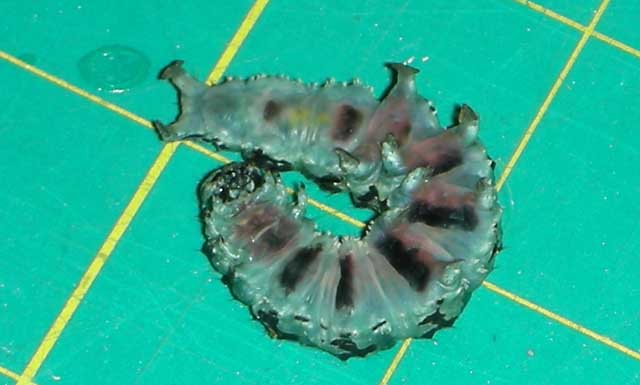 Catocala ilia zoe, May 12, 2007, Eugene, Oregon, courtesy of Larry McQueen.
Larry writes, " The caterpillar was found last evening by our dog on the patio. We donít know what plant it associates with, but we have a lot of potted plants. The ventral view captured the caterpillar as it was doing its scare movements of rapid lateral twisting so that it pops up and often lands on its back. It was photographed on a one-inch grid. The insect is basically a green on the blue or gray side."
Catocala ilia zoe, June 13, 2007, Eugene (Lane County), Oregon,
courtesy of Larry McQueen/Kit Larsen image.
ECLOSION:
Adults eclose from pupae at soil surface. SCENTING AND MATING:Catocala ilia zoe females emit an airbourne pheromone and males use their antennae to track the scent plume.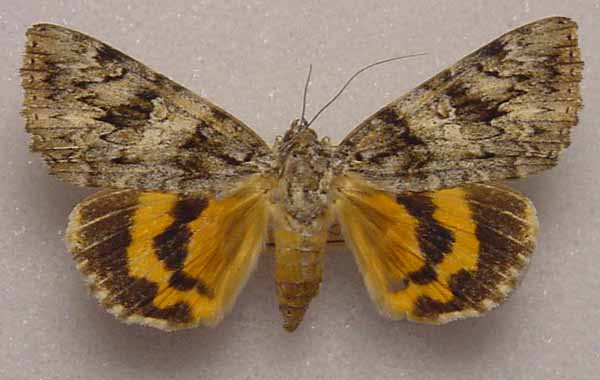 Catocala ilia zoe female, Old Kern Cyn Rd, 2320', Kern Co CA,
June 21, 1990, Kelly Richers, collector, at u.v. light
EGGS, CATERPILLARS, COCOONS AND PUPAE:
Eggs are deposited on tree bark in the late spring and summer and hatch the following spring.
Larval Food Plants
Listed below are primary food plant(s) and alternate food plants. It is hoped that this alphabetical listing followed by the common name of the foodplant will prove useful. The list is not exhaustive, although some species seem very host specific. Experimenting with closely related foodplants is worthwhile.



White oak
Burr oak
Northern red oak
Black oak

This page is brought to you by Bill Oehlke and the WLSS. Pages are on space rented from Bizland. If you would like to become a "Patron of the Sphingidae/Catocala Sites", contact Bill.
Please send sightings/images to Bill. I will do my best to respond to requests for identification help.
Enjoy one of nature's wonderments: Live Saturniidae (Giant Silkmoth) cocoons.



To show appreciation for this site, click on the flashing
butterfly to the left, a link to many worldwide insect sites.
Return to Canadian Index
Return to Main Index