Updated as per personal communication from Rick Gillmore, May 7, 2007
Updated as per personal communication with Eric Smith, (Boone, Watauga County, North Carolina, September 2008); August 2009
Updated as per personal communication with John Shuey (John Peackock has reared them on cottonwood); June 9, 2014

Catocala marmorata
kah-TOCK-uh-lahMmar-mor-AY-tuh
W. H. Edwards, 1864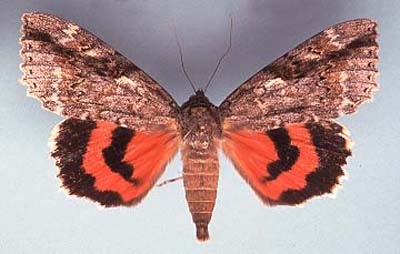 Catocala marmorata courtesy of James Adams.
This site has been created by Bill Oehlke at oehlkew@islandtelecom.com
Comments, suggestions and/or additional information are welcomed by Bill.
TAXONOMY:

Superfamily: Noctuoidea
Family: Noctuidae
Group: Noctuinina
Subfamily: Catocalinae
Genus: Catocala, Schrank, 1802


MIDI MUSIC
"Moon River"
copyright C. Odenkirk
MIDI CITYON.OFF

DISTRIBUTION:
Catocala marmorata, the Marbled Underwing (wingspan: 85-95mm; Hodges #8804), flies from Vermont to South Carolina and west to Indiana and Illinois. This species seems to be endangered through much, if not all, of its range.
It has also been recorded in Arkansas, Connecticut, Delaware, Georgia, Kentucky, Louisiana, Maryland, Missouri, North Carolina, Ohio, Pennsylvania, Tennessee and Virginia.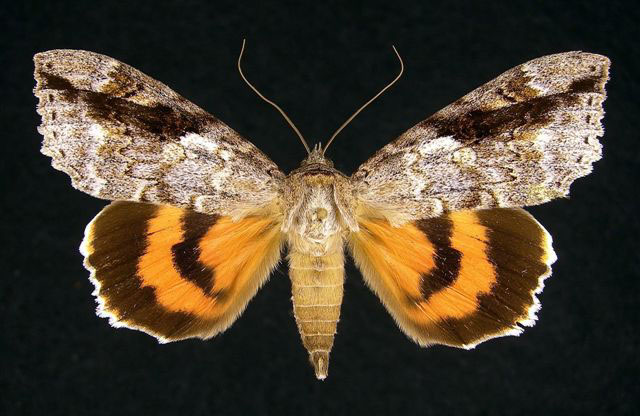 Catocala marmorata, Indiana, wingspan 85mm, courtesy of Jim Vargo.
The dark forewing arc running from the costa down through the reniform spot to the outer margin just below the apex distinguishes this large species from all other "orange-pinkish-red" underwings. Note the lighter "flying saucer" just above the arc, inside the pm line. The subrenifrom spot is light, is bordered inwardly above by a white patch, and is connected to the pm line by a line rather than being open.

Image courtesy of Clemson University.
FLIGHT TIMES AND PREFERRED FOOD PLANTS:
Catocala marmorata are usually on the wing from July through August and into September.
The Catocala marmorata caterpillar probably feeds on poplars and willows.
Rick Gillmore writes May 7, 2007, "C. marmorata larvae are poplar and willow feeders? Please send proof, since my friends and I have not found anyone who has actually found C. marmorata larvae on any foodplant in the 'wild'. John Peacock reared it in the "lab" from ovum, but has never found the larvae on trees."
Bill Oehlke replies, "I do not have proof of willow or poplar as foodplants. However, many of the larger underwings with salmon to orange underwings are poplar feeders. Willows and poplars would be the first hosts I would try if I obtained eggs, but I would also try other local foliage."
John Shuey writes, June 9, 2014, "Hi Bill – I was just looking at your Catocala marmorata page. John Peacock reared it on cottonwood – not willow as implied by the note from Rick Gillmore. The spot in Indiana where he collected his gravid females supports swamp cottonwood as an understory shrub in overcup oak and cypress swamps. I've always assumed that this is the probable host."
Actually, John, I think Rick is questioning my statement that marmorata probably feeds on willow or poplar and that is why he put the questionmark before his words, "Please send proof". You have confirmed at least that it accepts a Populus species, but willow is still questionable. Thank you. (Bill Oehlke)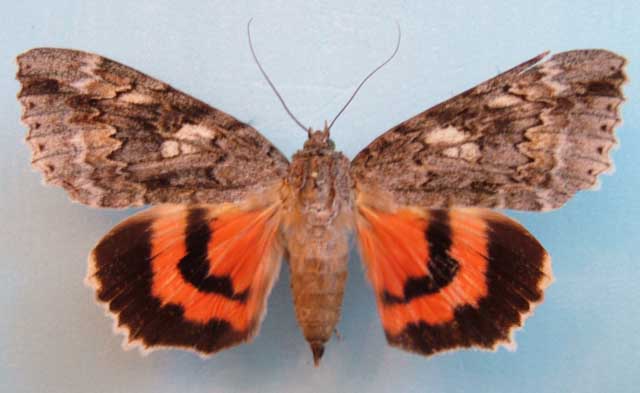 Catocala marmorata, 95mm, Appalachian Mountains, Boone, Watauga County, North Carolina,
September 2008, 3600ft, courtesy of Eric Smith, id by Bill Oehlke.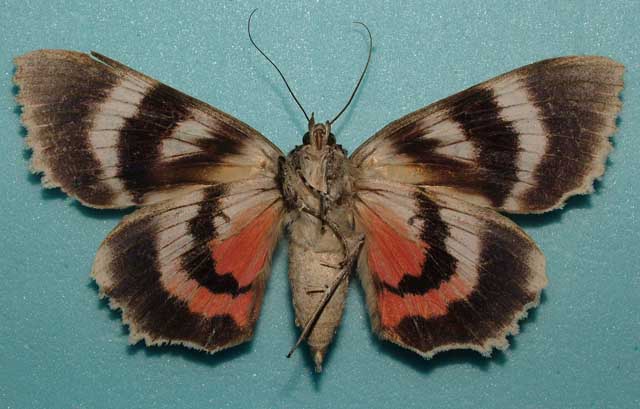 Catocala marmorata verso, 95mm, Appalachian Mountains, Boone, Watauga County, North Carolina,
September 2008, 3600ft, courtesy of Eric Smith, id by Bill Oehlke.
ECLOSION:
Adults eclose from pupae at soil surface.
SCENTING AND MATING:
Catocala marmorata females emit an airbourne pheromone and males use their antennae to track the scent plume.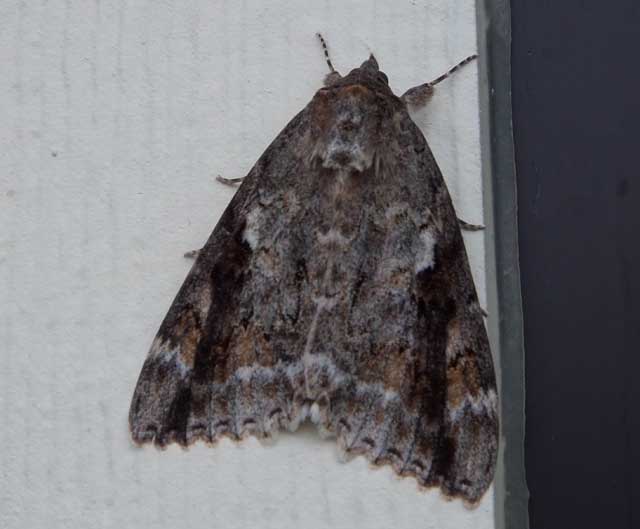 Catocala marmorata, Appalachian Mountains, Boone, Watauga County, North Carolina,
September 8, 2011, 3600ft, courtesy of Eric Smith.
EGGS, CATERPILLARS, COCOONS, AND PUPAE:
Eggs are deposited on tree bark in the fall and hatch the following spring.
Larval Food Plants
Listed below are anticipated food plant(s) and alternate food plants. It is hoped that this alphabetical listing followed by the common name of the foodplant will prove useful. The list is not exhaustive, although some species seem very host specific. Experimenting with closely related foodplants is worthwhile.
Populus
Populus.....
Salix


Cottonwood
Poplar
Willow

This page is brought to you by Bill Oehlke and the WLSS. Pages are on space rented from Bizland. If you would like to become a "Patron of the Sphingidae/Catocala Sites", contact Bill.
Please send sightings/images to Bill. I will do my best to respond to requests for identification help.
Enjoy one of nature's wonderments: Live Saturniidae (Giant Silkmoth) cocoons.



To show appreciation for this site, click on the flashing
butterfly to the left, a link to many worldwide insect sites.
Return to Canadian Index
Return to Main Index