Catocala mcdunnoughi
kah-TOCK-uh-lahmmick-DUN-noh-eye
Brower, 1937

Catocala mcdunnoughi male, California, courtesy of David Hawks.
This site has been created by Bill Oehlke at oehlkew@islandtelecom.com
Comments, suggestions and/or additional information are welcomed by Bill.
TAXONOMY:

Superfamily: Noctuoidea
Family: Noctuidae
Group: Noctuinina
Subfamily: Catocalinae
Genus: Catocala, Schrank, 1802


MIDI MUSIC
"Moon River"
copyright C. Odenkirk
MIDI CITYON.OFF

DISTRIBUTION:
Mcdunnough's Underwing, Catocala mcdunnoughi (wingspan: mm), flies in California:
Amador;
Plumas;
Butte;
San Diego: Laguna Mountains;
Calaveras;
Inyo;
Kern;
Los Angeles;
Mariposa;
Orange;
Riverside;
San Bernardino counties; and into
southern Oregon: Josephine County.
The darker and more greenish specimens from Amador County, California, described as Catocala mcdunnoughi browerarum Johnson, do not differ from nominate material and variation is not consistent geographically (e.g., many Plumas and Butte county specimens are more evenly greenish brown). Thus, the subspecies has been (2010) synonymized with the nominate species. David Hawks.
"Catocala mcdunnoughi is most similar to C. chelidonia (occidentalis), but the more brownish and mottled ground color of C. mcdunnoughi will usually separate these species. No other small Catocala species in the region has postmedial lines with two large teeth only at M1 and M2." David Hawks.
FLIGHT TIMES AND PREFERRED FOOD PLANTS:
Catocala mcdunnoughi are usually on the wing from mid July to mid August at higher elevations than other species in the delilah group, and start to eclose in mid June at lower elevations.
The Catocala mcdunnoughi caterpillar shows a preference for Quercus chrysolepis.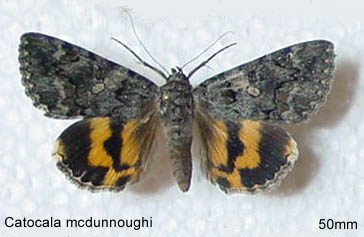 Catocala mcdunnoughi, courtesy of "California Pappy".
ECLOSION:
Adults eclose from pupae at soil surface.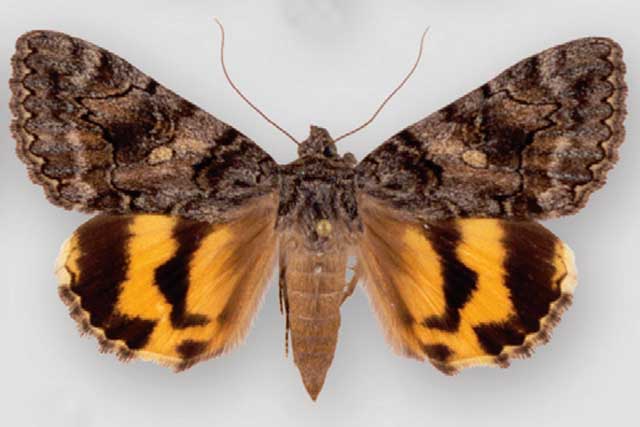 Catocala mcdunnoughi female, California, courtesy of David Hawks.
SCENTING AND MATING:

Catocala mcdunnoughi females emit an airbourne pheromone and males use their antennae to track the scent plume.

Right: Catocala chelidonia occidentalis or C. mcdunnoughi male, Frazier Mountain Rd, 5750', Ventura County, CA., September 7, 1991. Kelly Richers, collector, at uv light.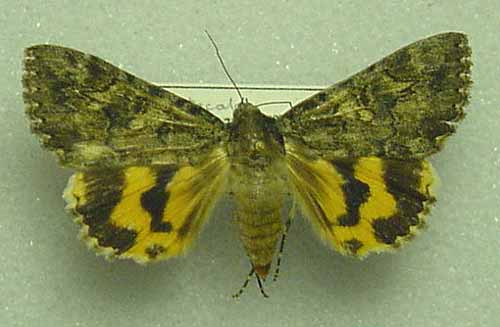 Catocala chelidonia occidentalis or C. mcdunnoughi female, two miles south of Fishcamp, 4700'.
Madera County, CA.. Kelly Richers, collector, at uv trap.

The specimens sent to me by Kelly Richers were originally designated as Catocala chelidonia and they may be subspecies C. c. occidentalis which is known from California. However, due to strong presence of am line as well as distinct and lighter subreniform spot, I think they are more likely Catocala mcdunnoughi. I note also the two elongated upper teeth in the pm line. They seem even more produced than in the specimens of C. chelidonia occidentalis I have pictured courtesy of David Hawks.

The late flight season (September) and high elevation (5750 feet) for the male also suggest C. mcdunnoughi.

In their recent (2010) publication, Gall and Hawks do not list either C. c. occidentalis or C. mcdunnoughi from Ventura County. They do site C. c occidentalis from Madera County, but C. mcdunnoughi is not listed there.
EGGS, CATERPILLARS, COCOONS AND PUPAE:
Eggs are deposited on tree bark in the fall and hatch the following spring.
Larval Food Plants
Listed below are primary food plant(s) and alternate food plants. It is hoped that this alphabetical listing followed by the common name of the foodplant will prove useful. The list is not exhaustive, although some species seem very host specific. Experimenting with closely related foodplants is worthwhile.
| | |
| --- | --- |
| Quercus chrysolepis...... | Canyon live oak |
This page is brought to you by Bill Oehlke and the WLSS. Pages are on space rented from Bizland. If you would like to become a "Patron of the Sphingidae/Catocala Sites", contact Bill.
Please send sightings/images to Bill. I will do my best to respond to requests for identification help.
Enjoy one of nature's wonderments: Live Saturniidae (Giant Silkmoth) cocoons.



To show appreciation for this site, click on the flashing
butterfly to the left, a link to many worldwide insect sites.
Return to Canadian Index
Return to Main Index
Visit Catocala delilah Species Complex; Author: David Hawks.
Visit California Catocala immatures