Catocala micronympha
kah-TOCK-uh-lahMmye-kroh-NYM-fuh
Guenee, 1852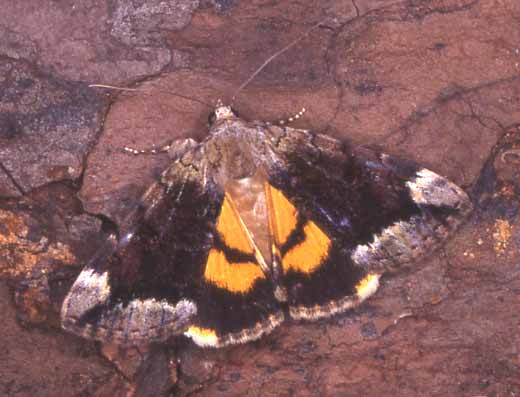 Catocala micronympha form "gisela" courtesy of Leroy Simon, Marion County, Florida.
This site has been created by Bill Oehlke at oehlkew@islandtelecom.com
Comments, suggestions and/or additional information are welcomed by Bill.
TAXONOMY:

Superfamily: Noctuoidea
Family: Noctuidae
Group: Noctuinina
Subfamily: Catocalinae
Genus: Catocala, Schrank, 1802


MIDI MUSIC
"Moon River"
copyright C. Odenkirk
MIDI CITYON.OFF

DISTRIBUTION:
It has also been reported in Alabama, Arkansas, Georgia, Illinois, Indiana, Kentucky, Louisiana, Maine, Maryland, Massachusetts, Mississippi, Missouri, Nebraska, New York, North Carolina, Ohio, Pennsylvania, Rhode Island, South Carolina, South Dakota, Tennessee, Virginia and West Virginia.
Moths come in to lights and to bait.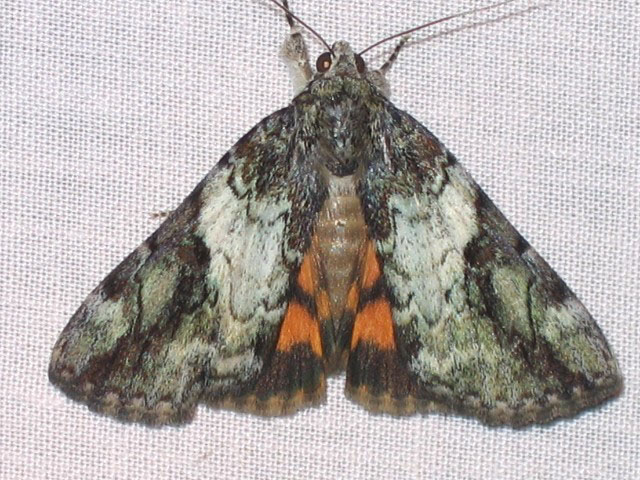 Catocala micronympha form "hero", Stillwater Township, Sussex County, New Jersey,
July 7, 2005, courtesy of Joe Garris.

The forewings are extremely variable and there are several forms denoted with no basal dash in any of them:
"gisela" Meyer has a forewing that is mostly black;
"hero" H. Edwards has a median area that is mostly white;
"sargenti" Covell (very rare) has a hindwing that is all black.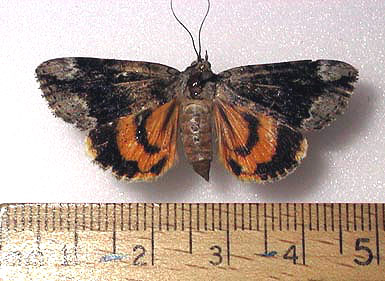 Catocala micronympha "gisela" courtesy of Dale Clark, Dallas, Texas.
The usual specimens have grey forewings shaded with green, brown, black and white tints. There is usually a darkened band passing from the costa through the reniform spot to the outer margin.

The lower lobes of the pm line are quite distinct, especially in those specimens with light scaling in that area.

Image courtesy of John Himmelman, Connecticut, July 24, 2003.

The typical resting position for this moth is "head down".
Micronympha is also known as the "Little Bride" and as the "Tiny Nymph" Underwing.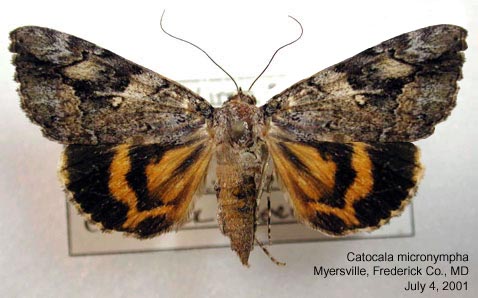 Catocala micronympha from Maryland.
Catocala micronympha form "lolita", Harold J. Vermes image, used with permission from his son.
Catocala micronympha form "sargenti" (very rare) has a hindwing that is all black.
FLIGHT TIMES AND PREFERRED FOOD PLANTS:
Catocala micronympha are usually on the wing from July to September.
In Florida, there may be a flight as early as late April.
The Catocala micronympha caterpillar shows a preference for oak species.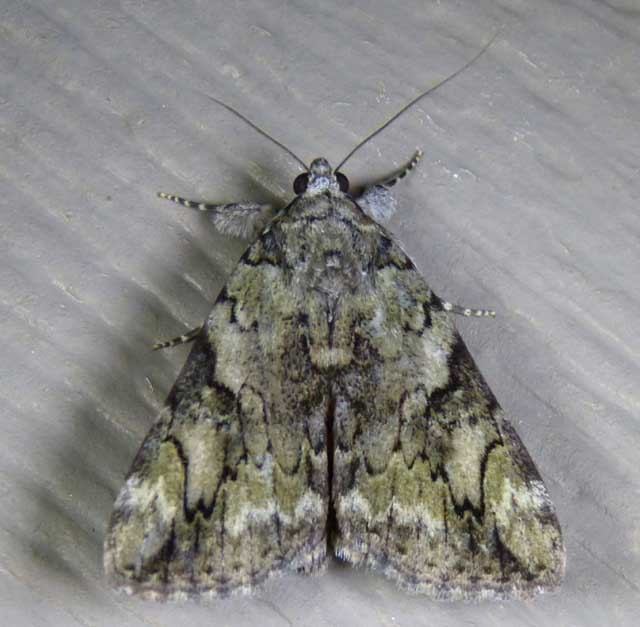 Catocala micronympha form hero, Buffalo County, Wisconsin,
July 19, 2013, courtesy of Marcie o'Connor.
ECLOSION:
Adults eclose from pupae at soil surface.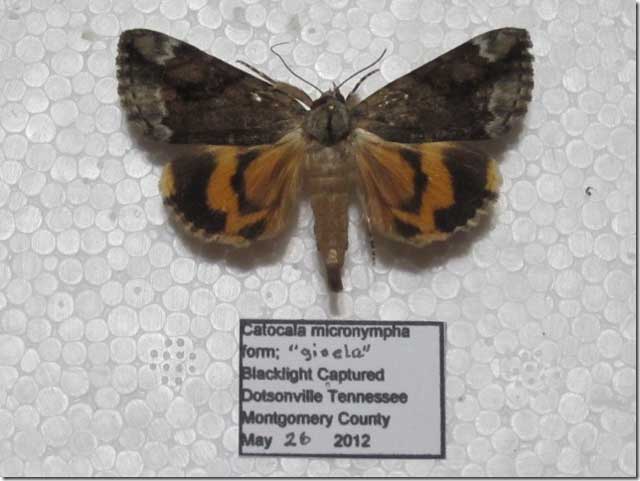 Catocala micronympha form gisela, Dotsonville, Montgomery County, Tennessee,
May 26, 2012, courtesy of Thomas Payne.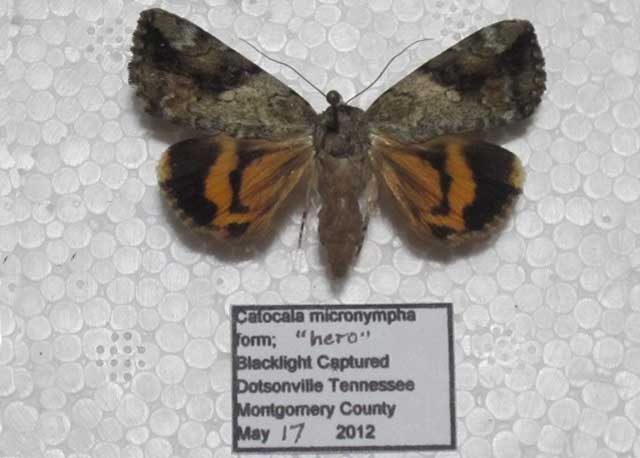 Catocala micronympha form hero, Dotsonville, Montgomery County, Tennessee,
May 17, 2012, courtesy of Thomas Payne.
SCENTING AND MATING:
Catocala micronympha females emit an airbourne pheromone and males use their antennae to track the scent plume. EGGS, CATERPILLARS, COCOONS, AND PUPAE:Eggs are deposited on tree bark in the fall and hatch the following spring.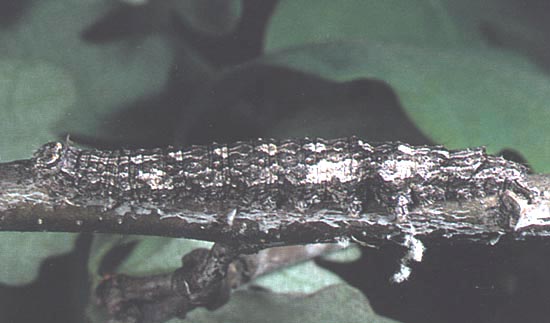 Catocala micronympha larva courtesy of David L. Wagner.
Larval Food Plants
Listed below are primary food plant(s) and alternate food plants. It is hoped that this alphabetical listing followed by the common name of the foodplant will prove useful. The list is not exhaustive, although some species seem very host specific. Experimenting with closely related foodplants is worthwhile.
Quercus macrocarpa.......
Quercus stellata
Quercus virginiana


Burr Oak
Post oak
Live oak

This page is brought to you by Bill Oehlke and the WLSS. Pages are on space rented from Bizland. If you would like to become a "Patron of the Sphingidae/Catocala Sites", contact Bill.
Please send sightings/images to Bill. I will do my best to respond to requests for identification help.
Enjoy one of nature's wonderments: Live Saturniidae (Giant Silkmoth) cocoons.



To show appreciation for this site, click on the flashing
butterfly to the left, a link to many worldwide insect sites.
Return to Canadian Index
Return to Main Index