Catocala neogama
kah-TOCK-uh-lahMnee-OH-gam-uh
(J.E.Smith, 1797) Phalaena neogama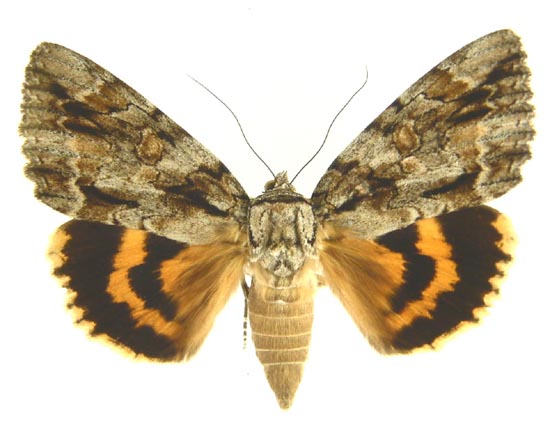 Catocala neogama female, Louisiana, courtesy of Vernon A. Brou.
This site has been created by Bill Oehlke at oehlkew@islandtelecom.com
Comments, suggestions and/or additional information are welcomed by Bill.
TAXONOMY:

Superfamily: Noctuoidea
Family: Noctuidae
Group: Noctuinina
Subfamily: Catocalinae
Genus: Catocala, Schrank, 1802


MIDI MUSIC
"Moon River"
copyright C. Odenkirk
MIDI CITYON.OFF

DISTRIBUTION:
Tom Middagh reports them in Minnesota. Based on a larva find in western Idaho (Ada County) by Steve Danell, id by Larry Gall, this species flies almost coast to coast, but may be subspecies euphemia in the southwest.
It has also been confirmed in Alabama, Arkansas, Connecticut, Delaware, District of Columbia, Georgia, Illinois, Indiana, Iowa, Kansas, Kentucky, Louisiana, Maine, Maryland, Massachusetts, Mississippi, Missouri, Nebraska, New Mexico as subspecies euphemia, New York, North Carolina, North Dakota, Ohio, Pennsylvania, Rhode Island, South Carolina, South Dakota, Tennessee, Utah, Vermont, Virginia and West Virginia.
Visit Catocala neogama, Londonderry, Rockingham County, New Hampshire, July 17 - August 8, Deb Lievens.
Visit Catocala neogama, Peterborough, Ontario, July 31-August 1, 2016, Tim Dyson.
Visit Catocala neogama, Sidney, Kennebec County, Maine, August 7, 2011, Steve Lemieux.
Visit Catocala neogama. Buffalo County, Wisconsin, August 10, 2013, Marcie O'Connor.
Visit Catocala neogama, Amherst, Hampshire County, Massachusetts, August 30, 2011, Joshua S. Rose.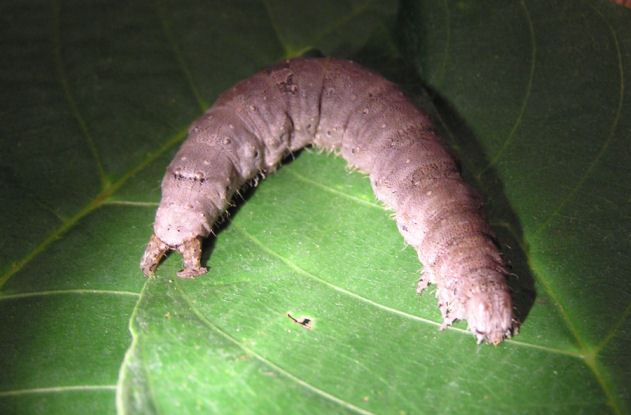 Catocala neogama, Idaho, courtesy of Steve Danell, id by Larry Gall.

Regarding the image above, Steve Danell writes, "Attached is a picture of a Catocala (I believe) larva I thought you might enjoy. We found it on 6/20/07 in Ada County, Idaho, on a black walnut when it 'jumped' onto my son's shoulder as he climbed the tree. After my son calmed down, without falling out of the tree, we decided to raise this guy to see exactly what it turns out to be. It only comes in the open to eat after it is extremely dark and it thrashes about violently when disturbed!"

Dr. Larry Gall provided the id and indicates it is lightly maculated compared to most C. neogama larvae.

Neogama specimens tend to be slightly smaller than subnata, and have darker grey brown forewings with more pronounced markings.

Visit Catocala neogama images courtesy of Joe Garris.

Visit Catocala neogama female, recto and verso, Mason, Ingham County, Michigan, courtesy of Harry D. King.

Examination of hind tibia is sometimes needed for identification. Those of neogama tend to be flattened and unevenly and sparsely spined while tibia of subnata are cylindrical with spines dense and uniform in distribution.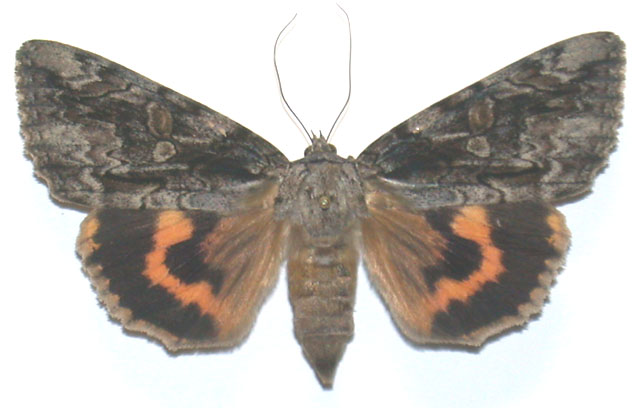 Catocala neogama August 9, 2004, St-Anne de Bellevue, Montreal, Quebec,
females, attracted to bait, courtesy of Pierrre Legault.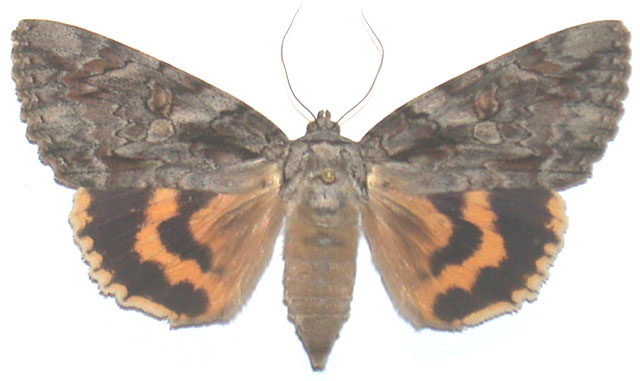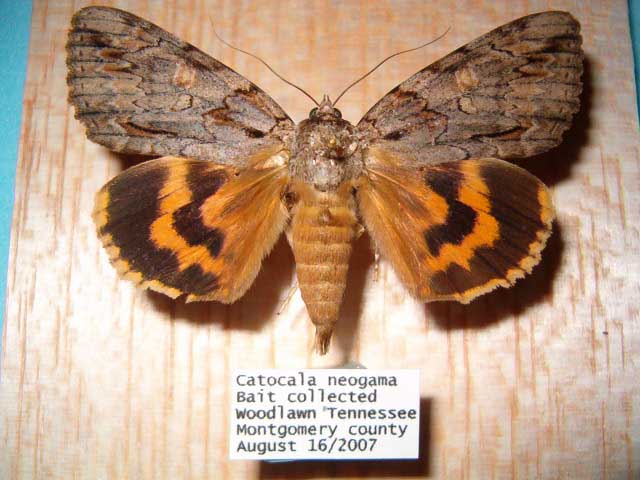 Catocala neogama, bait, Woodlawn, Montgomery County, Tennessee,
August 16, 2007, courtesy of Tom Payne.
Adults come to lights and to bait.
The melanic form "mildredae", Franclemont, has forewings that are entirely black.
Visit C. neogama / C. subnata / C.piatrix comparison.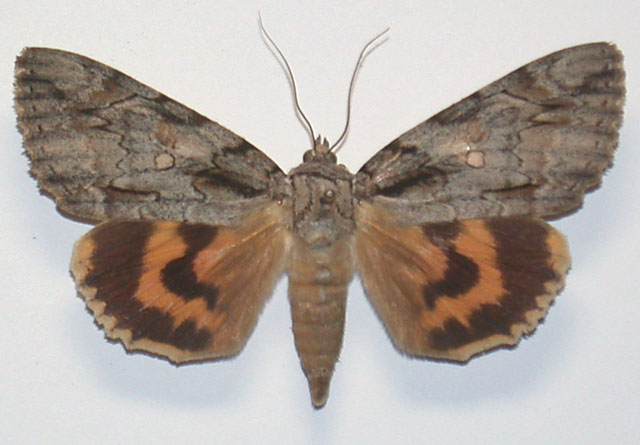 Catocala neogama Klingerstown, Pensylvania, 10-08-1992,
male, courtesy of Pierrre Legault, corrected from piatrix by Rick Gilmore.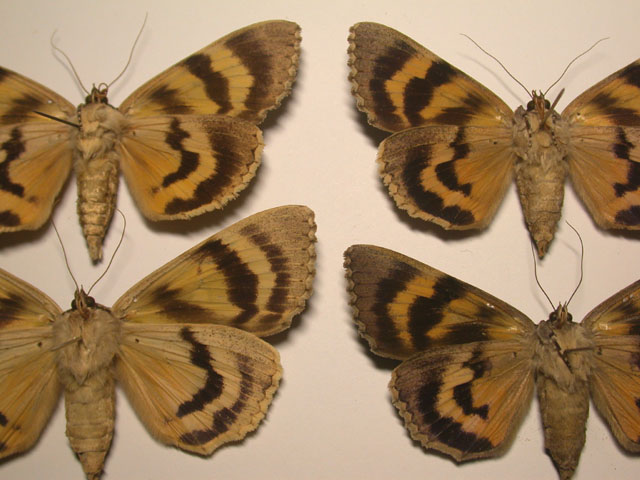 Catocala subnata, male and female left, courtesy of Pierre Legault;
Catocala neogama, females right, Montreal, Quebec, August 2002

Note the general overall darker appearance of C. neogama as well as the slightly smaller size and the termination of the hindwing median band.
FLIGHT TIMES AND PREFERRED FOOD PLANTS:
Catocala neogama are on the wing in late July to late September in Quebec (rare), probably late July to late August elsewhere, although June 5 is a collecting date in Dallas, Texas.
The Catocala neogama caterpillar feeds on Carya and Juglans species. There have also been reports of oak as a host.
ECLOSION:
Adults eclose from pupae at soil surface.
SCENTING AND MATING:
Catocala neogama females emit an airbourne pheromone and males use their antennae to track the scent plume. EGGS, CATERPILLARS, COCOONS, AND PUPAE:Eggs are deposited on tree bark in the fall, and larvae hatch the following spring.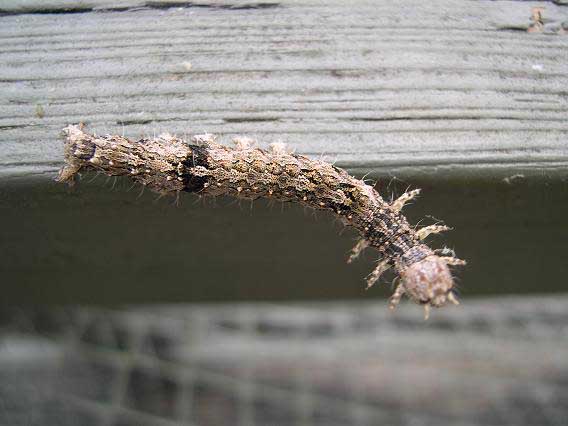 Catocala neogama larva, June 4, 2007, Tompkins, New York,
courtesy of Bill Evans, tentative id by Bill Oehlke.

Bill Evans sent me the larval image above which I have tentatively identified as Catocala neogama. Bill also sent me images of adult moths from the same area which appear to be Catocala neogama and Catocala subnata.

Bill writes of the larvae, "I was wondering if you think the attached picture is a C. neogama larva.

"Several fell out of a black walnut tree on to our deck during a recent storm. They were almost 2 inches in length -- this surprised me because it seemed the walnut leaves had just fully emerged less than two weeks ago."
Larval Food Plants
Listed below are primary food plant(s) and alternate food plants. It is hoped that this alphabetical listing followed by the common name of the foodplant will prove useful. The list is not exhaustive, although some species seem very host specific. Experimenting with closely related foodplants is worthwhile.
Carya
Juglans cinerea
Juglans microcarpa......
Juglans nigra
Juglans regia
Quercus


Hickory
Butternut
Texas walnut
Black walnut
English walnut
Oak

This page is brought to you by Bill Oehlke and the WLSS. Pages are on space rented from Bizland. If you would like to become a "Patron of the Sphingidae/Catocala Sites", contact Bill.
Please send sightings/images to Bill. I will do my best to respond to requests for identification help.
Enjoy one of nature's wonderments: Live Saturniidae (Giant Silkmoth) cocoons.



To show appreciation for this site, click on the flashing
butterfly to the left, a link to many worldwide insect sites.