Catocala nevadensis = semirelicta
kah-TOCK-uh-lahmmnev-ad-DEN-sis
Beutenmüller, 1907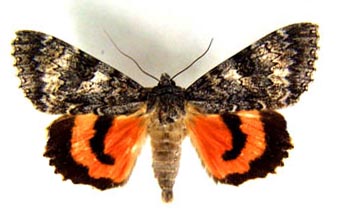 Catocala nevadensis = semirelicta
This site has been created by Bill Oehlke at oehlkew@islandtelecom.com
Comments, suggestions and/or additional information are welcomed by Bill.
TAXONOMY:

Superfamily: Noctuoidea
Family: Noctuidae
Group: Noctuinina
Subfamily: Catocalinae
Genus: Catocala, Schrank, 1802


MIDI MUSIC
"Moon River"
copyright C. Odenkirk
MIDI CITYON.OFF

DISTRIBUTION:
Catocala nevadensis = semirelicta (forewing length 30mm) flies in Nevada and California and is a dark semirelicta without the dark bar parallel to and slightly above the forewing inner margin.
The reniform spot is brown; the subreniform spot is much lighter, almost white and the area immediately outside the subterminal line is very dark.
The hindwing inner black band of nevadensis = semirelicta is narrow and terminates well before the inner margin. See Catocala semirelicta for more complete distribution.
Beutenmüller, 1907, also described the form "montana".
Catocala hippolyta is now (2010) regarded as a subspecies of Catocala semirelicta, while Catocala nevadensis and Catocala pura are considered to be synonymous with Catocala semirelicta.
FLIGHT TIMES AND PREFERRED FOOD PLANTS:

Catocala nevadensis = semirelicta are on the wing in September and October.

Kelly M. Richers reported a specimen on October 6, 2000, at Pleasant Valley Dam Road along Rt 395, (elevation 4430') in Inyo County, California, at a uv trap (image right).
The Catocala nevadensis = semirelicta caterpillar feeds on poplars and willows.
ECLOSION:
Adults eclose from pupae at soil surface.
SCENTING AND MATING:
Catocala nevadensis = semirelicta females emit an airbourne pheromone and males use their antennae to track the scent plume. EGGS, CATERPILLARS, COCOONS AND PUPAE:Eggs are deposited on tree bark in the fall and hatch the following spring.
Larval Food Plants
Listed below are primary food plant(s) and alternate food plants. It is hoped that this alphabetical listing followed by the common name of the foodplant will prove useful. The list is not exhaustive, although some species seem very host specific. Experimenting with closely related foodplants is worthwhile.
Populus.......
Salix


Poplar
Willow

Use your browser "Back button to return to the previous page.
Goto Main Catocala Index
This page is brought to you by Bill Oehlke and the WLSS. Pages are on space rented from Bizland. If you would like to become a "Patron of the Sphingidae/Catocala Sites", contact Bill.
Please send sightings/images to Bill. I will do my best to respond to requests for identification help.
Enjoy one of nature's wonderments: Live Saturniidae (Giant Silkmoth) cocoons.



To show appreciation for this site, click on the flashing
butterfly to the left, a link to many worldwide insect sites.