Catocala parta
kah-TOCK-uh-lahmPAR-tuh
Guenee, 1852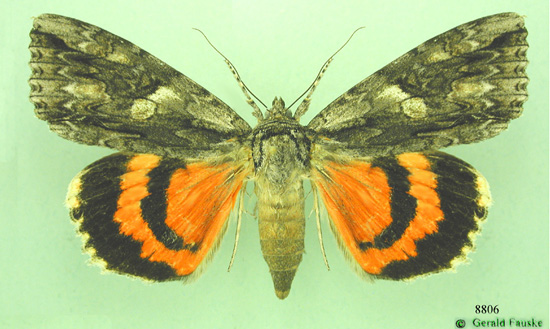 THE MOTHER UNDERWING, courtesy of Gerald Fauske, North Dakota.
This site has been created by Bill Oehlke at oehlkew@islandtelecom.com
Comments, suggestions and/or additional information are welcomed by Bill.
TAXONOMY:

Superfamily: Noctuoidea
Family: Noctuidae
Group: Noctuinina
Subfamily: Catocalinae
Genus: Catocala, Schrank, 1802

DISTRIBUTION:
This species has also been reported in Colorado, Delaware, District of Columbia, Illinois, Indiana, Iowa, Kansas, Maine, Massachusetts, Nebraska, New Jersey, New York, Ohio, Pennsylvania, Rhode Island, South Dakota, Vermont, Virginia and Wisconsin.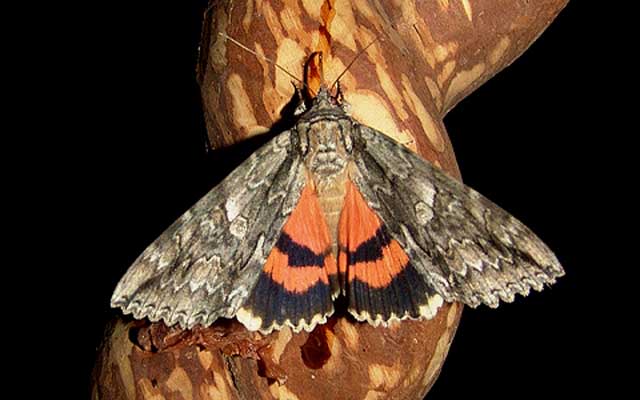 Catocala parta, dark, Peterborough, Ontario,
August 1, 2016, courtesy of Tim Dyson.

Visit Catocala parta series of six, Regina, Saskatchewan, courtesy of Tim Taylor.

Tim sent me images of six specimens he has identified as parta. All six have the characteristic markings of 1) dark basal dash, 2) dark subapical dash, 3) dark dash near anal angle, paralleling inner margin, 4) very large, pale subreniform spot, 5) light internal area from subreniform spot to top of internally very dark edged reniform spot, 6) relatively smooth curve of postmedian line from costa to first of two dark-tipped and elongated "teeth", 7) next (third) projection almost non-existent, 8) lighter subterminal area just outside the almost non-existent projection mentioned in #7, 9) elongated, subtriangular light area below and internal to relatively smooth curve of pm line mentioned in #6.

The black hindwing median band is relatively narrow and only moderately irregular on both its internal and external edges.

Perhaps some of these features are masked in the melanic form known as forbesi.

Most of them show the very dark outline of the "Christ" on the thorax.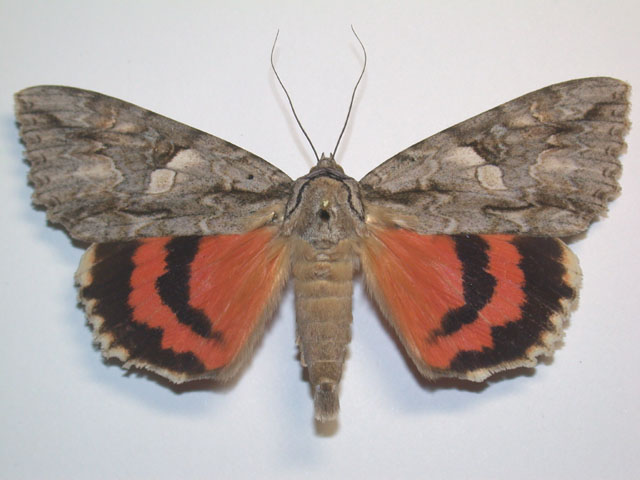 Catocala parta male, Longueuil, Quebec, August 4, 1987,
taken at bait, courtesy of Pierre Legault.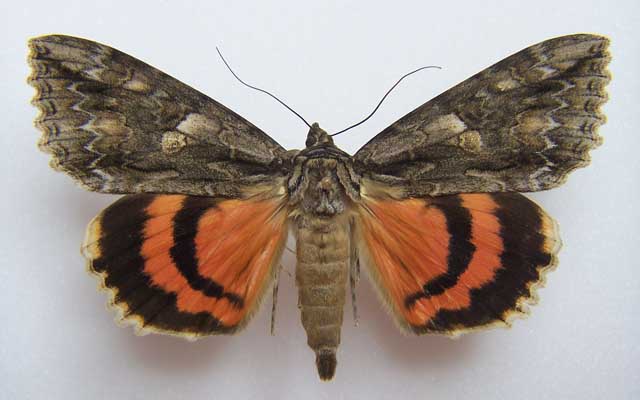 Catocala parta, Mason, Ingham County, Michigan,
81 mm, bait, July 18, 1994, courtesy of Harry King.
The black dashes in the basal, subapical and anal angle areas help to identify this species. The hindwings may be yellow to yellowish-orange but more often are salmon-red. Note the face-head-like markings on the thorax, especially noticeable in the Tim Dyson image below.

In the hindwing, the first (nearest the apex) black protrusion into the white fringe is "noticeably" larger than the others.

The melanic form is "forbesi", Franclemont.

Image, Redcliff, Alberta, Canada, courtesy of John Acorn.
Visit Catocala parta, Lancaster, Coos County, New Hampshire, August 27, 2007, courtesy of Ron White.
Visit Catocala parta, Buffalo County, Wisconsin, September 12, 2013, courtesy of Marcie O'Connor.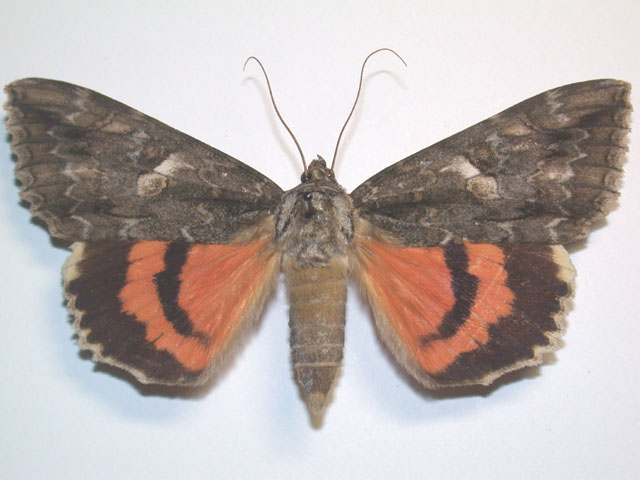 Catocala parta "forbesi" female, Longueuil, Quebec, August 4, 1987,
taken at bait, courtesy of Pierre Legault.
FLIGHT TIMES AND PREFERRED FOOD PLANTS:
Catocala parta flies as a single generation with moths on the wing from June to October.
Moths come in to lights readily and also to bait.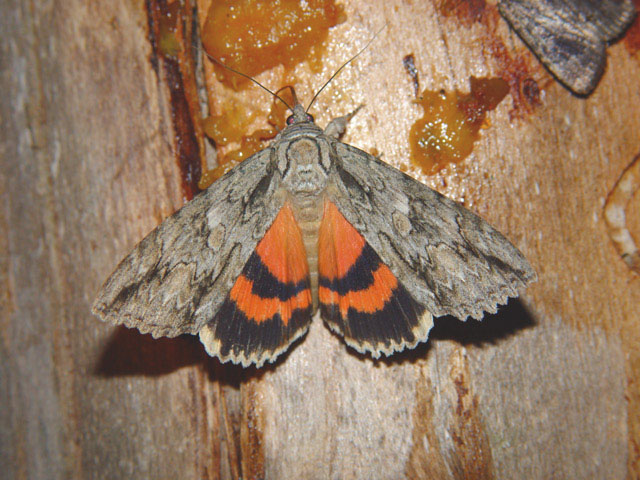 Catocala parta, August 17, 2004, Peterborough, Ontario, courtesy of Tim Dyson copyright.

The Catocala parta caterpillar show a preference for poplars and willows.
ECLOSION:
Adults eclose from pupae formed under leaf litter.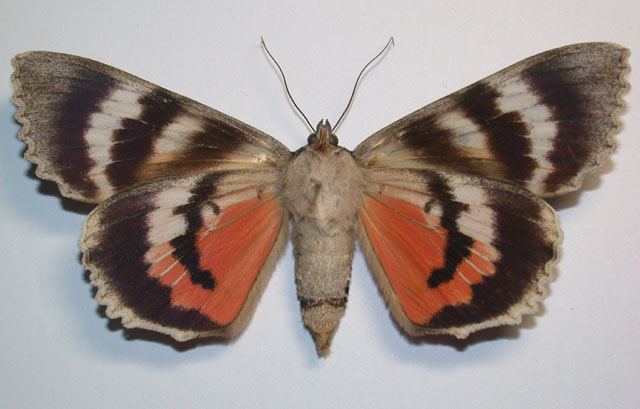 Catocala parta female, Oka, Quebec, July 31, 1990,
taken at bait, courtesy of Pierre Legault.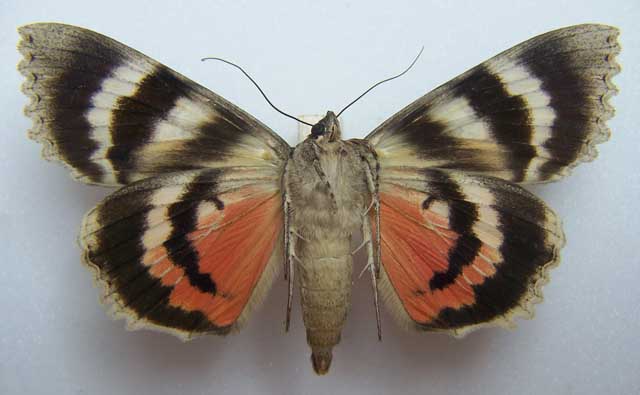 Catocala parta (verso), Mason, Ingham County, Michigan,
81 mm, bait, July 18, 1994, courtesy of Harry King.

Note the distinct, dark discal lunule on the underside of the hindwing.
SCENTING AND MATING:
Catocala parta females emit an airbourne pheromone and males use their antennae to track the scent plume.
EGGS, CATERPILLARS, COCOONS AND PUPAE:

Eggs are deposited on bush bark in the fall and hatch the following spring.

Mature larvae on quaking aspen.

Image courtesy of Ron Nelson from rearings of Gabriel Larrabee.
Larval Food Plants
Listed below are primary food plant(s) and alternate food plants. It is hoped that this alphabetical listing followed by the common name of the foodplant will prove useful. The list is not exhaustive, although some species seem very host specific. Experimenting with closely related foodplants is worthwhile.
Populus deltoides
Populus tremuloides......
Salix alba
Salix babylonica
Salix nigra


Cottonwood
Quaking Aspen
White Willow
Weeping willow
Black willow

This page is brought to you by Bill Oehlke and the WLSS. Pages are on space rented from Bizland. If you would like to become a "Patron of the Sphingidae/Catocala Sites", contact Bill.
Please send sightings/images to Bill. I will do my best to respond to requests for identification help.
Enjoy one of nature's wonderments: Live Saturniidae (Giant Silkmoth) cocoons.



To show appreciation for this site, click on the flashing
butterfly to the left, a link to many worldwide insect sites.
Visit additional Catocala parta images.
Catocala comparison, verso, courtesy of Tim Dyson.

Note very dentate nature of inner edge of outer black band on both the forewing and hindwing of parta.

The discal lunule is also very weak in parta, compared to other similar species.