| | |
| --- | --- |
| | Created as per A New Species of Catocala (Lepidoptera: Noctuidae) from the Gulf Coast of the Florida Panhandle, Kons & Borth, 2016; April 5, 2017 |
Catocala slotteni
kah-TOCK-uh-lahMslotteni
Hugo L. Kons, Jr. & Robert J. Borth, 2016
Catocala slotteni HT male, St. Joe Buffer, Gulf County, Florida,
46mm, May 15, 2004, 2m, on my home computer only.
TAXONOMY:

Superfamily: Noctuoidea
Family: Erebidae, Leach, [1815]
Subfamily: Erebinae, Leach, [1815]
Tribe: Catocalini, Boisduval, [1828]
Genus: Catocala, Schrank, 1802

This site has been created by Bill Oehlke. Comments, suggestions and/or additional information are welcomed by Bill.
DISTRIBUTION:
Catocala slotteni, the Underwing, (wingspan: male: 46-47mm; female: mm // forewing length: males: 22mm; females: probably slightly larger) flies in the Florida Panhandle: Gulf County. It probably flies in other nearby counties, and its range may extend into southern Alabama and southern Georgia and even into the Carolinas as the assumed host plant, Amorpha herbacea, ranges in those five states.
This species, from the Gulf Coast Florida Panhandle: Gulf County, is very similar to Catocala whitneyi and Catocala abbreviatella, and it belongs to the Catocala nuptialis species group, which includes Catocala nuptialis, C. amestris, C. whitneyi and C. abbreviatella.
Because it is far removed geographically from similar looking species (EXCEPT FOR NUPTIALIS), I am surprised it has gone so long being undetected. Amorpha herbacea, commonly known as Dwarf Indigo Bush or Clusterspike False Indigo, may serve as the local host, and its natural range may limit the range of slotteni.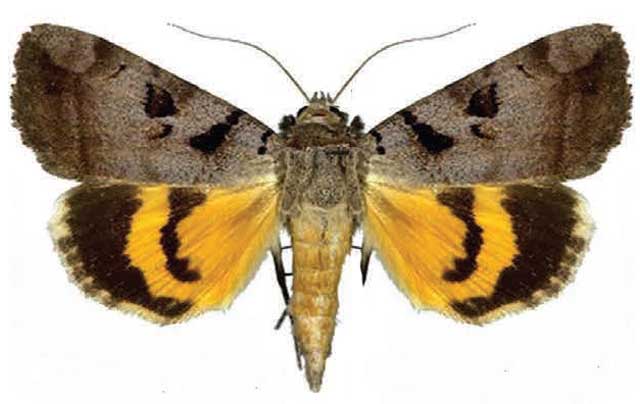 Catocala slotteni male, St. Joe Buffer, Gulf County, Florida,
47mm, May 4, 2002, 1m, on my home computer only.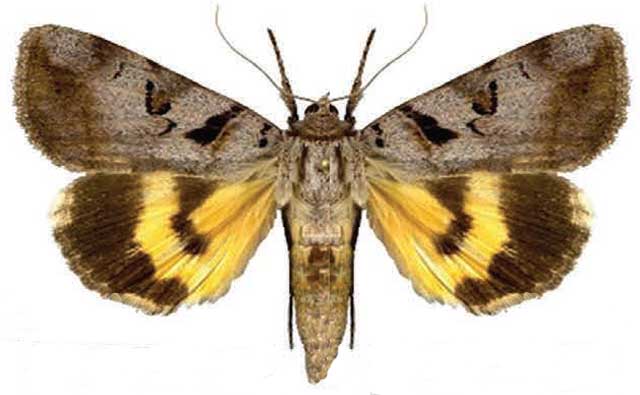 Catocala slotteni male, St. Joe Buffer, Gulf County, Florida,
48mm, May 10, 2002, 2m, on my home computer only.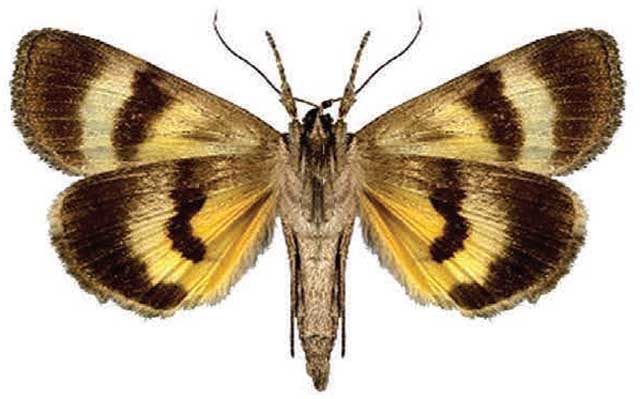 Catocala slotteni male (verso), St. Joe Buffer, Gulf County, Florida,
48mm, May 10, 2002, 2m, on my home computer only.
FLIGHT TIMES AND PREFERRED FOOD PLANTS:
Catocala slotteni are usually on the wing in May. There may be additional flight months.
The moth is named to honour the collector, Jeff Slotten.
The Catocala slotteni caterpillar possibly feeds on Amorpha herbacea, a long-lived perennial shrub that grows to a heighth of 3-4 feet and expands to a width of 3-4 feet. The flower color is white to lavender, and the plant favours flatwoods, edges of sub-xeric sand hills and scrub. The plant seems to grow at low elevations, but does not tolerate salt water.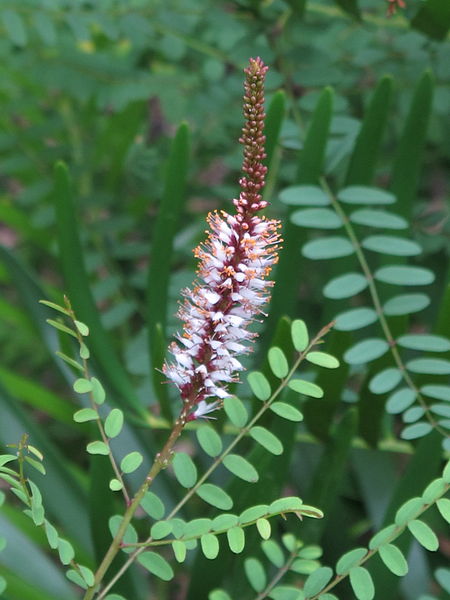 Amorpha herbacea crenulata,
courtesy of http://www.flickr.com/photos/scottzona/5843959542/, scott.zona

The image above was originally posted to Flickr by scott.zona at http://flickr.com/photos/12017190@N06/5843959542. It was reviewed on 7 February 2012 by the FlickreviewR robot and was confirmed to be licensed under the terms of the cc-by-2.0.
ECLOSION:
Adults eclose from pupae at soil surface, probably from flimsy cocoons of leaves and litter held together by sparse silk threads.
Adults have been procured from found larvae, and pupal development time is usually just over two weeks.
SCENTING AND MATING:
Catocala slotteni females emit an airbourne pheromone and males use their antennae to track the scent plume.
EGGS, CATERPILLARS, COCOONS AND PUPAE:
Eggs are deposited on tree bark in the fall and hatch the following spring.

Larval Food Plants


Listed below are anticipated primary food plant(s) and alternate food plants. It is hoped that this alphabetical listing followed by the common name of the foodplant will prove useful. The list is not exhaustive, although some species seem very host specific. Experimenting with closely related foodplants is worthwhile.
| | |
| --- | --- |
| Amorpha herbacea ....... | Dwarf Indigo Bush/Clusterspike False Indigo |
This page is brought to you by Bill Oehlke and the WLSS. Pages are on space rented from Bizland. If you would like to become a "Patron of the Sphingidae/Catocala Sites", contact Bill.
Please send sightings/images to Bill. I will do my best to respond to requests for identification help.
Enjoy one of nature's wonderments: Live Saturniidae (Giant Silkmoth) cocoons.



To show appreciation for this site, click on the flashing
butterfly to the left, a link to many worldwide insect sites.
Return to Canadian Index
Return to Main Catocala Index