Updated as per "Systematics of moths in the genus Catocala (Lepidoptera, Erebidae) IV.
Nomenclatorial stabilization of the Nearctic fauna, with a revised synonymic check list";
ZooKeys 39: 37–83 (2010) by Lawrence F. Gall, David C. Hawks; March 21, 2010
Updated as per personal communication with Bill Dempwolf (Austin, Texas; May 19-June 1; 70-77mm); July 3, 2010
Updated as per personal communication with Greg Roehm (Wauchula, Hardee County, Florida; June 18, 2012); August 29, 2012
Updated as per personal communication with Sissy Ffolliot (Essex County, Massachusetts, September 9, 2013; September 15, 2013

Catocala umbrosa
kah-TOCK-uh-lahMum-BROH-suh
Brou, 2002

Catocala umbrosa Brou, 2002, Holotype male, courtesy of V. A. Brou.
This site has been created by Bill Oehlke.
Comments, suggestions and/or additional information are welcomed by Bill.
TAXONOMY:

Superfamily: Noctuoidea
Family: Erebidae, Leach, [1815]
Subfamily: Erebinae, Leach, [1815]
Tribe: Catocalini, Boisduval, [1828]
Genus: Catocala, Schrank, 1802

DISTRIBUTION:
It has also been confirmed in Arkansas, Connecticut, Georgia, Illinois, Indiana, Kansas, Minnesota, Mississippi, New Hampshire, New York, North Carolina, Ohio, Oklahoma, Pennsylvania, Rhode Island, South Carolina, Texas and Virginia. I suspect it is also in West Virginia.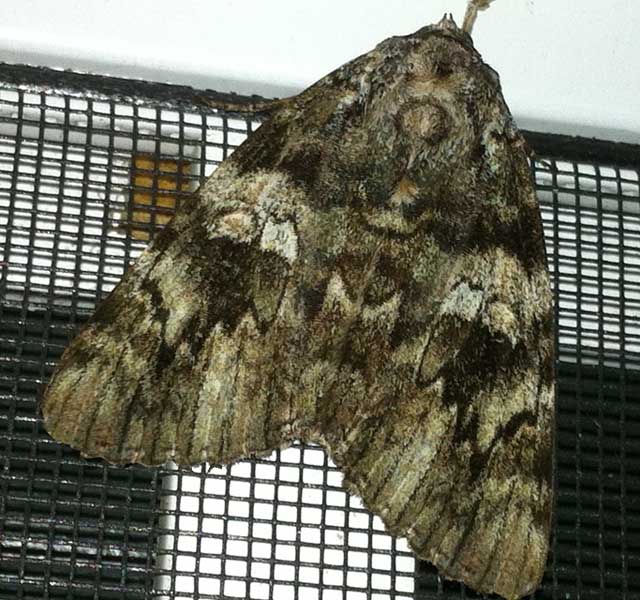 Catocala umbrosa, Essex County, Massachusetts,
September 9, 2013, courtesy of Sissy Ffolliott,
slight digital repair by Bill Oehlke

Tim Dyson has indicated that Moth Photographer's Group has confirmed Catocala umbrosa from Quebec and Manitoba, Canada. It is very easy to confuse ilia with umbrosa. Possibly the identifications of the Canadian specimens as umbrosa are in error.
FLIGHT TIMES AND PREFERRED FOOD PLANTS:
Catocala umbrosa flies as a single generation with moths on the wing from early April in the southern portions (peak flight in June) of its range through to August in the North (peak flight mid to late July). Sissy Ffolliott reports a September 9, 2013, flight in Essex County, Massachusetts. Specimen was a bit tattered at that date.
The Catocala umbrosa caterpillar probably feeds on oak species. Bill Dempwolf sent me this very nice series of Catocala umbrosa from Austin, Texas, taken May 19 - June 1, 2010, with wingspans ranging from 70-77mm.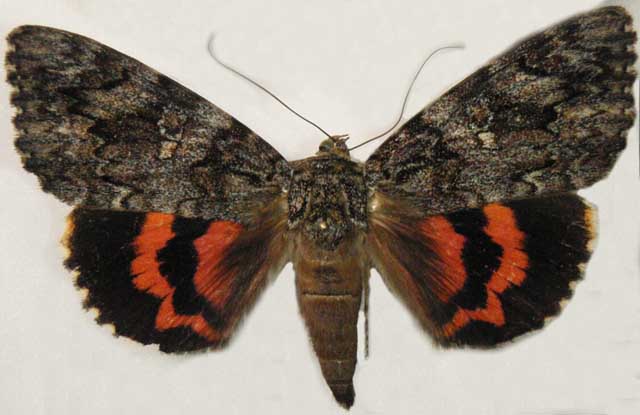 Catocala umbrosa, Austin Texas, May 2010,
courtesy of Bill Dempwolf, id by Bill Oehlke.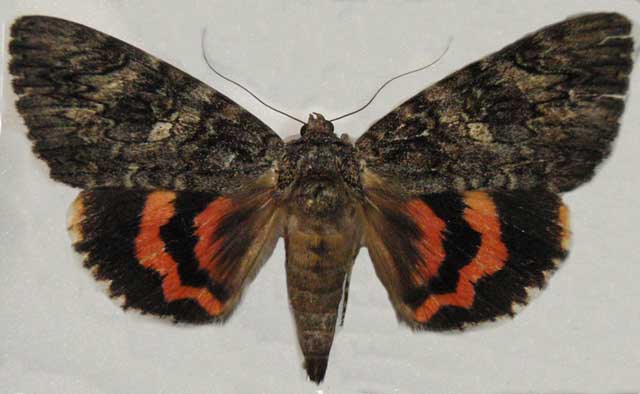 Catocala umbrosa, Austin Texas, May 2010,
courtesy of Bill Dempwolf, id by Bill Oehlke.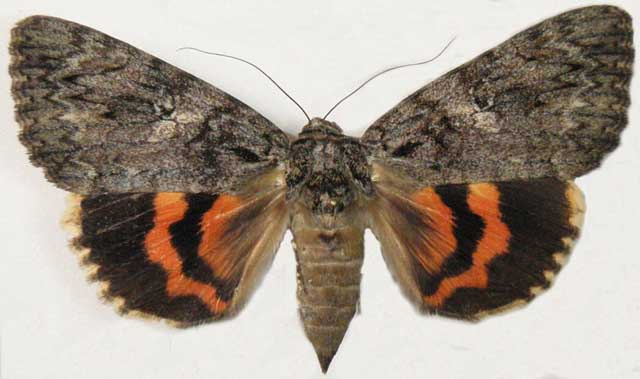 Catocala umbrosa, Austin Texas, May 2010,
courtesy of Bill Dempwolf, id by Bill Oehlke.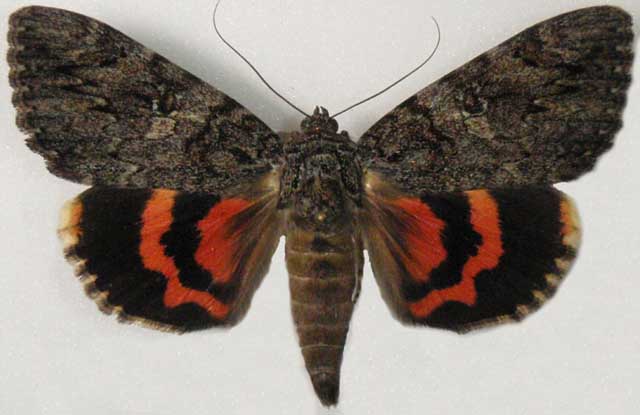 Catocala umbrosa, Austin Texas, May 2010,
courtesy of Bill Dempwolf, id by Bill Oehlke.
ECLOSION:
Adults eclose from pupae formed under leaf litter.
SCENTING AND MATING:
Catocala umbrosa females emit an airbourne pheromone and males use their antennae to track the scent plume.
Catocala umbrosa Brou, 2002, Allotype female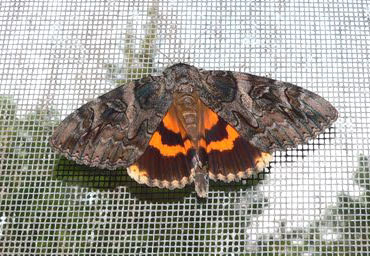 Catocala umbrosa, Shreveport, Caddo Parish, Louisiana,
courtesy of Rosemary Seidler, id correction by Vernon Brou.

To both myself and Jonathan Willey the moth from Shreveport directly above looks more like piatrix, but Vernon Brou is the expert with umbrosa.
EGGS, CATERPILLARS, COCOONS, AND PUPAE:
Eggs are deposited on tree bark in the fall and hatch the following spring.
Larval Food Plants
Listed below are primary food plant(s) and alternate food plants. It is hoped that this alphabetical listing followed by the common name of the foodplant will prove useful. The list is not exhaustive, although some species seem very host specific. Experimenting with closely related foodplants is worthwhile.
Return to Main Index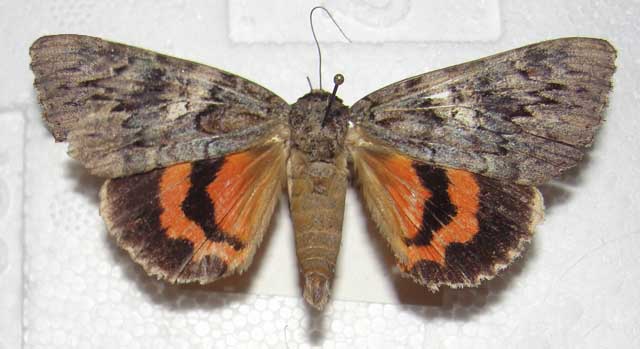 Catocala umbrosa, Wauchula, Hardee County, Florida,
June 18, 2012, courtesy of Greg Roehm.
Use your browser "Back button to return to the previous page.
Goto Main Catocala Index
This page is brought to you by Bill Oehlke and the WLSS. Pages are on space rented from Bizland. If you would like to become a "Patron of the Sphingidae/Catocala Sites", contact Bill.
Please send sightings/images to Bill. I will do my best to respond to requests for identification help.
Enjoy one of nature's wonderments: Live Saturniidae (Giant Silkmoth) cocoons.



To show appreciation for this site, click on the flashing
butterfly to the left, a link to many worldwide insect sites.
Catocala ilia (Cramer) and form umbrosa in Louisiana
by Vernon Antoine Brou Jr.
74320 Jack Loyd Road
Abita Springs, Louisiana 70420
e-mail: vabrou@bellsouth.net
Catocala ilia (Cramer) appears not to have been previously recorded in the literature for Louisiana, although, this author has taken it there for the past 34 years. A highly variable species, eight names are listed in Barnes and McDunnough (1918) as forms of ilia , six alone by Worthington (1883), including umbrosa. Worthington published the name umbrosa in an infrasubspecific context, and it always has been treated as such in subsequent literature. However, for reasons discussed below, I consider umbrosa to be a distinct species rather than a form. I here elevate it to species status using the name Catocala umbrosa Brou 2002 following the ICZN's rules on authorship and date for formerly unavailable names (Art. 10.2, 45.5, 45.6, 50.3). In this way, I maintain a historical link to Worthington's description and studies of this underwing moth. A female lectotype for umbrosa was previously designated by Gall (1990), and this specimen is in the Museum of Comparative Zoology at Harvard University. The type locality is N[orthern] Ill[inois, USA], probably Cook County. Gall left umbrosa as a form of C. ilia at that time.
One biological difference is that ilia and umbrosa appear to have different flight periods. In Louisiana, where the two occur in sympatry, the brood peak of umbrosa occurs about 10 days later than ilia . Figs. 1-2 illustrate cumulative 21-year dates of capture, and Figs. 4-5 contrast dates within a single year, 1994. In addition, specimens of ilia and umbrosa are separable on wing pattern. Fig. 3 shows eight examples of variations of adults of both ilia (a-d), umbrosa (e-h) taken at one location. Among a series of over 1,000 umbrosa taken at this same site over 21 years, it is evident that umbrosa exhibits very little variability compared to ilia . In Louisiana, forewings of nearly all umbrosa are somewhat drab woody-like gray, grayishbrown or brown in appearance. Worthington (1883) remarked of umbrosa "primaries uniform brownishgray... markings...indistinct." Small amounts of white scales are evident on the forewings of some specimens, usually around the postmedian line and reniform spot. There are occasional specimens of both ilia (Fig.3d) and umbrosa exhibiting dark melanic forewing coloration. Also, aberrations of both ilia and umbrosa (Fig. 3h) occur. Distinguishing umbrosa from ilia is not always easy due to scale loss in worn specimens and in the all dark gray forewing individuals, but the less distinct maculation of umbrosa distinguishes the two species. Parishes in Louisiana which ilia and umbrosa have been taken by this author are shown in Fig. 6 and Fig. 7. The male genitalia of 5 specimens of each species were dissected and showed little if any variation within each species , but the two species were distinctly different in appearance from each other, fig. 8 ( C. ilia) and Fig. 9 (C. umbrosa). The valva of umbrosa are obtuse, squared off distally, and the process of the sacculus are short, about half the length of the valva. The aedoeagus of umbrosa is gently falciform, arcuate at distal end. All forewing color entities of umbrosa (gray, gray-brown, and brown) exhibit consistent male genitalia characters.
Flight period of Catocala umbrosa in Louisiana, 4.2 mi. NE Abita Springs, sec.24T6SR12E, 1982 - 2002. n = 1013 Apr May Jun Jul Aug Sep Oct