Catocala verrilliana
kah-TOCK-uh-lahmver-il-LEE-ah-nuh
Grote, 1875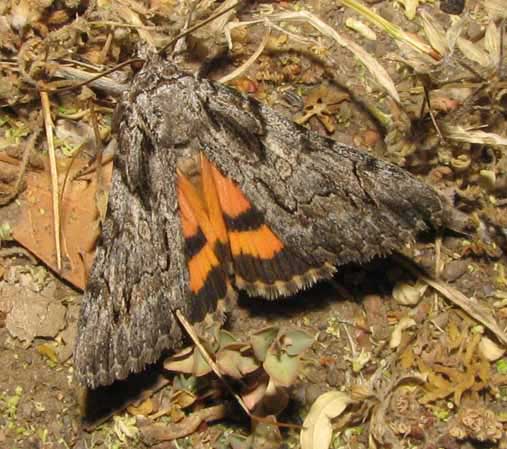 Catocala verrilliana, three miles north of Sunflower, Maricopa County, Arizona,
June 21, 2011, courtesy of Evan Rand.
This site has been created by Bill Oehlke at oehlkew@islandtelecom.com
Comments, suggestions and/or additional information are welcomed by Bill.
TAXONOMY:

Superfamily: Noctuoidea
Family: Noctuidae
Group: Noctuinina
Subfamily: Catocalinae
Genus: Catocala, Schrank, 1802


MIDI MUSIC
"Moon River"
copyright C. Odenkirk
MIDI CITYON.OFF

DISTRIBUTION:
Verrill's Underwing, Catocala verrilliana (wingspan: 45-60mm), flies in (i.e., has been confirmed in)
Washington;
Oregon: Josephine County;
Colorado;
California: Santa Clara, San Benito, Sonoma, Kern, Contra Costa;
Arizona: Coconino, Santa Cruz, Cochise, Maricopa;
Texas; and
western Oklahoma: Cimarron.
It has also been reported in
Nevada;
New Mexico; and
Utah.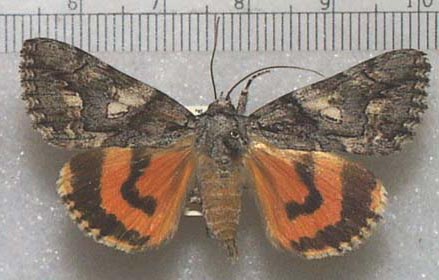 Catocala verrilliana, 48mm, Arizona, courtesy of Bruce Walsh.

Visit Catocala verrilliana, Wolf Creek, Josephine County, southwestern Oregon, August 9, 2009; September 11, 2013, courtesy of Edna Woodward.

Visit Catocala verrilliana: Long Beach, Chiricahua Mtns., Cochise Co., AZ, July 2, 2010; Williams, Coconino Co., AZ, courtesy of Evan Rand.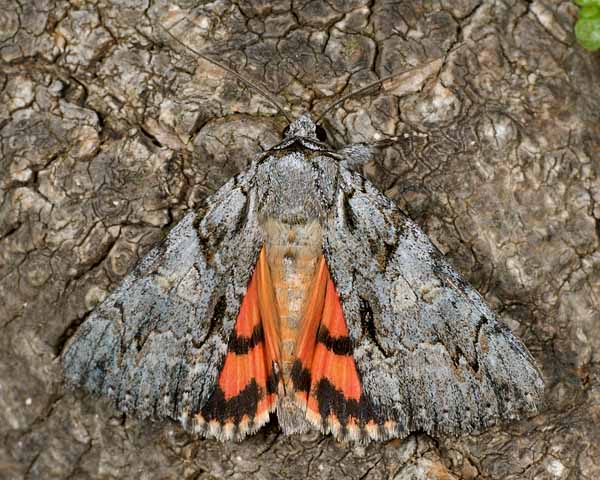 Catocala verrilliana, San Jose, Santa Clara County, California,
July 11, 2008, at blacklight, courtesy of Owen Holt.

David Wikle has taken them at Cloverdale Muni Airport, Sonoma County, California, 24 August 2003.
Evan Rand reports a specimen from Harshaw, Santa Cruz Co., Arizona, July 9, 2008.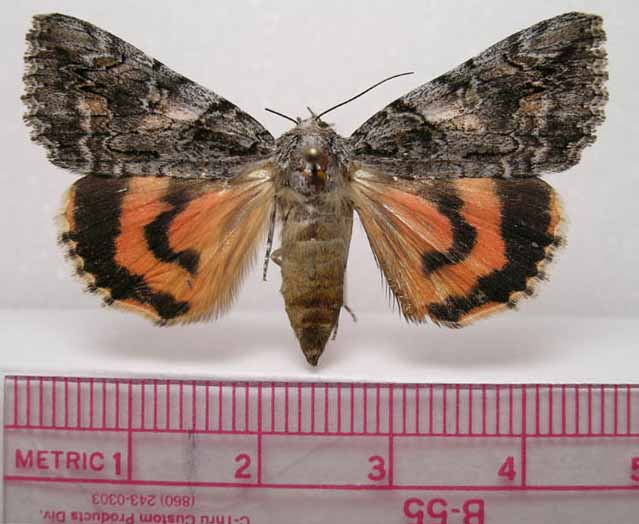 Catocala verrilliana, Pinnacles National Monument, July 13, 2003,
San Benito County, courtesy of Paul Johnson.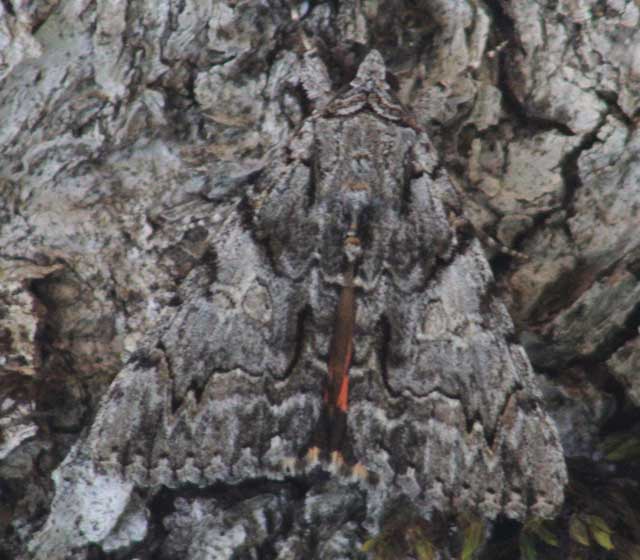 Catocala verrilliana, Mount Diablo State Park, Contra Costa County, California,
July 10, 2014, courtesy of Ameet Zaveri, Co-founder, sfbaywildlife.info
The subtriangular subreniform spot is large (considerably larger than reniform) and light in colour. There is a light patch running from the subreniform diagonally to the costa. A dark area on the basal side of the antemedial line and light patches between the postmedial and subterminal lines distinguish this species.

The upper two teeth on the pm line are produced and sharp. The third tooth is practically non-existant, and the fourth and fifth teeth are only slightly produced and the lower line of the fifth tooth is quite dark.

The inner black band of the hindwing ends bluntly, well before the inner margin. The fringe is checked and slightly paler than the orange ground colour.
The mid tibiae have spine-like projections while the protibiae and hind tibiae are without spines.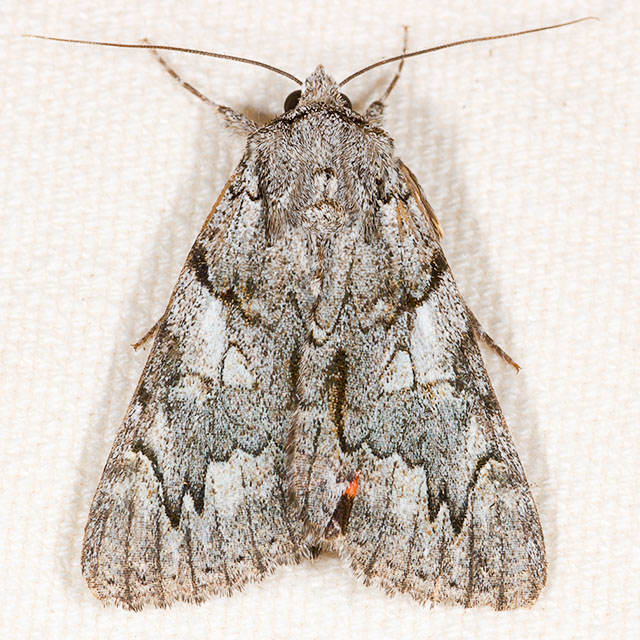 Catocala verrilliana, Washington, courtesy/copyright John Davis
FLIGHT TIMES AND PREFERRED FOOD PLANTS:
Catocala verrilliana flies as a single generation with moths on the wing in May in Texas. Evan Rand reports a specimen with a wingspan of 48mm from Williams in Coconino County, Arizona, June 26, 2010. Elsewhere this species is generally on the wing from July to September: Washington to California to Texas to Colorado.

Male, right, was taken at Rt 155 at Alder Creek Road, 4850' Kern County, CA on July 20, 1990 by Kelly Richers at uv light.
The Catocala verrilliana caterpillar feeds on oak species.
ECLOSION:
Adults eclose from pupae formed under leaf litter.
SCENTING AND MATING:
Catocala verrilliana females emit an airbourne pheromone and males use their antennae to track the scent plume.

Female, right, was taken at Rt 155 at Alder Creek Road, 4850' Kern County, CA on July 20, 1990 by Kelly Richers at uv light.

Note shorter abdomen, with "turkey baster" shape.
EGGS, CATERPILLARS, COCOONS AND PUPAE:
Eggs are deposited on tree bark in the fall and hatch the following spring.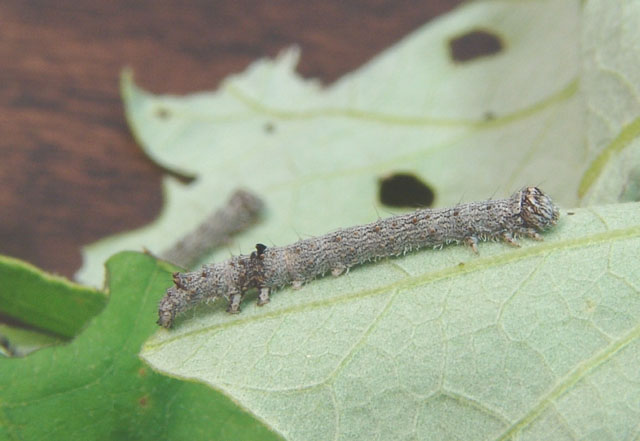 Catocala verrilliana third instar, courtesy of Gabriel Larrabee. copyright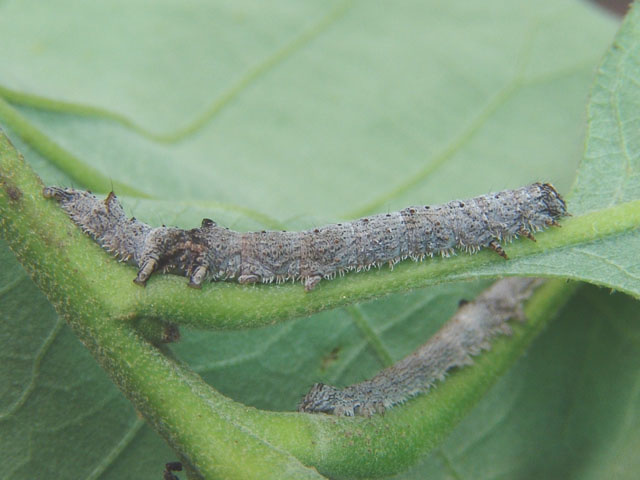 Catocala verrilliana third instar, courtesy of Gabriel Larrabee. copyright
Uniformly grey white with a pale pink hue; middorsum of A5 and A8 with tubercles; head same color as body but with reticulated lines; ventral row of short whisker-like hairs. This species is common on white oak during May and June.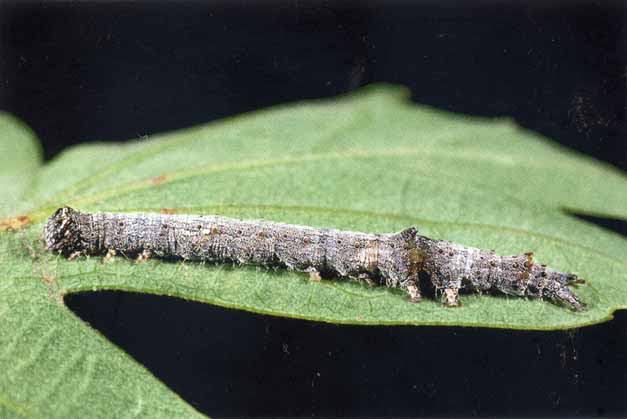 Catocala verrilliana fifth instar, courtesy of Jeffrey C. Miller. copyright
Larval Food Plants
Listed below are primary food plant(s) and alternate food plants. It is hoped that this alphabetical listing followed by the common name of the foodplant will prove useful. The list is not exhaustive, although some species seem very host specific. Experimenting with closely related foodplants is worthwhile.
White oak
Bur oak
Garry Oak/Oregon white oak

Use your browser "Back button to return to the previous page.
Goto Main Catocala Index
This page is brought to you by Bill Oehlke and the WLSS. Pages are on space rented from Bizland. If you would like to become a "Patron of the Sphingidae/Catocala Sites", contact Bill.
Please send sightings/images to Bill. I will do my best to respond to requests for identification help.
Enjoy one of nature's wonderments: Live Saturniidae (Giant Silkmoth) cocoons.



To show appreciation for this site, click on the flashing
butterfly to the left, a link to many worldwide insect sites.