Tim Taylor
Regina, Saskatchewan, Catocala Collection
Tim Taylor of Regina, Saskatchewan, writes, "It has been a great year here in Saskatchewan for watching moths, even though we have had the worst weather ever. Two nights ago (August 14, 2009) we had a storm with high winds, two inches of rain and a low of 5C. It blew so hard it knocked out the bait dish from my bait trap in the back yard. In the morning I went to put it back and there were three Catocalas on the bait and fourteen in the trap. Lots of C. parta, unijuga and briseis. I'm slowly getting an eye for id's, but I still get stumped lots."
Tim has sent many images, recto and verso, with data (date, location, wingspan) that help with distinguishing the many look-a-like species. I (Bill Oehlke) also get stumped, but do the best I can! The Catocala are a very challenging genus.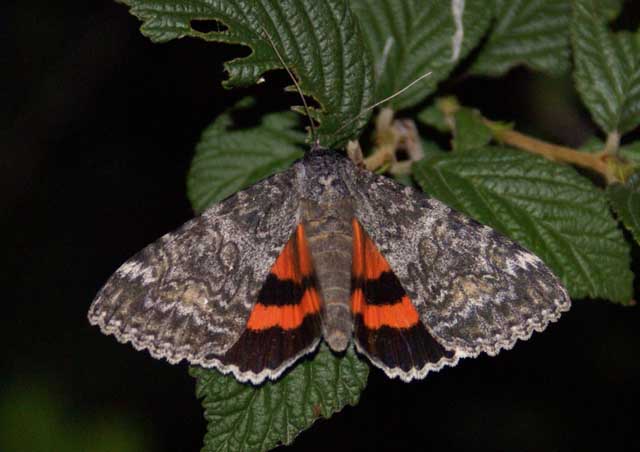 Catocala briseis, Regina, Saskatchewan, Canada,
August 17, 2009, courtesy of Tim Taylor, Saskatchewan Collection.
The strong contrast in the forewing markings suggest Catocala unijuga for the moth depicted above, but I have gone with C. briseis based on 1) yellow-brown scaling in the forewing subterminal area; 2) the almost non-existent third "tooth" in the pm line; and 3) the relatively short black projections along the hindwing veins into the white fringe area. I could be in error.

This next one was easy: Catocala relicta, form clara, August 17, 2009.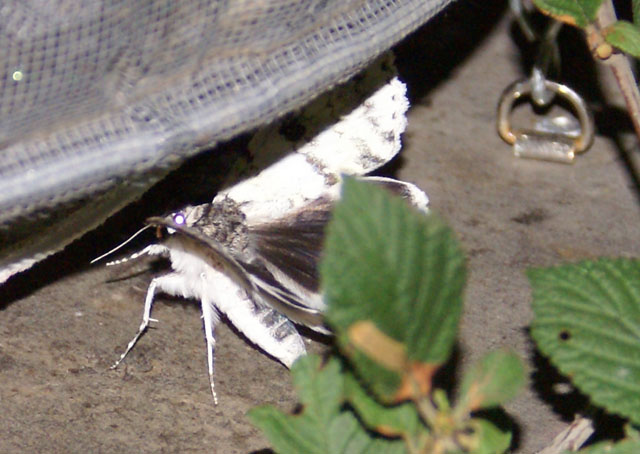 Catocala unijuga approaching bait plate below trap, August 17, 2009.

A bait trap usually consists of a screened enclosure with a funnel type opening on the bottom of the enclosure. The cage is suspended/supported (maybe an inch or so) over a dish/plate of bait. The moths, some butterflies, and sometimes yellow jackets, are attracted to the bait. When they have had their fill, the fly upward into the large funnel opening immediately above them. The funnel tapers considerably as it procedes upwards into the cage. Once in the cage, the insects seldom fly down the funnel to escape. You need a "door" to access the detainees for examination, preservation or release.

If you don't want the yellow jackets or butterflies, render the trap inaccessible during daylight hours.

This site has been created by Bill Oehlke at oehlkew@islandtelecom.com
Comments, suggestions and/or additional information are welcomed by Bill.

As Tim continues to send me images, I will post them, with data provided, via the links below.

Catocala meskei
Catocala meskei

Catocala unijuga
Catocala unijuga form agatha
Catocala unijuga form agatha