Tim Dyson: Night Vision Photography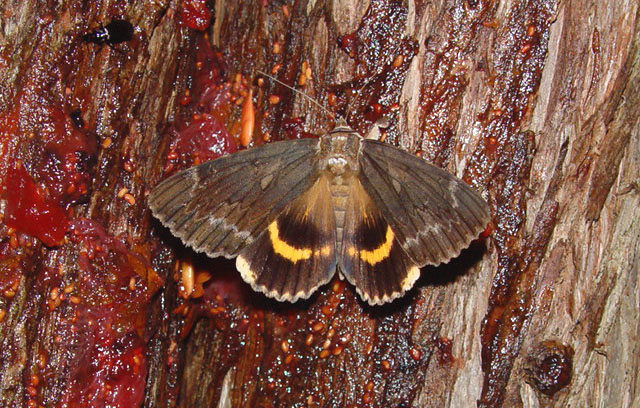 Catocala cerogama form ruperti, Peterborough, Ontario,
August 25, 2004, Copyright Tim Dyson
Wow! Here's a Catocala cerogama form ruperti, not nearly as common as the "standard" moth below.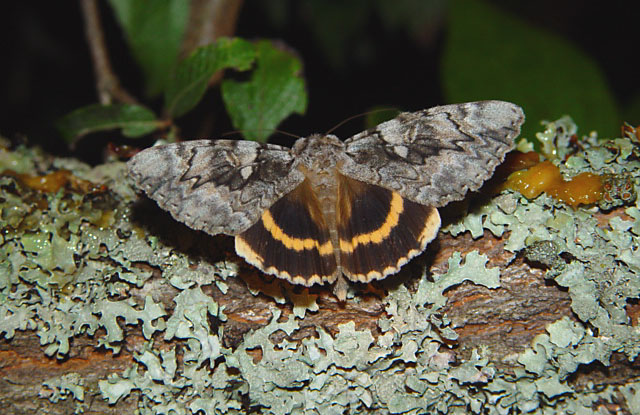 Catocala cerogama, standard form,
August 17, 2004, Copyright Tim Dyson
Usually the "Underwings" and other Noctuidae rest with their forewings "folded", totally obscuring, in the case of the Catocala, their more ornately coloured hindwings. This moth clearly is not at rest, and is ready for an instant takeoff should circumstances warrant.
Tim sometimes uses a tablespoon of wine in his "bait".
Do you think this next visitor is more interested in the wine, the fruit or the moths?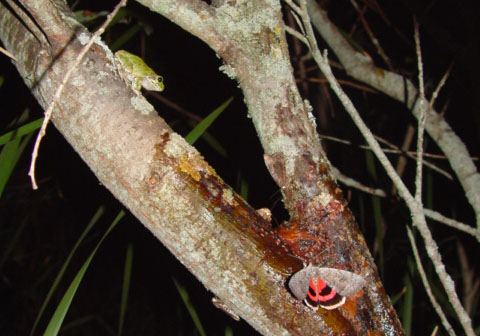 I wonder if, just by coincidence, Tim "baited" this treefrog's notch or if Mr. Frog is taking a quiet trip of his own. Catocala concumbens apparently doesn't hear him. Let's have a closer look.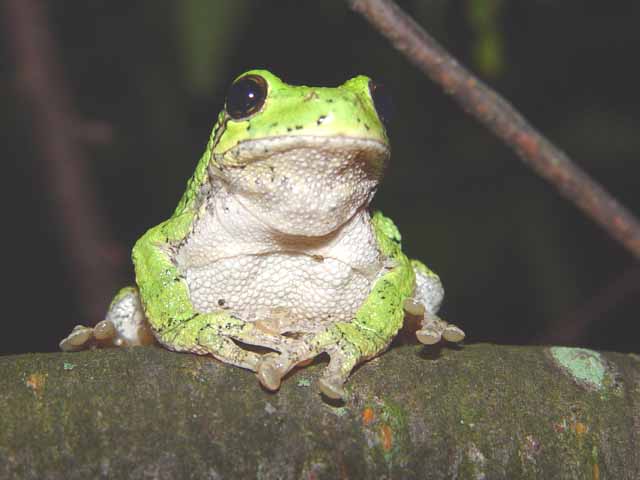 "These boots were made for stalking
and that's just what they'll do."
It is not too often that we get to see the undersides of live Catocala as they frequently hug tree bark, usually with the upper wings (dorsal view) completely obscuring the hindwings.

Tim Dyson has captured this feeding cerogama from the side, revealing wide dark banding.

Note the spines on the dark legs.

Catocala cerogama ruperti, Peterborough, Ontario, August 25, 2004, Copyright Tim Dyson
| | |
| --- | --- |
| Follow John Henry (left click on the frog) to find more moths! | |