Illinois Counties
This distribution chart is a compilation of information from Paul Opler's Moths of North America Website, the Lepidopterists' Society Season Summary and personal communication with many residents of Illinois. See comments below the map.
Actual ranges may, in many cases, be more expansive than noted. Callosamia angulifera seems to be confined to the lower 40 % of the state, Hemileuca maia and the Hemileuca nevadensis complex are probably habitat specific, but other species are probably present in just about every county.
There are some species (possibly regalis) that may now be extirpated in some of the indicated counties. However, John R. Beck confirms Citheronia regalis (2002 and 2003) from Randolph County.
Clicking on a scientific name will take you to a file with pictures and/or information. The files are linked from the membership site, but they are not from this sample map page.
Maps are updated regularly as new sightings are reported. Membership registration information can be found at Introduction to WLSS.
George E. Rowland, Port Byron IL (Rock Island County) confirms Eacles imperialis with a larval image, september 11, 2002.
Marie O'Connell, Cook County, confirms Antheraea polyphemus (May 2003).
John R. Beck, Randolph County, confirms Citheronia regalis (2002)
For 2003, John reports the following: August 3, Actias luna female; August 4, Eacles imperialis not sexed; August 5, Actias luna male, Antheraea polyphemus female; Citheronia regalis was captured in the last week of July - males only.
Steve Parshall, (May 19, 2003) reports, "To add to your records, I collected a Sphingicampa bisecta in Olney (Richland Co.), Illinois on the night of August 19, 2001. The moth was taken, along with the sphingid Xylophanes tersa, at Richland County Mall. On the following night I collected a Luna moth at lights in Albion, (Edwards Co.), Illinois. These may well be county records, but I'm not sure as I have not perused Lepidoptera papers or museum or private collections." Brad Darville, McHenry County, (May 2003) writes, "I am in McHenry county. Last season, my wife had a sprawling sacred datura. This plant attracted some Hyles lineata. I had read that the Hyles lineata becomes intoxicated on the daturas' nectar. I believe it is true, because I was able to gently cup one of them in my hands. Three seasons ago, I saw many Hemaris thysbe. They disappeared when the Japanese beetles came. Of those listed, I too saw cecropia, polyphemus, and Eacles imperialis last season. Jerry Spellbring, Franklin County, (May 20, 2003) writes, "These species should be included in your county listings for Franklin County: Callosamia promethea, Sphingicampa bisecta, Antheraea polyphemus, Automeris io, Sphingicampa bicolor, Anisota virginiensis and Dryocampa rubicunda. I believe most of these also apply to Jasper County."
Liz Day, Marion County, (May 24, 2003) reports Callosamia promethea, Hyalophora cecropia, Antheraea polyphemus, Citheronia regalis and Eacles imperialis.
Antheraea polyphemus (May 26, 2003; Addison, Dupage County) confirmed.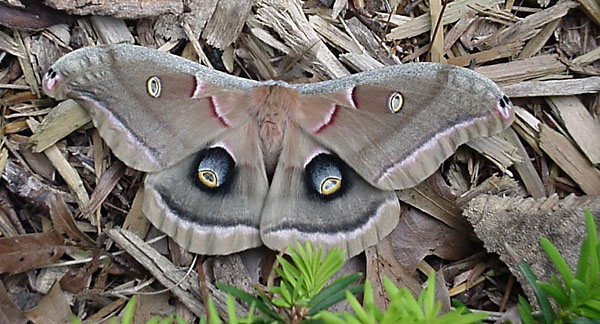 Antheraea polyphemus, Carol Stream (Dupage County), May 29, 2003,
courtesy of James Novy.
Antheraea polyphemus (June 4, 2003): Naperville, (Dupage County) confirmed.
Matt Husar writes, "We found the cocoon on the ground in Mount Carroll, Illinois (Carroll County) about 15 miles east of the Mississippi River, on May 17, 2003.

I never saw one this large. In fact, I don't even know the the insect inside is still alive or even there.

I see no opening to indicate it hatched.

If you can shed any light on this as well as your speculation on the incubation period, it would be greatly appreciated."

It hasn't hatched yet, but may do so any day now as this is time of year (May 31, 2003) when polyphemus fly in Illinois.
Antheraea polyphemus confirmed for Kane County, via fifth instar larva feeding on black chokecherry, July 25, 2002.
Ed Verkuilen (June 24, 2003) writes, "Greetings from Geneva, IL (40 miles due west of Chicago) [Kane County].
"We were fortunate enough to witness the eclosion of a male Polyphemus Moth this afternoon and early evening. He just flew off in search of his mistress."
Wesley Sitek confirms Callosamia promethea from Lake County with a picture of a mating pair on July 20, 2003.
Martha Freeman, Central Illinois (Athens in Menard County), reports a female Eacles imperialis at her porch light on July 14, 2003. The moth deposited eggs on a cedar post on the porch.
Linda Fette, Will County, reports a found H. cecropia spinning a cocoon on October 8, 2003. This seems very late so caterpillar may be parasitized.
Member John Beck reports first wild luna of the year May 22, 2005, Randolph County.
Jeff Prill reports Callosamia angulifera from Vermillion County, Forest Glen Preserve at light traps between June 21-23.
Return to Membership registration information at Introduction to WLSS.