Ludwigia octovalvis
Nikolaus Joseph Freiherr von Jacquin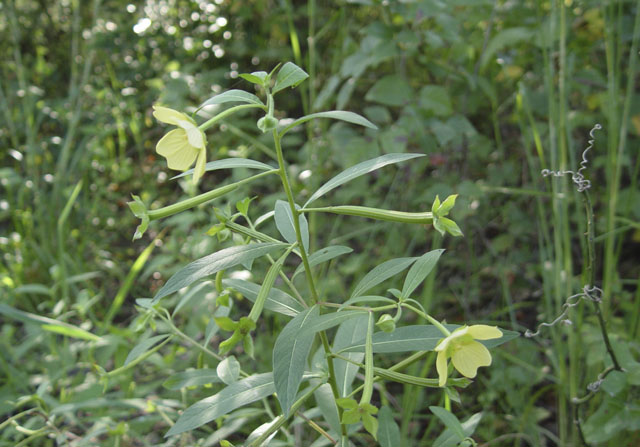 Ludwigia octovalvis, Water Primrose, courtesy of Melody Lytle
Ludwigia octovalvis, commonly known as Water Primrose or (Mexican) Primrose Willow, belongs to the Onagraceae family.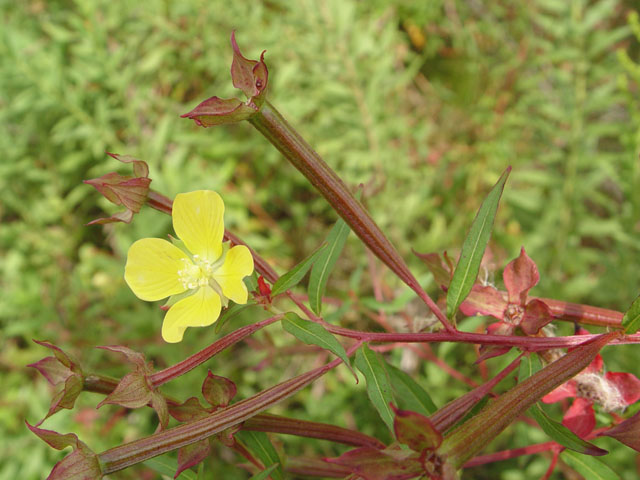 Ludwigia octovalvis courtesy of Melody Lytle.

The perennial Ludwigia octovalvis is found in marshes, and is common nearly throughout the state of Florida. The plant is also located in Georgia, Alabama, Louisiana, Mississippi, North & South Carolina, Texas, Hawaii, Puerto Rico and the Virgin Islands.

The following "American" Sphingidae utilize Ludwigia octovalvis as a larval host.

Eumorpha fasciatus

The larva of this species grows to be quite large, at least four inches long, and shows several different forms, from almost all green to red, yellow and green with narrow black bands. Sometimes several forms are found in very close proximity, even on the same plant.
Eumorpha fasciatus, Jean Lafitte National Park, Lafitte Louisiana, Saturday, 9/25/04,
courtesy of Ronnie Gaubert, copyright.
I have also seen larvae, about ready to pupate, that were almost all red. In all cases, however, the white oblique lines were present with relatively large, dark spiracular circles intersecting the lines.
Use your browser "Back" button to return to the previous page.
This page is presented by Bill Oehlke.
This site is presented as an extension of the
World's Largest Saturniidae Site, a private worldwide silkmoth site,
Caterpillars Too!, a private North American butterfly site featuring images of caterpillars,
Sphingidae of the Americas, a free public access site about the Sphingidae (Hawkmoths) of the Americas.
and
North American Catocala, a free publc access site about the Catocala (underwing moths) of North America.
Tree information is from Aggie Horticulture
Larval hostplant lists have been compiled from the Natural History Museum's
HOSTS - a database of the world's Lepidopteran hostplants