Polistes fuscatus
Paper Wasp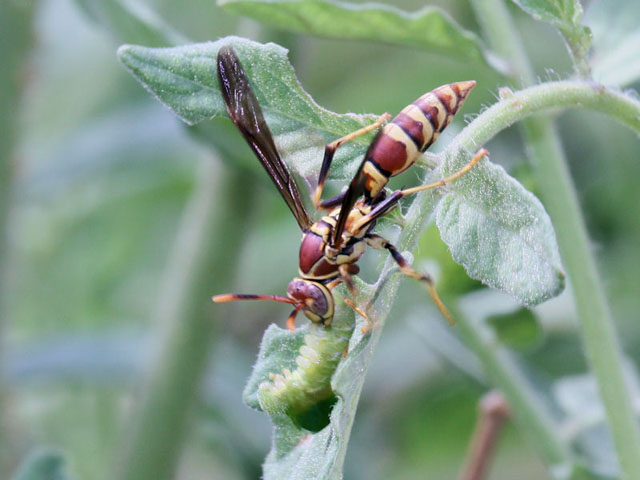 Polistes fuscatus attack on headless Manduca quinquemaculatus larva,
on tomato plant, Texas, courtesy of Eric Runfeldt.
Eric Runfeldt writes, "I have several Manduca quinquemaculatus that have gone to ground in my garden.

"This one didn't make it.

"The paper wasp tried to carry the entire caterpillar but was having trouble. It landed, and using its mandibles, it cut off the head, pulled out the internals, and squished the waste out, rolling the caterpillar's body into a ball.

"It then took the remains back to its nest."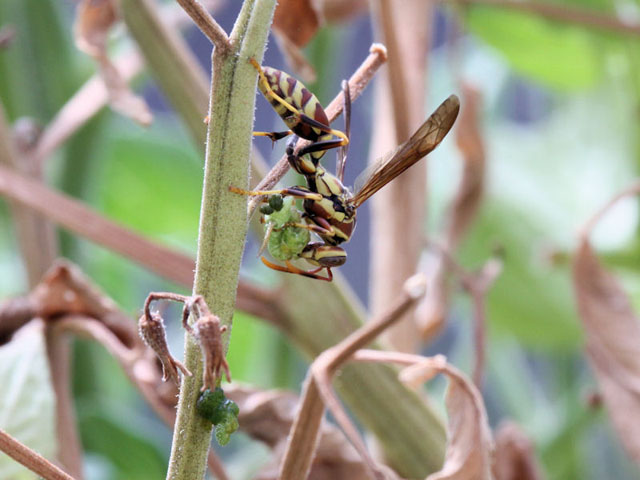 Polistes fuscatus with "rolled" Manduca quinquemaculatus larva,
ready for flight, Texas, courtesy of Eric Runfeldt.
"The caterpillar's head and internals are visible lower on the stem."
I wonder who taught the wasp to roll its prey??
Use your browser "Back" button to return to the previous page.
This page is brought to you by Bill Oehlke and the WLSS. Pages are on space rented from Bizland. If you would like to become a "Patron of the Sphingidae Site", contact Bill.
Please send sightings/images to Bill. I will do my best to respond to requests for identification help.
Enjoy one of nature's wonderments: Live Saturniidae (Giant Silkmoth) cocoons.

Show appreciation for this site by clicking on flashing butterfly to the left.
The link will take you to a page with links to many insect sites.