Sapindus saponaria
(Hook. & Arn.)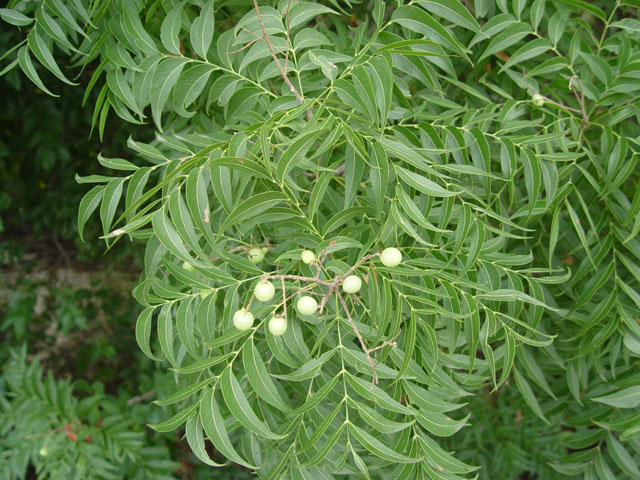 Sapindus saponaria, Soapberry Tree, courtesy of Melody Lytle
Sapindus saponaria, commonly known as Soapberry, Western Soapberry, Wild Chinatree, Wild Chinaberry, Indian Soap Plant and Jaboncillo, belongs to the Sapindaceae family.

"Western Soapberry is an extremely adaptable native tree, equally at home in the dry canyons of West Texas as in an East Texas landscape, although it does occur in moister sites in west Texas and in drier ones in the east, and usually grows on limestone. It can form large groves of trees of one sex by spreading by rhizomes. The crown of clean pinnately compound leaves forms an upright oval. The creamy white, late spring to summer flowers are attractive and are followed on female trees by panicles of small translucent yellow-orange drupes. The fall color can be a good yellow."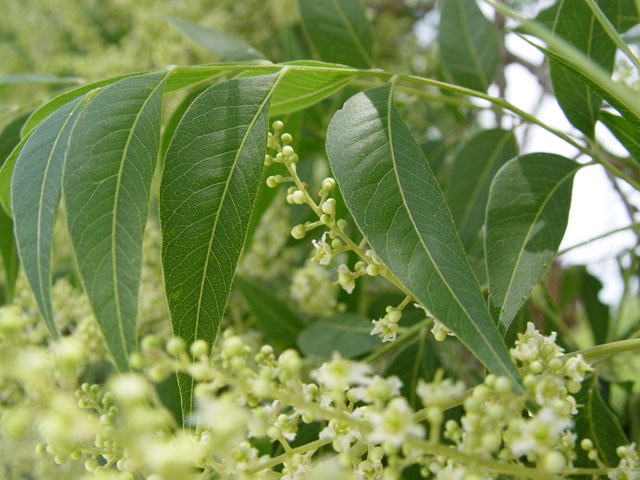 Sapindus saponaria, Soapberry Tree, courtesy of Melody Lytle
The tree is found in the southern USA from Louisiana to Arizona, north to southwestern Missouri and south to northern Mexico. It is usually found along rivers and canyon sides.

Soapberry is a small to medium sized deciduous tree (20 to 30 feet tall; 10 to 20 feet wide) that likes full sun. Creamy white blossoms grace the tree in the spring, followed by translucent yellow clusters of posionous drupes.

The tree tolerates high temperatures and limited water and is hardy and adaptable to a variety of soils to USDA Hardiness Zone: 6.

Propagation is by seeds (pretreated and stratified) or hardwood cuttings. This tree transplants easily, and it occasionally produces root suckers that can be cut and moved.

To collect seeds harvest unblemished overripe fruit while wearing gloves. Clean and dry the seeds, remembering that the fruit is poisonous. Seed needs to be cleaned and dried and then scarified and should be planted after last frost.

The following "American" butterflies utilize Sapindus saponaria as a larval host.

Lycaenidae: Phaeostrymon alcestis

The following Saturniidae utilize Sapindus saponaria as a larval host.

Eacles imperialis
Eacles oslari
Hyperchiria incisa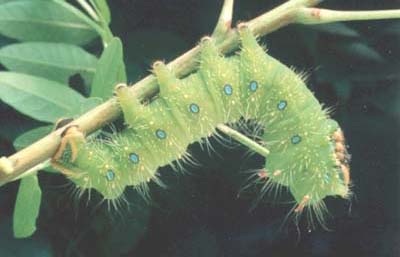 Eacles oslari courtesy of Chris Conlan
Use your browser "Back" button to return to the previous page.
This page is presented by Bill Oehlke.
This site is presented as an extension of the
World's Largest Saturniidae Site, a private worldwide silkmoth site,
Caterpillars Too!, a private North American butterfly site featuring images of caterpillars,
Sphingidae of the Americas, a free public access site about the Sphingidae (Hawkmoths) of the Americas.
and
North American Catocala, a free publc access site about the Catocala (underwing moths) of North America.
Tree information is from Aggie Horticulture
Larval hostplant lists have been compiled from the Natural History Museum's
HOSTS - a database of the world's Lepidopteran hostplants