Rothschildia orizaba equatorialis
roths-CHILD-ee-uhmmor-ih-ZAH-buhmmeck-quah-tour-ee-AL-uhs
Rothschild, 1907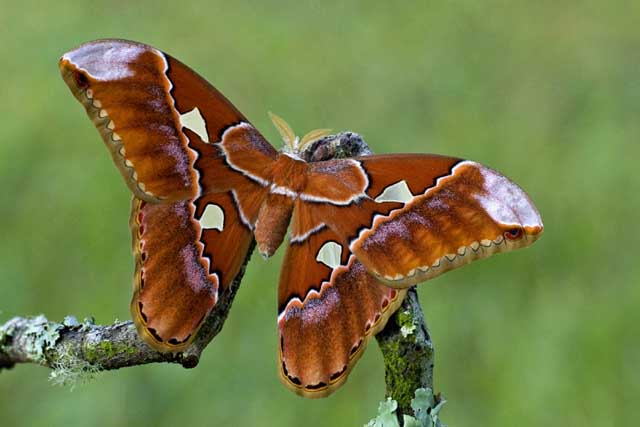 Rothschildia orizaba equatorialis male, courtesy of Leroy Simon
Rothschildia orizaba equatorialis flies along the western slopes of the Andes at low altitudes (1-200m). This is the biggest of the Rothschildia species.
Males have a deep orange or mahogany colour while the female is ochre to yellow-brown.
This subspecies is differentiated from triloba based on truncated hyaline spots that rarely reach the antemedial line. Those same spots are never indented on the inward side. The postmedial line is very dentate in equatorialis, slightly less so in cauca.
On the hindwing, the hyaline spot is relatively small and is rounded toward the body. The dark scaling in the cream coloured wedges in the submarginal area of the hindwings is pronounced, almost completely filling the wedges. That darker scaling is redder toward the apex and almost black near the anal angle.
The same areas on the forewing are devoid of dark scaling except for the deep red crescent outside the apical "eyespot".



To show appreciation for this site, click on the flashing
butterfly to the left, a link to many worldwide insect sites.
Use your browser "Back" button to return to the previous page.
This site has been created by Bill Oehlke at oehlkew@islandtelecom.com
Comments, suggestions and/or additional information are welcomed by Bill.
North American Saturniidae Livestock for sale at http://www3.islandtelecom.com/~oehlkew