Aellopos titan
ay-LOH-puhsMTYE-tuhn
(Cramer, 1777) Sphinx
The Titan Sphinx or White-banded Day Sphinx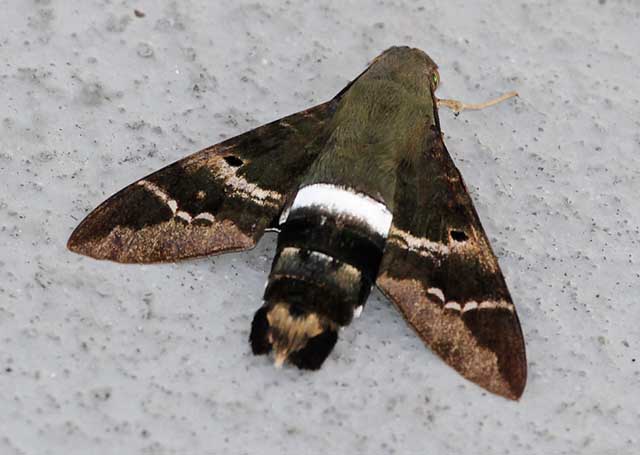 Aellopos titan, Gulf of Mexico, 200 miles south of New Orleans, Louisiana,
September 2, 2013, courtesy of Mike Bailey
Occasionally Aellopos titan is encountered in the northern United States in early to late fall, and such sightings are usually attributed to moths being displaced or greatly aided in flight distances by hurricane force winds. The moth depicted above, in very good shape, was taken in the Gulf of Mexico, 200 miles off shore.
Perhaps the recent tornados and strong windstorms, etc., or extreme heat further south, have encouraged a migration or allowed for great displacement.
Mike Bailey writes, "I wonder if you may be able to help me identify this hawkmoth? I photographed it last week about 200 miles south of New Orleans in the Gulf of Mexico whilst working onboard my research vessel. Any ideas? I've had a quick look at your excellent website but my satellite connection is rather slow and I've not been able to look at all of the images. Your assistance would be very much appreciated."
I (Bill Oehlke) reply, "That one is Aellopos titan, the Titan Sphinx. Thanks for thinking of me. Nice picture. Is it okay if I post image, credited to you, to website via link from titan page? This species is a strong migrant."
This site has been created by Bill Oehlke at oehlkew@islandtelecom.com
Comments, suggestions and/or additional information are welcomed by Bill.
TAXONOMY:



Family: Sphingidae, Latreille, 1802
Subfamily: Macroglossinae, Harris, 1839
Tribe: Dilophonotini, Burmeister, 1878
Genus: Aellopos Hubner, [1819] ...........
Species: titan Cramer, 1777


MIDI MUSIC
.....It's a Wonderful World.....
copyright C. Odenkirk


ON.OFF

Return to U. S. A. Table
Return to Sphingidae Index
Return to Dilophonotini Tribe

Use your browser "Back" button to return to the previous page.
This page is brought to you by Bill Oehlke and the WLSS. Pages are on space rented from Bizland. If you would like to become a "Patron of the Sphingidae Site", contact Bill.
Please send sightings/images to Bill. I will do my best to respond to requests for identification help.