Agrius cingulata
ah-GREE-usmm sin-gue-LAY-ta
The Pink-spotted Hawkmoth
(Fabricius, 1775) Sphinx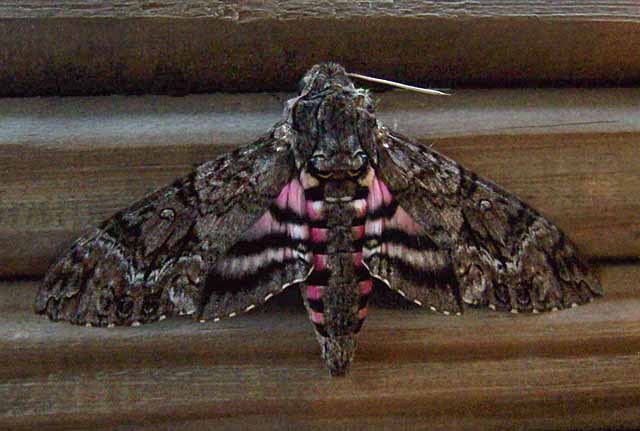 Agrius cingulata, Jefferson Parish, Louisiana,
October 7, 2008, courtesy of Phillis.
On October 8, 2008, Phyllis writes, "We just went through two hurricanes again, Gustave and Ike. We evacuated for the second time in our lives for Hurricane Gustave, but he hit and devastated the neighboring Terrebonne Parish. And although Hurricane Ike actually targeted Galveston Texas, his tidal surge came all the way to lower Jefferson Parish and flooded the same people again that were flooded by Hurricane Rita three years ago. But just like before, we were spared the worst and we're very grateful for that.

"I had not seen the moth Agrius cingulata in the last year or so, but one came back today. He was sitting on our porch swing looking just as beautiful as ever. I have attached a couple of pictures to show you."

I received many images of this species from the southern states in early October, 2008. May the people rebound from the devastating effects of hurricanes as the moths do!

One half of all new registrations (October-December 2008) for World's Largest Saturniidae Site will be donated to humanitarian aid. Many thanks to all who assist when disaster strikes.

This site has been created by Bill Oehlke at oehlkew@islandtelecom.com
Comments, suggestions and/or additional information are welcomed by Bill.
TAXONOMY:



Family: Sphingidae, Latreille, 1802
Subfamily: Sphinginae, Latreille, [1802]
Tribe: Sphingini, Latreille, 1802
Genus: Agrius Hubner, [1819] ...........
Species: cingulata (Fabricius, 1775)


MIDI MUSIC
.....It's a Wonderful World.....
copyright C. Odenkirk


ON.OFF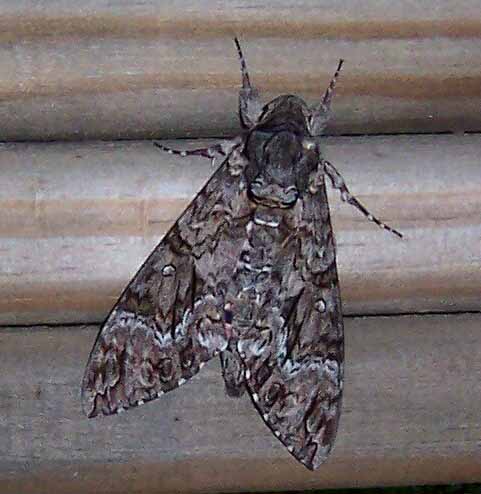 Agrius cingulata, Jefferson Parish, Louisiana,
October 7, 2008, courtesy of Phillis.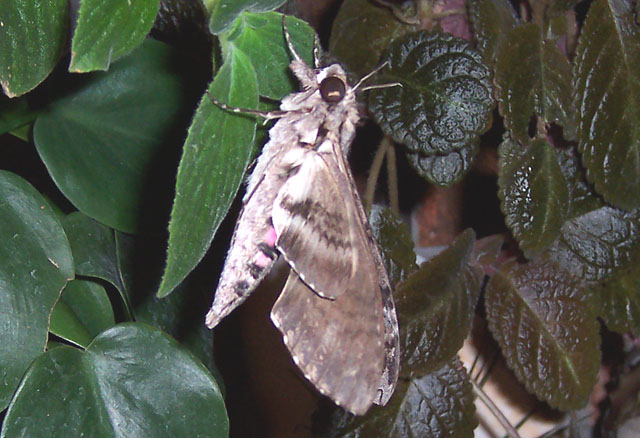 Agrius cingulata in unusual pose, October 6, 2004, courtesy of Phillis in Louisiana.
Visit a beautiful series of photos of Agrius cingulata from Vicksburg, Mississippi, courtesy of Paul Ingram.
Return to U. S.A. Table
Return to Sphingidae Index
Return to Sphingini Tribe
Use your browser "Back" button to return to the previous page.
This page is brought to you by Bill Oehlke and the WLSS. Pages are on space rented from Bizland. If you would like to become a "Patron of the Sphingidae Site", contact Bill.
Please send sightings/images to Bill. I will do my best to respond to requests for identification help.
Enjoy some of nature's wonderments, giant silk moth cocoons. Cocoons are available in the fall and winter. Big, beautiful Saturniidae moths emerge in spring and summer. Online help is available.