Amphion floridensis
am-FEE-unmmfloor-ih-DEN-sihs
The Nessus Sphinx
B. P. Clark, 1920
Amphion floridensis, Broward County, Florida, August 29, 2008,
courtesy of Kelli Whitney, Park Naturalist II, Long Key Nature Center,
Broward County Parks and Recreation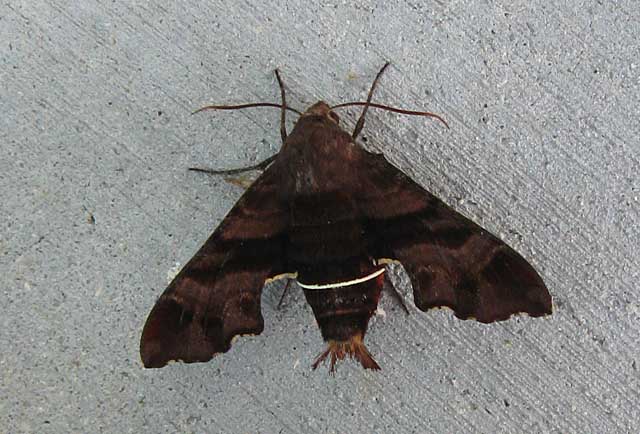 Amphion floridensis, Broward County, Florida, August 29, 2008,
courtesy of Kelli Whitney, Park Naturalist II, Long Key Nature Center,
Broward County Parks and Recreation
This site has been created by Bill Oehlke at oehlkew@islandtelecom.com
Comments, suggestions and/or additional information are welcomed by Bill.
TAXONOMY:

Family: Sphingidae, Latreille, [1802]
Subfamily: Macroglossinae, Harris, 1839
Tribe: Macroglossini, Harris, 1839
Genus: Amphion (Hubner, 1819)
Species: floridensis (B.P. Clark, 1920)...........


MIDI MUSIC
It's a Wonderful World
copyright C. Odenkirk


ON.OFF

Kelli writes, August 29, 2008, "I found another moth and would just like an i.d. confirmation. I am thinking Amphion floridensis, especially since our site is covered with both larval food sources (muscadine grape and Virginia creeper) and nectaring plants (orange jessamine). We also have plenty of rotting citrus fruit on the relict orange groves, which I believe the Nessus also feeds on. I found this one around 6 p.m. today on the ground behind a garbage can just outside the nature center."
Kelli's determination is correct. The moth may well have been feeding on rotting fruit or may have been attracted to something decomposing in the trash can.
Use your browser "Back" button to return to the previous page.
This page is brought to you by Bill Oehlke and the WLSS. Pages are on space rented from Bizland. If you would like to become a "Patron of the Sphingidae Site", contact Bill.
Please send sightings/images to Bill. I will do my best to respond to requests for identification help.