Sphingidae of Cayman Islands:
Grand Cayman, Cayman Brac, and Little Cayman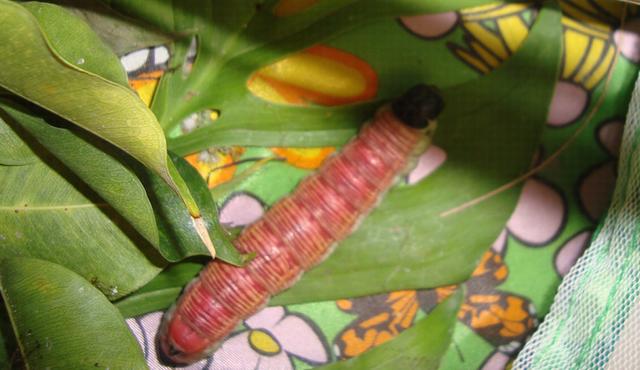 Pachylia ficus fifth instar, Grand Cayman Island,
February 17, 2011, courtesy of Ashley Moritz and Grade 2 students.
Although I believe these "tribal" and very tentative checklists contain species on the Cayman Islands, there are probably some omissions, and there are likely many improper entries as I compiled these lists from what I believe are accurate lists for Cuba (north of Cayman Islands) and Jamaica (southeast of Cayman Islands).
This page is inspired by and dedicated to teacher Ashley Moritz and the students in her Grade 2 Class.

Ashley writes, "I came across your site while trying to identify the large caterpillar one of my Grade 2 students found the other day. Here is the description:
1. We live in the Caribbean, on Grand Cayman Island.
2. My students found the caterpillar crawling across the ground in an area that is made up of rock, small shrubs and sticks.
3. The caterpillar has a black head, red and orange banded back, a black stripe across each of his sides and a bluish stomach, as well as one black tail. It has no hair.
4. The caterpillar is roughly the size and length and girth of an adult's middle finger.

"Any ideas? My students and I are so grateful for any time you spend on identifying "Frank" the caterpillar!"

I replied, "Hi Ashley,

"It sounds like you have found one of the Sphingidae caterpillars, based on size and black tail. Perhaps it is Pachylia ficus. If you can send a digital jpg image, that would really help. It is probably done feeding. If you care for it as per instructions at http://www.silkmoths.bizland.com/ManducasextaAugust2008tw.htm, perhaps it will pupate and emerge as a moth in 2-4 weeks. Best of luck. A picture would really help!"

Ashley was able to send the two images on this page, and I was able to confirm the identity as Pachylia ficus.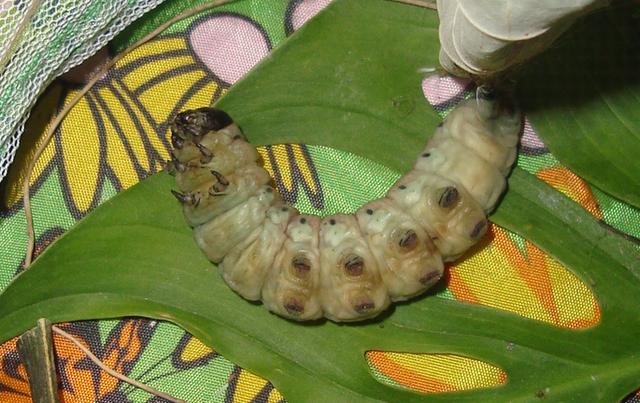 Pachylia ficus fifth instar, Grand Cayman Island,
February 17, 2011, courtesy of Ashley Moritz and Grade 2 students.
If you have corrections to offer, please contact
Bill Oehlke at oehlkew@islandtelecom.com.
The list below is for Jamaica. Those species followed by C are also found in Cuba, making their presence on Cayman Islands even more likely. Those species followed by a ? are reported from Cuba, but not from Jamaica. Those species followed by a J are reported from Jamaica, but not from Cuba. They may or may not be present.
Those species followed by an X are probably endemic to Cayman Islands.
If you are totally new to the world of Sphingidae, send Bill Oehlke an email with a jpg picture attached, with date and location, and I will try to provide you with an identification.
Go to Main Sphingidae Index
Go to U.S. Index: Alabama to Missouri
Go to U.S. Index: Montana to Wyoming
Go to Central America Index
Go to South America Index.htm
Go to Indices of Nations

Use your browser "Back" button to return to the previous page.

This page is brought to you by Bill Oehlke and the WLSS. Pages are on space rented from Bizland. If you would like to become a "Patron of the Sphingidae Site", contact Bill.

Please send sightings/images to Bill. I will do my best to respond to requests for identification help.

This website has been created and is maintained by Bill Oehlke without government or institutional financial assistance. All expenses, ie., text reference support material, webspace rental from Bizland, computer repairs/replacements, backups systems, software for image adjustments (Adobe Photoshop; L-View), ftp software, anti-virus protection, scanner, etc. are my own.

I very much appreciate all the many images that have been sent to me, or of which I have been granted permission to copy and post from other websites. All images on this site remain the property of respective photographers.

If you would like to contribute to the maintenace of this website by sending a contribution to

Bill Oehlke
Box 476
155 Peardon Road
Montague, Prince Edward Island, C0A1R0
Canada

your donation would be much appreciated and would be used for
1) paying for webspace rental;
2) paying for computer maintenance and software upgrades;
3) purchases of additional text reference material (journals and books) in anticipation of expanding the site to a worldwide Sphingidae site;
4) helping to pay my daughter's tuition; with anything left over going to humanitarian aid.

If you are mailing a check from USA, please use $0.85 postage. Donations can also be made through Paypal via the button below.