Manduca: white apical patch on forewing; two rows of white dots on abdomen, white on juncture of thorax and abdomen; three yellow-orange marks on each side of abdomen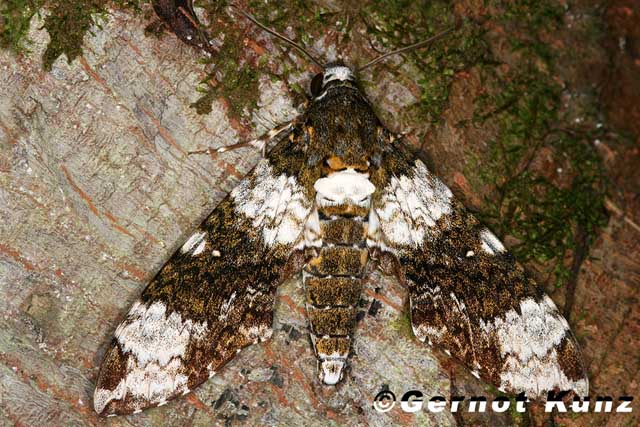 Manduca albiplaga, Corcovado, Puntarenas, Costa Rica,
June 24, 2008, 30m, courtesy of Gernot Kunz.
| | | |
| --- | --- | --- |
| Manduca dalica dalica *; 120-135mm: Fw: dark, purplish-brown in median & subterminal areas. Thin, black, very irregular aml inwardly traced in white, additional white along forewing base & across thorax/abdomen juncture. Thin white line across head behind eyes. Discal spot: large, white, connected by white triangular patch to suffusion on costal margin. Whitish-grey apical patch, & small, whitish mark anterior of anal angle. Space between 2nd & 3rd discal lines dark grey. | Manduca albiplaga *: Large white apical patch in upper half of postmedian area from outside of pm line to apex; another large white patch from costa to inner margin just outside the basal area. Two white areas not contiuous as in rustica. | Manduca rustica * Broad, dominant U-shaped whitish area from costa (just outside am line) to inner margin; along inner margin to last pm line and inside that line to first pm line to costa. Median area bounded by this shape is grey-brown with white cell and no white triangle joining cell to costa. Lower inside 1/4 of basal area white with white marks above. Much white in terminal area. Note inverted white v's, like eyebrows, over dark triangles on mid thorax. Strong white presence at juncture of thorax/abdomen. |
Very distinct species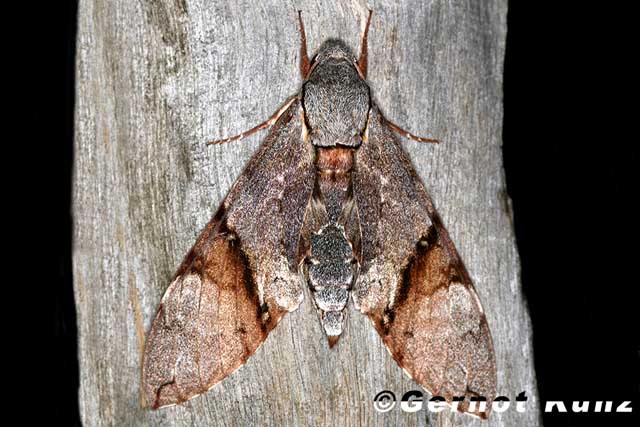 Manduca lefeburii male, Rincon de la Vieja Lodge, Guanacaste, Costa Rica,
June 10, 2008, 624m, courtesy of Gernot Kunz.


Manduca lefeburii :


Similar to Manduca andicola. Conspicuous, diffuse, dark band from midpoint costa to outer margin near vein CuA1, housing white discal spot. Mostly pale grey with pale brown triangular patch from cell spot to costa. Aml weak, outer pm line weak. No narrow black mesial line on abdomen upperside.


Manduca ochus


Unmistakable. Forewing costa charcoal grey with extensions into dominant tawny brown ground colour. Two pairs of submarginal black dots and row of marginal black spots on forewing upperside. Head and thorax: tawny and orange.






Manduca muscosa


Forewing is an almost uniform medium grey with numerous slightly darker (almost black) thin, undulating, irregular lines. Distinctive row of whitish <'s (left wing) and >'s (right wing) in forewing submarginal area. Prominent white discal spot.


Manduca: Slaty grey area between inner and outer pm lines; upper half of outer pm line concave; inner pm line obtusely angled near its midpoint; subterminal line black, thick near anal angle; five or six large yellow-orange marks on each side of abdomen.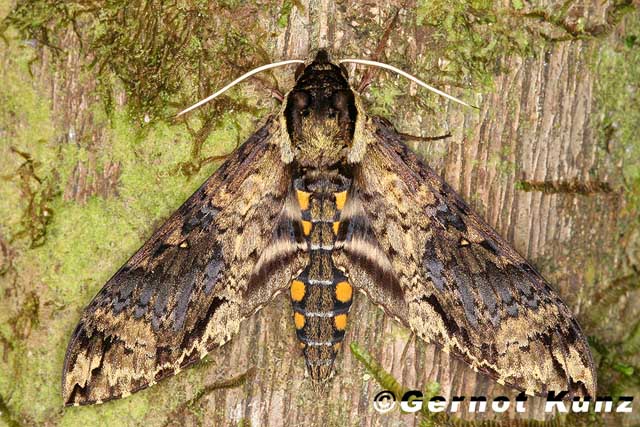 Manduca pellenia, Costa Rica, May 21, 2006,
courtesy of Gernot Kunz.

Manduca hannibal *: Ground colour different shades of brown with generous suffusions of tiny charcoal grey scales, creating a somewhat grainy appearance. Lighter colouration (creamy buff) without suffusion along inner margin, anal angle and outer margin. Am and pm lines less convergent below cell than in upper three species. Very weak subterminal line.





Manduca pellenia *: Antenna: stout as in Manduca sexta. Abdomen underside shaded with brown scales, especially in the male. Forewing upperside with discal, black, pubescent patches heavy, forming a band that is strongly angled near vein M3; the oblique, black apical line and the posterior part of the black postdiscal line both very heavy; submarginal zigzag line creamy buff rather than white; the cells between veins M3 and CuP more or less russet between the discal band and postdiscal line.

Manduca occulta
Oblong sub-rectangles in the upper three-quarters of the forewing pm area inwardly bordered with grey white and outwardly pointed with same grey white.. Otherwise more uniformly darker grey-brown than other species.







Manduca: Outer postmedian line in smooth S-shape on left forewing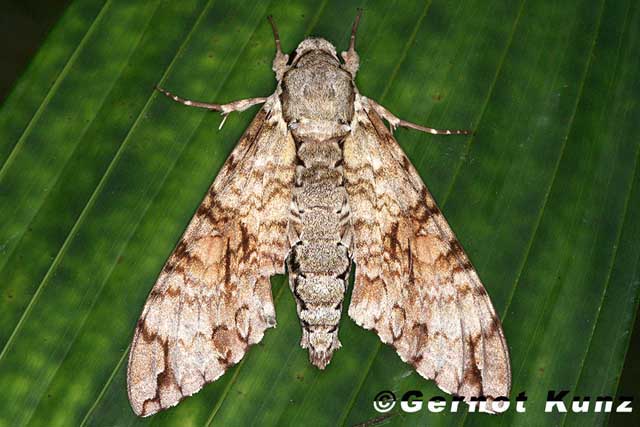 Manduca florestan, N P Piedras Blancas, Puntarenas, Costa Rica,
July 2, 2008, 65m, courtesy of Gernot Kunz

Manduca florestan *
Fw gray to yellowish gray to brown with greenish tint in fresh specimens. Two black dashes running from below cell toward outer margin. Prominent, pale reddish-brown patch encloses cell mark, above dashes. Left fw pm lines: S-shaped, prominent for upper 3/4. Body side of black apical, trapezoid, oblique.



Manduca lanuginosa *: No yellow spots on the sides of the abdomen, gray shoulders, diffuse gray-brown "patternless" wing color, varying from quite dark brown to quite light gray. Duller, with more uniform colouration than Manduca florestan. The side spots on the abdomen contain less black than in Manduca florestan.



Man. barnesi *
Very similar pattern to florestan, but lacks the reddish-brown area around the cell mark and is generally a much lighter whitish-grey with strongly contrasting lines.






Manduca

Manduca schausi
Intermediate between Manduca lichenea and Manduca florestan, with similar pattern to both. General coloration on body and forewing grey with a green tinge, like Manduca florestan, but forewing upperside darker, especially the semicircular median area on the costal margin. Forewing narrower than Manduca florestan, more similar to Manduca lichenea, with similar concavity on the distal margin just anterior to the hind angle. Forewing upperside stigma much smaller than either Manduca lichenea or Manduca florestan.

Manduca corallina *


Manduca opima

+++++++

Use your browser "Back" button to return to the previous page.

You are here: Sphingini: Manduca
Visit Sphingini: Agrius, Amphimoea, Cocytius, Euryglottis, Lintneria, Sphinx
Visit Smerinthini: Adhemarius, Orecta and Protambulyx
Visit Dilophonotini: Aleuron, Enyo, Pachygonidia and Unzela
Visit Dilophonotini: Aellopos, Eupyrrhoglossum, Nyceryx and Perigonia
Visit Dilophonotini: Callionima, Erinnyis, Hemeroplanes, Isognathus, Madoryx, Oryba, Pachylia, Pachylioides, Phryxus and Pseudosphinx
Visit Philampelini: Eumorpha
Visit Macroglossini: Cautethia, Hyles and Xylophanes