Deidamia inscriptum
dee-ih-DAY-mee-uhmin-SKRIP-tum
(Harris, 1839) Pterogon? inscriptum
Lettered Sphinx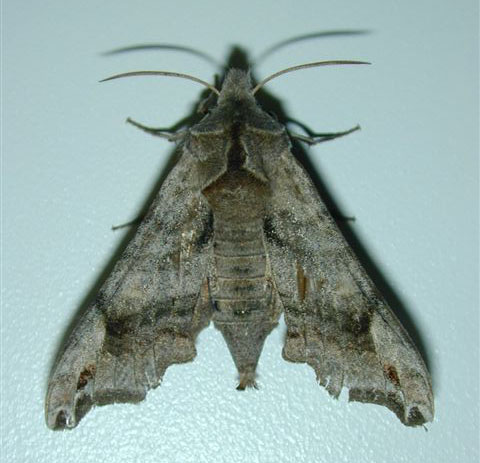 Deidamia inscriptum female, Bexar County, Texas,
March 14, 2008, courtesy of Michael van Buskirk.

Michael writes, March 15, 2008, "Last evening (March 14) I stopped by a local gas station-convenience mart at about 9:30pm. I always watch for moths, but it still seemed a little early. However, there was one moth there, and a Sphingid--a rubbed female of what I believe to be Deidamia inscriptum. Common on the east coast, and even perhaps in east Texas, but a little unusual this far west in NW Bexar County. It is a rubbed female, and over night it has deposited about 30 ova in a paper sack (one of those easy species)."

Yes, it is an early spring flier and is usually not seen/reported so far west in Texas. (WO)

Use your browser "Back" button to return to the previous page.