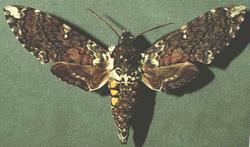 Manduca dalica dalica; 120-135mm: Fw: dark, purplish-brown in median & subterminal areas. Thin, black, very irregular aml inwardly traced in white, additional white along forewing base & across thorax/abdomen juncture. Thin white line across head behind eyes. Discal spot: large, white, connected by white triangular patch to suffusion on costal margin. Whitish-grey apical patch, & small, whitish mark anterior of anal angle. Space between 2nd & 3rd discal lines dark grey.





---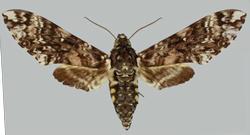 Manduca leucospila ; FWl: 47mm: Space along i.m. between aml & post-discal lines: pale, suffused with buff. Large greyish-white patches anterior to oblique apical line, and in submarginal area. Smaller white patch & submarginal zigzag line near anal angle. Black streak connects 3rd antemedian & 1st discal lines between veins CuA1 and CuA2; discal lines sharply dentate, 2nd and 3rd close together, with the space between spotted with white, the lines more evenly curved than in Manduca rustica; fringe with white spots large, extending onto the wing membrane.




---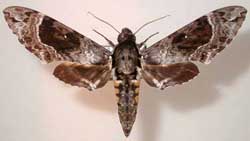 Manduca brunalba
Very strong presence of broad, white postmedian line, outwardly produced opposite the white cell dot. Upper 2/3 of median area quite dark, masking any lines.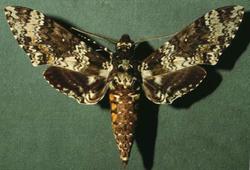 Manduca rustica Broad, dominant U-shaped whitish area from costa (just outside am line) to inner margin; along inner margin to last pm line and inside that line to first pm line to costa. Median area bounded by this shape is grey-brown with white cell and no white triangle joining cell to costa. Lower inside 1/4 of basal area white with white marks above. Much white in terminal area. Note inverted white v's, like eyebrows, over dark triangles on mid thorax. Strong white presence at juncture of thorax/abdomen.



---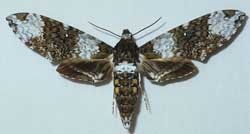 Manduca albiplaga: Large white apical patch in upper half of postmedian area from outside of pm line to apex; another large white patch from costa to inner margin just outside the basal area. Two white areas not contiuous as in rustica.