Hemaris diffinis
hee-MAGH-rihsmmDIF-fih-nihs
(Boisduval, 1836) Macroglossa diffinis
Snowberry Clearwing or Bumblebee Moth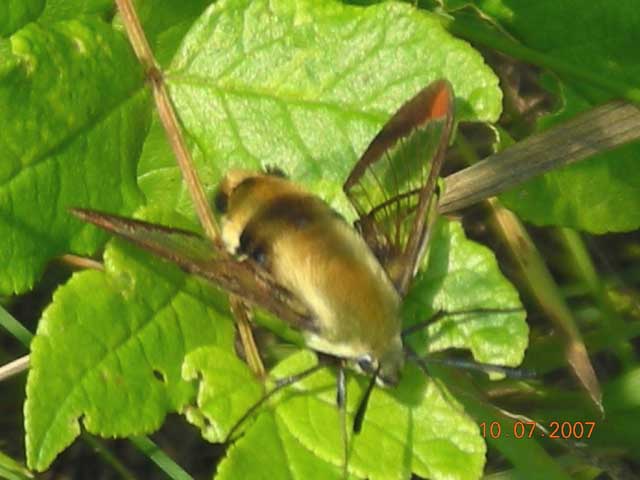 Hemaris diffinis, Beaupre Island, Ontario, July 10, 2007, courtesy of Mary Alice Snetsinger.
Hemaris diffinis is a very variable species, but almost always the abdomen sports contrasting black and yellow hairs, the ventral surface being quite black. The legs also tend to be quite dark and there is a black mask running across the eye and along the sides of the thorax.
The forewing outer margin of maroon scales makes a relatively smooth arc as opposed to the indentation, mid wing, characteristic of Hemaris thysbe. The outer margin of the hindwing tends to be quite narrow in H. diffinis
Mary Alice Snetsinger reports, "The image was taken on the south tip of Beaupre Island (in Cranberry Lake - part of the Rideau Canal system), Storrington District, South Frontenac Township."
Use your browser "Back" button to return to the previous page.
This page is brought to you by Bill Oehlke and the WLSS. Pages are on space rented from Bizland. If you would like to become a "Patron of the Sphingidae Site", contact Bill.
Please send sightings/images to Bill. I will do my best to respond to requests for identification help.