Hyles gallii
HIGH-leesmmGAL-ee-eye
(Rottemburg, 1775) Sphinx gallii
Bedstraw Hawk Moth or Gallium Sphinx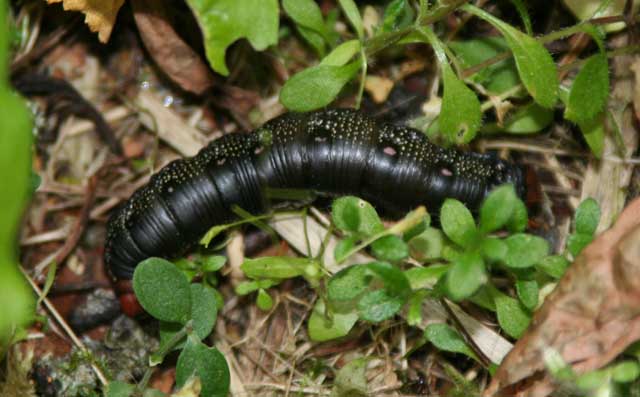 Hyles gallii larva, near Wasilla, Alaska; 61d37m north, 149d23m49s west;
feeding on fireweed; September 18, 2011; Carl Seutter
Carl writes, (September 18, 2011):
"My daughters found a caterpillar in our yard that looked like a black version of a tobacco hornworm, and we used your webpage to identify it as a Hyles gallii larva. They are wanting to keep it to see it turn into a moth. Do they hibernate in the pupal stage all winter?"
I reply,
"HI Carl, Based on my rearings of that species here on PEI in eastern Canada, out of about 95 larvae that I reared, five emerged within 2-3 weeks after pupation, the rest overwintered in pupal stage, but I put pupae into cold storage in October. I do not know where you are located or when you obtained the pupa, but my guess is it will most likely remain in pupal stage until late next spring or early summer if kept cool. If you keep it at room temperature, it might emerge in January-February. If you took a digital photo and would not mind me posting it to a website, with data (date and location) I would like to do so."
Carl responds, "Itís not a pupa yet, itís still a hungry hornworm. It was found Sunday 9/18/11 near Wasilla, Alaska. 61d37m north, 149d23m49s west. Itís currently low 50sF day and upper 30sF night. It was found on a walkway between the house and garage. The fireweed on the south side is still green and has chunks missing from the leaves. Iíve found pupae in the flower beds on the south facing side of the house a few times. I do not recall ever seeing an adult of the genus up here. I guess I wasnít paying enough attention. Iíll try to get a shot of it on the fireweed it had been eating when itís light tomorrow and send it to you. We have it in a habitat right now with fresh fireweed leaves slightly damp from todayís rain."
"Thanks Carl, I will add the sighting, and hopefully an image, to my data base and will post to a web page."
This site has been created by Bill Oehlke at oehlkew@islandtelecom.com
Comments, suggestions and/or additional information/sightings are welcomed by Bill.
TAXONOMY:



Family: Sphingidae
Subfamily: Macroglossinae
Genus: Hyles (Hubner, 1819) was Sphinx...........
Species: gallii (Rottenburg, 1775)


MIDI MUSIC
.....It's a Wonderful World.....
copyright C. Odenkirk


ON.OFF

Enjoy some of nature's wonderments, giant silk moth cocoons. These cocoons are for sale winter and fall. Beautiful Saturniidae moths will emerge the following spring and summer. Read Actias luna rearing article. Additional online help available.
Eggs of many North American species are offered during the spring and summer. Occasionally summer Actias luna and summer Antheraea polyphemus cocoons are available. Shipping to US destinations is done from with in the US.
Use your browser "Back" button to return to the previous page.
This page is brought to you by Bill Oehlke and the WLSS. Pages are on space rented from Bizland. If you would like to become a "Patron of the Sphingidae Site", contact Bill.
Please send sightings/images to Bill. I will do my best to respond to requests for identification help.

Show appreciation for this site by clicking on flashing butterfly to the left.
The link will take you to a page with links to many insect sites.