Hyles gallii
HIGH-leesmmGAL-ee-eye
(Rottemburg, 1775) Sphinx gallii
Bedstraw Hawk Moth or Gallium Sphinx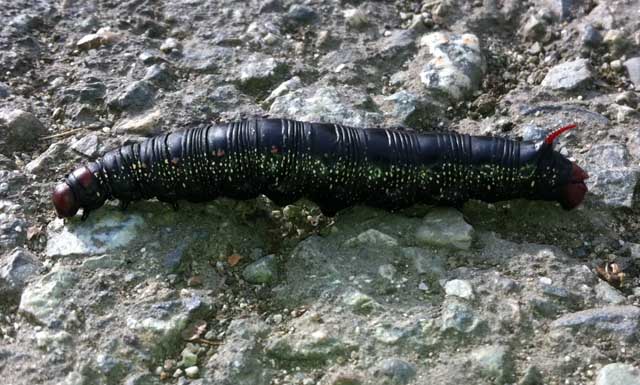 Hyles gallii larva, Anchorage, Alaska; 61° 8'10.09"N Latitude and 149°46'27.07"W;
September 24, 2011; Joel Adams.
Joel writes, (September 24, 2011):
"Hello! I came across this very unusual larva (Hyles gallii in email subject line) in Anchorage, Alaska. From looking about the web to see what it may be, I thought you might be interested in this picture.
"Cheers,
"Joel"
I reply,
"HI Joel,
"Yes, it is Hyles gallii, the Bedstraw Hawkmoth caterpillar. Thanks for thinking of me. Do you have the date or a close approximation? I also request permission to post the image, credited to you, to a webpage, linked from my Alaska Sphingidae page."
Joel responds, "Thanks for responding, Bill,
"Yes, go ahead and post the picture. I took it while returning from a walk with the dogs at about 3:15 P.M. on Saturday September 24th, 2011, yesterday.
"Using Google Earth, I photographed it at 61° 8'10.09"N Latitude and 149°46'27.07"W Longitude.
"Looking at pictures of the Bedstraw Hawkmoth, I've never seen one around here. Do they have unusual nature for a moth?"
"Thanks Joel,
In North America they are one of only a couple of Sphingidae that range so far to the North, but they are quite common in most of Canada. I have reared them here on Prince Edward Island, in eastern Canada, and in the last couple of weeks, I have probably received at least half a dozen sightings from the mmore northerly states. They must be having a good year."
This site has been created by Bill Oehlke at oehlkew@islandtelecom.com
Comments, suggestions and/or additional information/sightings are welcomed by Bill.
TAXONOMY:



Family: Sphingidae
Subfamily: Macroglossinae
Genus: Hyles (Hubner, 1819) was Sphinx...........
Species: gallii (Rottenburg, 1775)


MIDI MUSIC
.....It's a Wonderful World.....
copyright C. Odenkirk


ON.OFF

Enjoy some of nature's wonderments, giant silk moth cocoons. These cocoons are for sale winter and fall. Beautiful Saturniidae moths will emerge the following spring and summer. Read Actias luna rearing article. Additional online help available.
Eggs of many North American species are offered during the spring and summer. Occasionally summer Actias luna and summer Antheraea polyphemus cocoons are available. Shipping to US destinations is done from with in the US.
Use your browser "Back" button to return to the previous page.
This page is brought to you by Bill Oehlke and the WLSS. Pages are on space rented from Bizland. If you would like to become a "Patron of the Sphingidae Site", contact Bill.
Please send sightings/images to Bill. I will do my best to respond to requests for identification help.

Show appreciation for this site by clicking on flashing butterfly to the left.
The link will take you to a page with links to many insect sites.