| | |
| --- | --- |
| | Updated as per James P. Tuttle's The Hawk Moths of North America, August 26, 2008 |
The Sphingidae of Illinois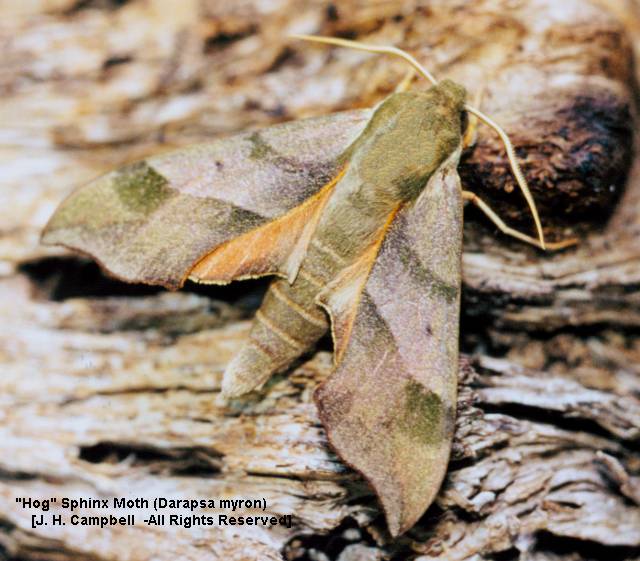 Darapsa myron courtesy of John H. Campbell.
Click on one of the Scientific names to see images and access information. N.B., the files are not linked back to this page. To return to this index, simply use your browser back button. Please help me improve this site by sending sighting data (species; location [county]; date) to Bill Oehlke. Images are also greatly appreciated and will be used and credited (with permission) on county pages. I will attempt to identify any Sphingidae larvae or adults that are unknown to you.

Most species have breeding populations throughout (T) the state. Some species have a very limited range within the state and might only have breeding populations in the extreme southeastern (XSE) regions of the state. Others may be everywhere except all but the northwestern one-eighth (ab NW 1/8) of Illinois. A few species have been seen in Illinois as strays, probably wind assisted late summer/fall migrants from further south that would not produce larvae in Illinois.
Sphinginae subfamily
| | |
| --- | --- |
| Sphingini tribe: | Smerinthini tribe: |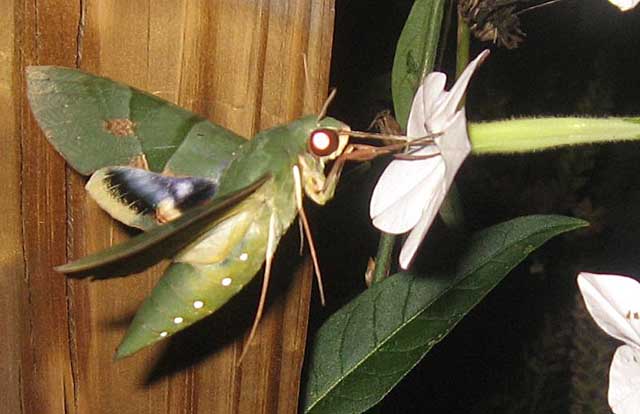 Eumorpha labruscae rare stray to Chicagoland,
fall 2008, courtesy of Derek Woolard.
Individual county checklists (adult moths): Counties will be completed as sightings arrive. Currently only those in red are active.
Northern Illinois

Central Illinois
---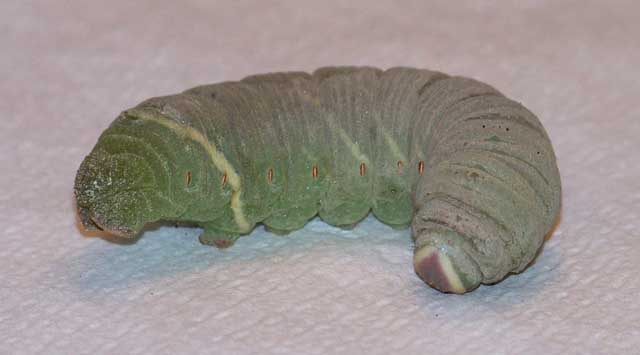 Pachysphinx modesta, Lake Bluff, Lake County, Illinois,
August 26, 2008, Tim and Emma Soderstrom.

Individual county checklists (larvae): Counties will be completed as sightings arrive. Currently only those in red are active.

Northern Illinois

Central Illinois

Enjoy some of nature's wonderments, giant silk moth cocoons. These cocoons are for sale winter and fall. Beautiful Saturniidae moths will emerge the following spring and summer. Read Actias luna rearing article. Additional online help available.

Eggs of many North American species are offered during the spring and summer. Occasionally summer Actias luna and summer Antheraea polyphemus cocoons are available. Shipping to US destinations is done from with in the US.

Use your browser "Back" button to return to the previous page.

This page is brought to you by Bill Oehlke and the WLSS. Pages are on space rented from Bizland. If you would like to become a "Patron of the Sphingidae Site", contact Bill.

Please send sightings/images to Bill. I will do my best to respond to requests for identification help.

Show appreciation for this site by clicking on flashing butterfly to the left.
The link will take you to a page with links to many insect sites.
This website has been created and is maintained by Bill Oehlke without government or institutional financial assistance. All expenses, ie., text reference support material, webspace rental from Bizland, computer repairs/replacements, backups systems, software for image adjustments (Adobe Photoshop; L-View), ftp software, anti-virus protection, scanner, etc. are my own.

I very much appreciate all the many images that have been sent to me, or of which I have been granted permission to copy and post from other websites. All images on this site remain the property of respective photographers.

If you would like to contribute to the maintenace of this website by sending a contribution to

Bill Oehlke
Box 476
155 Peardon Road
Montague, Prince Edward Island, C0A1R0
Canada

your donation would be much appreciated and would be used for
1) paying for webspace rental;
2) paying for computer maintenance and software upgrades;
3) purchases of additional text reference material (journals and books) in anticipation of expanding the site to a worldwide Sphingidae site;
4) helping to pay my daughter's tuition (completed spring of 2013); with anything left over going to humanitarian aid.

If you are mailing a check from USA, please use $1.10 (2013 rate) postage. Donations can also be made through Paypal via the button below.