| | |
| --- | --- |
| | Updated as per James P. Tuttle's The Hawk Moths of North America, August 19, 2008 |
The Sphingidae of Kentucky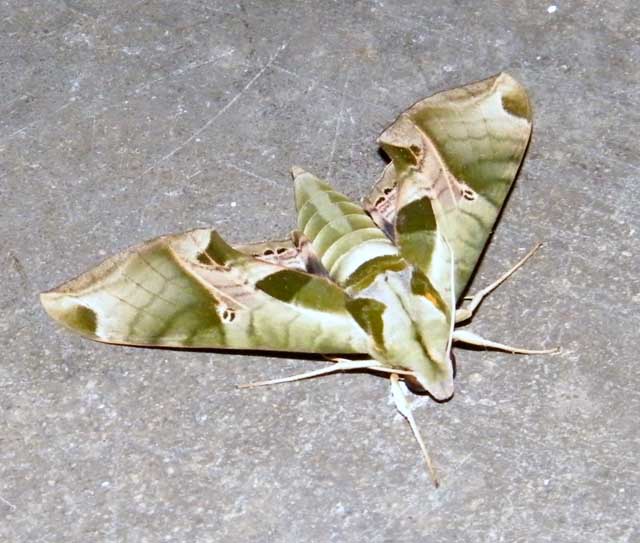 Eumorpha pandorus, Vine Grove, Hardin County, Kentucky,
August 22, 2010, courtesy of Lori Voyer.
Click on one of the Scientific names to see images and access information. N.B., the files are not linked back to this page. To return to this index, simply use your browser back button. Please help me improve this site by sending sighting data (species; location [county]; date) to Bill Oehlke. Images are also greatly appreciated and will be used and credited (with permission) on county pages. I will attempt to identify any Sphingidae larvae or adults that are unknown to you.
Sphinginae subfamily
| | |
| --- | --- |
| Sphingini tribe: | Smerinthini tribe: |
Bryon Peterson, Bardstown, Kentucky, confirms (image below) presence of Sphecodina abbottii although that species is/was not on USGS Kentucky list on Opler's site.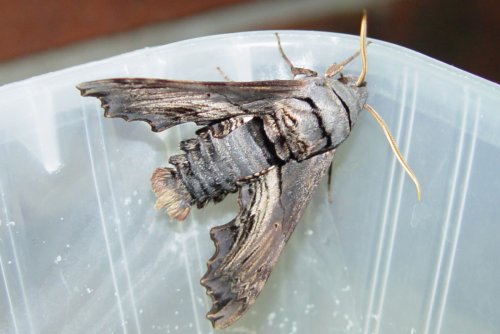 Individual notes for western counties (adult moths):
Individual notes for eastern counties (adult moths): northern
Individual notes for eastern counties (adult moths): southern
---
Enjoy some of nature's wonderments, giant silk moth cocoons. These cocoons are for sale winter and fall. Beautiful Saturniidae moths will emerge the following spring and summer. Read Actias luna rearing article. Additional online help available.

Use your browser "Back" button to return to the previous page.

This page is brought to you by Bill Oehlke and the WLSS. Pages are on space rented from Bizland. If you would like to become a "Patron of the Sphingidae Site", contact Bill.

Please send sightings/images to Bill. I will do my best to respond to requests for identification help.

Show appreciation for this site by clicking on flashing butterfly to the left.
The link will take you to a page with links to many insect sites.