| | |
| --- | --- |
| | Updated as per James P. Tuttle's The Hawk Moths of North America, August 16, 2008 |
The Sphingidae of Missouri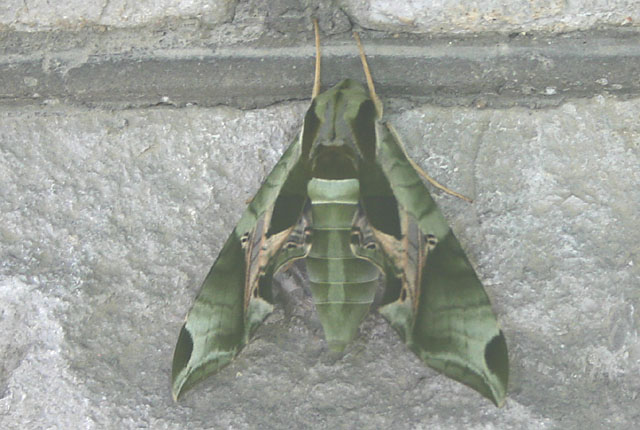 Eumorpha pandorus, Kansas City (Jackson County), Missouri,
June 16, 2007, courtesy of Ted Wienstroer.
Click on one of the Scientific names to see images and access information. N.B., the files are not linked back to this page. To return to this index, simply use your browser back button. Please help me improve this site by sending sighting data (species; location [county]; date) to Bill Oehlke. Images are also greatly appreciated and will be used and credited (with permission) on county pages. I will attempt to identify any Sphingidae larvae or adults that are unknown to you.
Sphinginae subfamily
| | |
| --- | --- |
| Sphingini tribe: | Smerinthini tribe: |
Lynda McGinnis has recently confirmed presence of Sphecodina abbottii in Missouri, April 16, 2003;
Paonias excaecatus April 22, 2003;
Deidamia inscriptum April 22, 2003, very cold night, below 45 F;
Erinnyis obscura April 28, 2003, near Lake of the Ozarks (early) Shannon Larsen sent me the beautiful images below of a male (note arched abdomen) Pachysphinx modesta, taken August 21st, 2004, in Centerview, Missouri.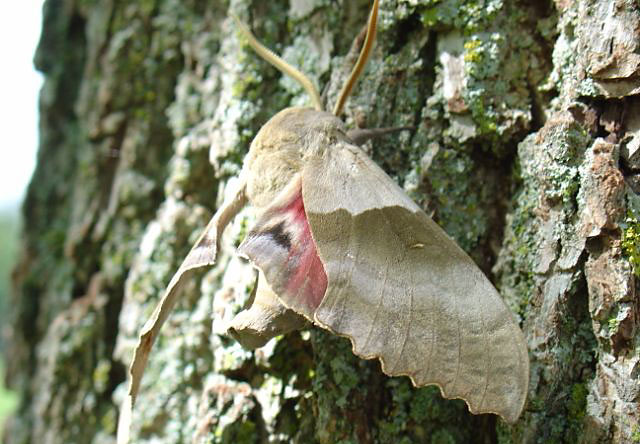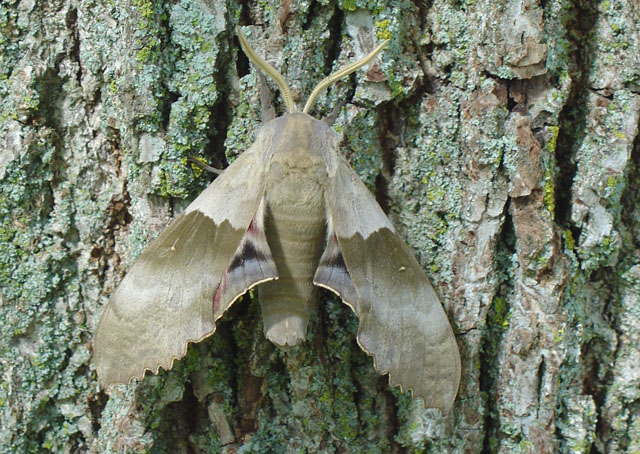 The following table provides links to sightings from individual counties. Currently only those counties listed in red are active. Information has been gathered by various individuals:
Northwestern Missouri

Northeastern Missouri

Southwestern Missouri

Southeastern Missouri

The following tables provide links to thumbnail checklists of larvae.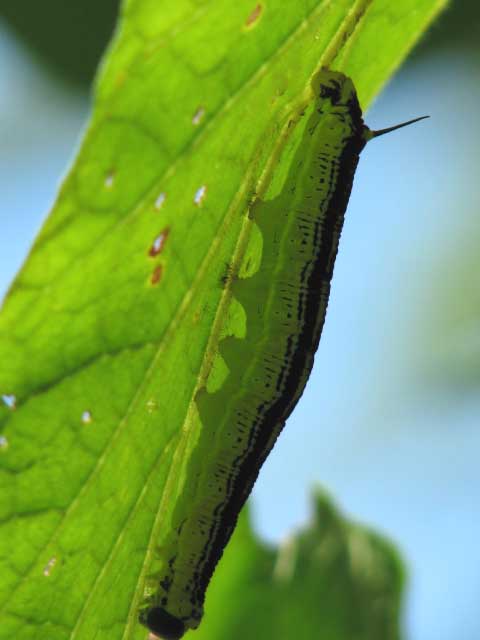 Ceratomia catalpae, Louisiana, Pike County, Missouri,
September 1, 2008, courtesy of Rhonda Murr.

Rhonda writes, "I found some caterpillars on my "Cigar tree" - several of them were parasitized, by what I guess is a Braconid wasp. I've been looking on the Internet to find out what kind they were - and I think they are Ceratomia catalpae - catalpa sphinx. I found a site directing me to your site - and it said you welcome comments, so I'm sending you some pictures. Any info you can tell me - I would welcome.

"I live in Missouri, Pike County. I found several of them having these parasites on them - plus some that didn't. Is there anything I can do to save the caterpillar?...it seems so sad...I didn't know if I should put them out of their misery or leave mother nature to take over.

"Again, anything you could tell me would be welcome. Thanks for your time."

Northeastern Missouri Larval Thumbnail Checklists: Only those counties in red are active.

Southwestern Missouri

Enjoy some of nature's wonderments, giant silk moth cocoons. These cocoons are for sale winter and fall. Beautiful Saturniidae moths will emerge the following spring and summer. Read Actias luna rearing article. Additional online help available.

Use your browser "Back" button to return to the previous page.

This page is brought to you by Bill Oehlke and the WLSS. Pages are on space rented from Bizland. If you would like to become a "Patron of the Sphingidae Site", contact Bill.

Please send sightings/images to Bill. I will do my best to respond to requests for identification help.

Show appreciation for this site by clicking on flashing butterfly to the left.
The link will take you to a page with links to many insect sites.