Updated as per James P. Tuttle's

The Hawk Moths of North America

, August 30, 2008

Updated with

H. thetis

in extreme western Wyoming, August 2009

Ongoing updates as per

BAMONA

website

Updated as per personal communication with Beth McCoy (

Eumorpha achemon

, Billings, Yellowstone Co., August 14, 2011); August 15, 2011.
The Sphingidae of Montana
Sphinx perelegans courtesy of T. W. Davies.
Click on one of the Scientific names to see images and access information. N.B., the files are not linked back to this page. To return to this index, simply use your browser back button. Please help me improve this site by sending sighting data (species; location [county]; date) to
Bill Oehlke.
Images are also greatly appreciated and will be used and credited (with permission) on county pictoral checklist. see bottom of this page. I will attempt to identify any Sphingidae larvae or adults that are unknown to you.

The documentation of Eumorpha achemon in south central Montana indicates a significant westward entension of the range of E. achemon compared to the map range in James P. Tuttle's The Hawk Moths of North America, an excellent resource.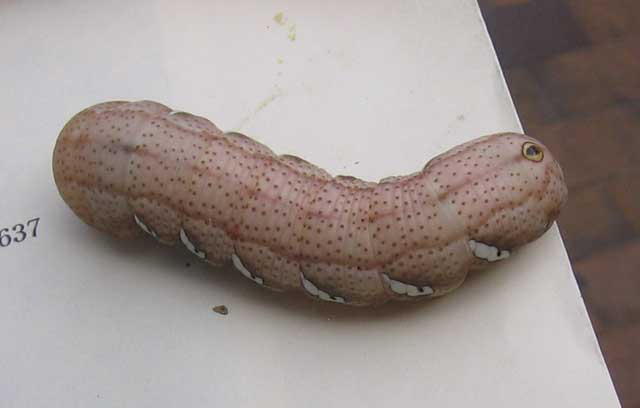 Eumorpha achemon fifth instar, Billings, Yellowstone County, Montana,
August 15, 2011, courtesy of Beth McCoy.
Sphinginae subfamily
| | |
| --- | --- |
| Sphingini Tribe: | Smerinthini Tribe: |
Common Names
Four-horned Sphinx Ceratomia amyntor
Waved Sphinx Ceratomia undulosa
Five-spotted Hawk Moth Manduca quinquemaculata
Great ash sphinx Sphinx chersis
Wild cherry sphinx Sphinx drupiferarum
Apple Sphinx Sphinx gordius extreme northeast
Laurel Sphinx Sphinx kalmiae extreme northeast
Clemens' Sphinx Sphinx luscitiosa
Elegant Sphinx Sphinx perelegans extreme northwest
Poecila Sphinx Sphinx poecila maybe in extreme northwest
Vashti sphinx Sphinx vashti
Modest sphinx Pachysphinx modesta
Big poplar sphinx Pachysphinx occidentalis
Blinded sphinx Paonias excaecata
Small-eyed sphinx Paonias myops
One-eyed sphinx Smerinthus cerisyi
Twin-spotted Sphinx Smerinthus jamaicenis extreme north, along border
Snowberry clearwing Hemaris diffinis
Rocky Mountain clearwing Hemaris senta
Hummingbird Clearwing Hemaris thysbe
Achemon Sphinx Eumorpha achemon
Leafy spurge hawkmoth Hyles euphorbiae
Bedstraw hawkmoth Hyles gallii
White-lined sphinx Hyles lineata
Yellow-banded sphinx Proserpinus flavofasciata
Juanita Sphinx Proserpinus juanita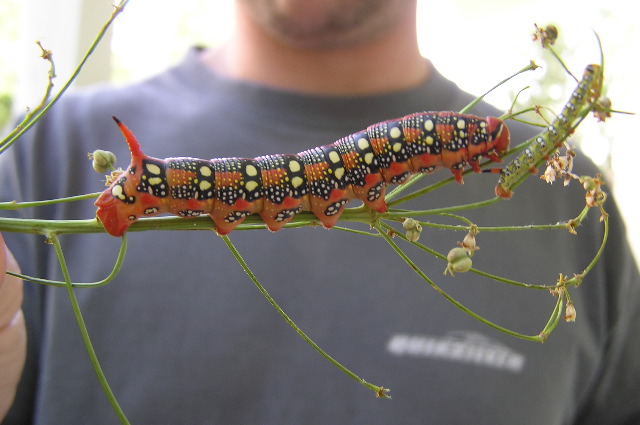 Hyles euphorbiae, Great Falls (Cascade Co.), Montana, July 29, 2006, courtesy of Ingrid Ryder.
Individual county checklists: Counties will be completed as sightings arrive. Currently only those in red are active.
The following counties are west of the Continental Divide: Lincoln, Flathead, Sanders, Lake, Mineral, Missoula, Powell, Ravalli, Granite, Beaverhead.
Western Montana
Western Montana: Sphingidae Larvae
Eastern Montana Adult Moths
Eastern Montana Larvae
Enjoy some of nature's wonderments, giant silk moth cocoons. These cocoons are for sale winter and fall. Beautiful Saturniidae moths will emerge the following spring and summer. Read Actias luna rearing article. Additional online help available.
Eggs of many North American species are offered during the spring and summer. Occasionally summer Actias luna and summer Antheraea polyphemus cocoons are available. Shipping to US destinations is done from with in the US.
Use your browser "Back" button to return to the previous page.
This page is brought to you by Bill Oehlke and the WLSS. Pages are on space rented from Bizland. If you would like to become a "Patron of the Sphingidae Site", contact Bill.
Please send sightings/images to Bill. I will do my best to respond to requests for identification help.

Show appreciation for this site by clicking on flashing butterfly to the left.
The link will take you to a page with links to many insect sites.
Bonnie Hickey (Cashman Nursery), writes, August 2, 2007, "I have enjoyed watching these caterpillars on my Euphorbia mysinites in my yard in Bozeman (Gallatin County), Montana, for the past several summers. They do not feed on the Euphorbia polychroma or griffithii, however. I was planning to remove some of the Euphorbias but have decided to control seedlings with Preen instead so that I can continue to watch all the color stages of these caterpillars in future years!"

This website has been created and is maintained by Bill Oehlke without government or institutional financial assistance. All expenses, ie., text reference support material, webspace rental from Bizland, computer repairs/replacements, backups systems, software for image adjustments (Adobe Photoshop; L-View), ftp software, anti-virus protection, scanner, etc. are my own.

I very much appreciate all the many images that have been sent to me, or of which I have been granted permission to copy and post from other websites. All images on this site remain the property of respective photographers.

If you would like to contribute to the maintenace of this website by sending a contribution to

Bill Oehlke
Box 476
155 Peardon Road
Montague, Prince Edward Island, C0A1R0
Canada

your donation would be much appreciated and would be used for
1) paying for webspace rental;
2) paying for computer maintenance and software upgrades;
3) purchases of additional text reference material (journals and books) in anticipation of expanding the site to a worldwide Sphingidae site;
4) helping to pay my daughter's tuition; with anything left over going to humanitarian aid.

If you are mailing a check from USA, please use $1.15 postage (2015 rate). Donations can also be made through Paypal via the button below.