Manduca sexta sexta
man-DOO-kuhM SEX-tuh
Butler, 1877
The Carolina Sphinx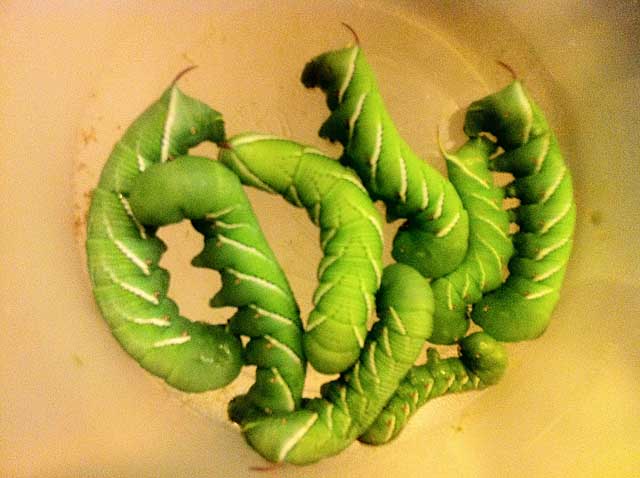 Manduca sexta fifth istar larvae, removed from poblano chili pepper bushes,
Phoenix, Maricopa County, Arizona,
October 19, 2011, courtesy of Cynthia Kraft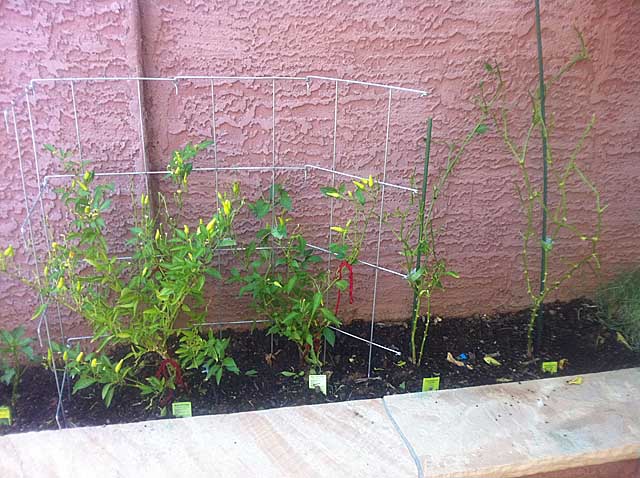 Poblano shilil pepper bushes (right) stripped of foliage by Manduca sexta larvae,
Phoenix, Maricopa County, Arizona, October 19, 2011, courtesy of Cynthia Kraft
The species name, Manduca, means glutton, and larvae can do much damage to a garden in a short period of time. My grandfather used to grow tomato plants in New Jersey, and the plants would often be "attacked" by Manduca sexta larvae. It requires a careful search with a good eye, to find these larvae while they are still small, before they have done so much damage.

This site has been created by Bill Oehlke at oehlkew@islandtelecom.com
Comments, suggestions and/or additional information are welcomed by Bill.
TAXONOMY:



Family: Sphingidae, Latreille, 1802
Subfamily: Sphinginae, Latreille, [1802]
Tribe: Sphingini, Latreille, 1802
Genus: Manduca Hubner, 1807 ...........
Species: sexta sexta Butler, 1877


MIDI MUSIC
.....It's a Wonderful World.....
copyright C. Odenkirk


ON.OFF

Return to Sphingidae Index
Return to Sphingini Tribe


Use your browser "Back" button to return to the previous page.

This page is brought to you by Bill Oehlke and the WLSS. Pages are on space rented from Bizland. If you would like to become a "Patron of the Sphingidae Site", contact Bill.

Please send sightings/images to Bill. I will do my best to respond to requests for identification help.

Enjoy one of nature's wonderments: Live Saturniidae (Giant Silkmoth) cocoons.

Show appreciation for this site by clicking on flashing butterfly to the left.
The link will take you to a page with links to many insect sites.