Sphingidae of Puerto Rico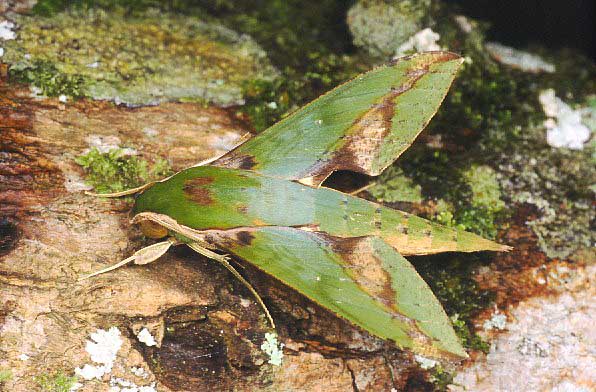 Xylophanes chiron chiron courtesy of Paolo Mazzei.
Although I believe these "tribal" checklists contain only species within Puerto Rico, there are probably some omissions, and there may be a few improper entries.
The list should be fairly reliable, however, as it is from Pierre Schmit's Liste Systématique for the Dominican Republic.
If you have corrections to offer, please contact
Bill Oehlke at oehlkew@islandtelecom.com.

Pseudosphinx tetrio, Puerto Rico, courtesy of Brian M. Irish.
Brian writes, "I found many of them devouring a purple allamanda and also on a large tree (Bombaceae) on the USDA Tropical Agricultural Research Station grounds in Mayaguez, west coast of Puerto Rico."
Brian M. Irish, Horticulturist/Genetecist, Tropical Agricultural Research Station, Mayaguez, PR 00680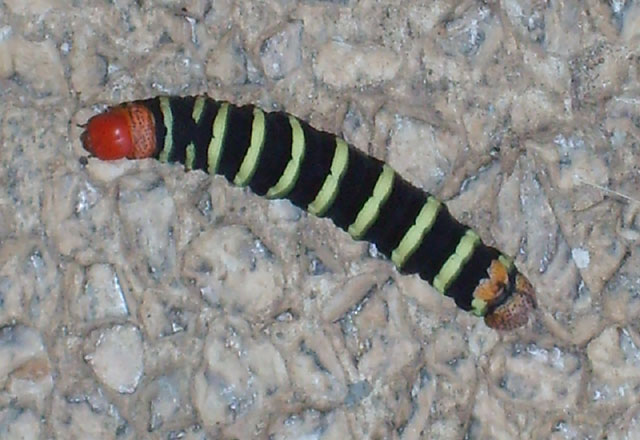 Pseudosphinx tetrio, Luquillo, Puerto Rico, courtesy of Ruby Rodriguez.
Ruby writes, "We have these in our front yard in Luquillo, northeast coast of Puerto Rico, all the time feeding. About every other month they clean one of my flowered trees (Plumeria cujete) bare. Then they disappear and reappear once the tree flourishes again. I always wanted to know what they were, so your site has very helpful. I hope you enjoy the pictures."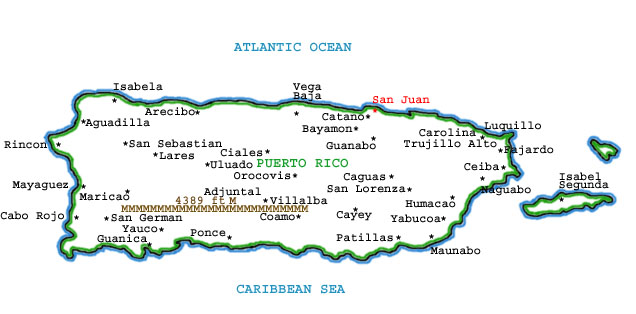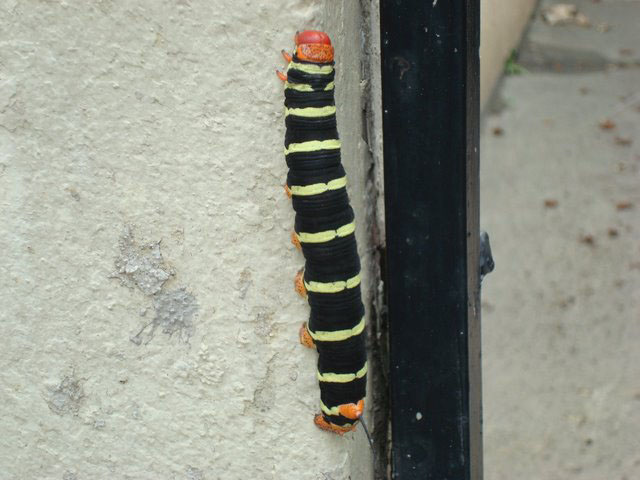 Pseudosphinx tetrio larva, San Juan, north central coastal PR,
March 19, 2008, courtesy of Eric Johnson.

Yanira Lavergne writes, July 24, 2011, "Hello. I live in Puerto Rico ... and I thought I'd share some great shots I took of this caterpillar. I think it's Pseudosphinx tetrio (after doing some research) and also wanted to know if it is harmful to us or something. since I have a very large yard and mango tress and avocado tress all around plus two small daughters .... and I'm curious about them because I have spotted about seven already on the property. If you have time, a reply would be cool. Have a nice day!" I reply, "As long as the small children do not try to eat the caterpillars there should be no harm done."

However, a large number of them can defoliate your trees.

Mature Sphingidae larvae leave the host plant and seek out soft earth where they can excavate a subterranean chmber in which to pupate.

I think Pseudosphinx tetrio is probably a very common species in Peurto Rico, based on the numerous sighting reports I have received. Maybe it is just the very large size and striking colouration (a warning to birds: toxic if eaten) that gets them attention.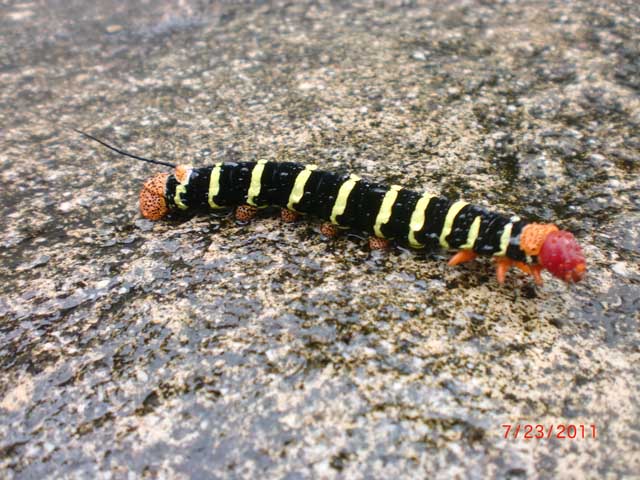 Pseudosphinx tetrio, fifth instar, Puerto Rico,
July 24, 2011, courtesy of Yanira Lavergne.
Go to Main Sphingidae Index
Go to U.S. Index: Alabama to Missouri
Go to U.S. Index: Montana to Wyoming
Go to Central America Index
Go to South America Index.htm
Go to Indices of Nations
Use your browser "Back" button to return to the previous page.
This page is brought to you by Bill Oehlke and the WLSS. Pages are on space rented from Bizland. If you would like to become a "Patron of the Sphingidae Site", contact Bill.
Please send sightings/images to Bill. I will do my best to respond to requests for identification help.

Show appreciation for this site by clicking on flashing butterfly to the left.
The link will take you to a page with links to many insect sites.
This website has been created and is maintained by Bill Oehlke without government or institutional financial assistance. All expenses, ie., text reference support material, webspace rental from Bizland, computer repairs/replacements, backups systems, software for image adjustments (Adobe Photoshop; L-View), ftp software, anti-virus protection, scanner, etc. are my own.

I very much appreciate all the many images that have been sent to me, or of which I have been granted permission to copy and post from other websites. All images on this site remain the property of respective photographers.

If you would like to contribute to the maintenace of this website by sending a contribution to

Bill Oehlke
Box 476
155 Peardon Road
Montague, Prince Edward Island, C0A1R0
Canada

your donation would be much appreciated and would be used for
1) paying for webspace rental;
2) paying for computer maintenance and software upgrades;
3) purchases of additional text reference material (journals and books) in anticipation of expanding the site to a worldwide Sphingidae site;
4) helping to pay my daughter's tuition; with anything left over going to humanitarian aid.

If you are mailing a check from USA, please use $0.85 postage. Donations can also be made through Paypal via the button below.