Pachysphinx modesta
PACK-kih-sfinksmmmuh-DES-tuh
(Harris, 1839) Smerinthus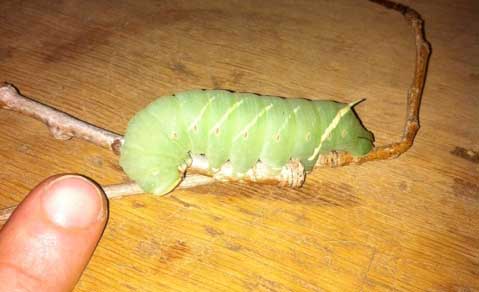 Pachysphinx modesta fifth instar larva, Houston, Harris County, Texas,
found on cottonwood, June 21, 2011, courtesy of Cory Melancon.
Cory writes, "We live in Houston Texas, and one of my boys found this beautiful caterpillar. It appears to be exhibiting the characteristics of some of the caterpillars I have read about on other blogs. Sluggish, moving then stopping for long periods of time etc. Seems like it is beginning its metamorphosis. I put it in a container with a couple of inches of soil and also some foliage of the cottonwood tree it was found under. Is this correct? Any help you can offer would be appreciated."
I replied, "I would like permission to post your image of Pachysphinx modesta larva, credited to you, on the following page: Southeastern Texas Sphingidae Thumbnail Checklist.
"There is information on that page about caring for found Sphingidae larvae.
"It is probably done feeding, but you will shortly see if it continues to feed on cottonwood leaves."
---
Enjoy some of nature's wonderments, giant silk moth cocoons. These cocoons are for sale winter and fall. Beautiful Saturniidae moths will emerge the following spring and summer. Read Actias luna rearing article. Additional online help available.
Eggs of many North American species are offered during the spring and summer. Occasionally summer Actias luna and summer Antheraea polyphemus cocoons are available. Shipping to US destinations is done from with in the US.
Use your browser "Back" button to return to the previous page.
This page is brought to you by Bill Oehlke and the WLSS. Pages are on space rented from Bizland. If you would like to become a "Patron of the Sphingidae Site", contact Bill.
Please send sightings/images to Bill. I will do my best to respond to requests for identification help.

Show appreciation for this site by clicking on flashing butterfly to the left.
The link will take you to a page with links to many insect sites.